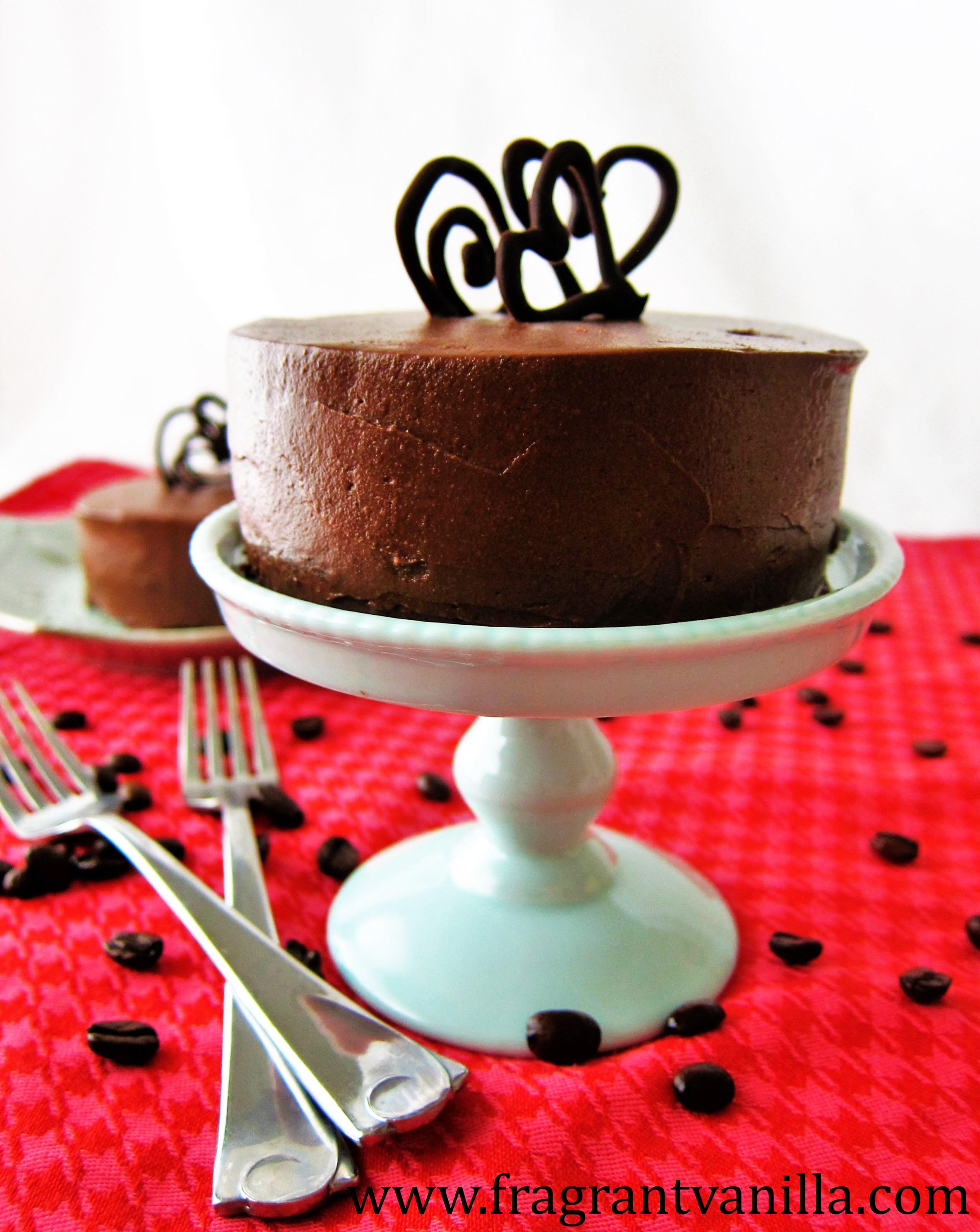 Mini Vegan Mocha Layer Cakes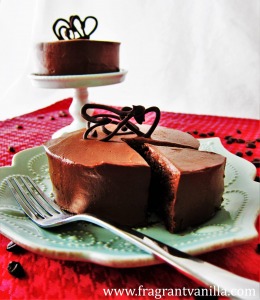 Valentine's day has never been about receiving flowers and jewelry to me, when I was little, maybe it was all about the candy and wearing a cute red or pink dress, and making heart decorations.  But now I see it as a day to appreciate the ones I love.  I don't expect anything, but I do like to make something to share. I made some little vegan mocha cakes just for that purpose.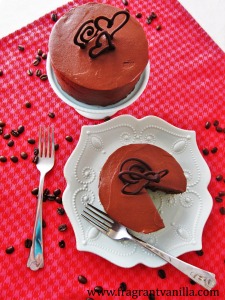 They are just the right size for two people (or one hungry person).  Luckilly I made two, since me and Eric both love cake so we each got our own.  I just wanted a simple chocolate cake that was kind of fudgy with a very fudgy frosting, and a light coffee flavor to add more depth.  I am a vanilla girl, but since Eric likes chocolate so much I really went for it and made this very chocolaty.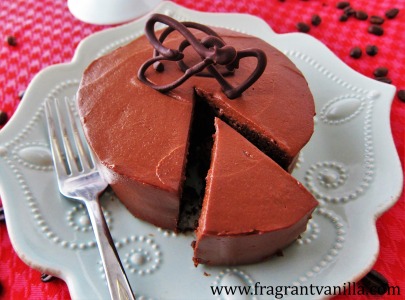 For the cake layers, I have been having a lot of luck with dates lately to keep cake moist and sweeten naturally with fruit so I used dates in this one.  They give it a little bit of a caramel flavor as well, and a slight (but not too much) fudgy texture.  I added in some coffee as well, since this was a mocha cake.  Although I am not a coffee drinker, I do like a bit of coffee flavor in things sometimes, especially with chocolate.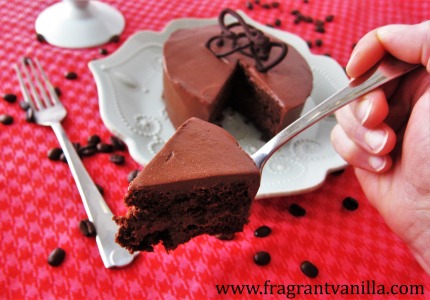 To top off the cake I made a frosting just as fudgy and delicious as the cake.  It was all in all one little mini piece of chocolate heaven.  This is not just Valentine's Day material, but good for any day you want to treat yourself or someone you love.  Because diving into chocolate cake together is actually romantic and one experience you have to enjoy at some point.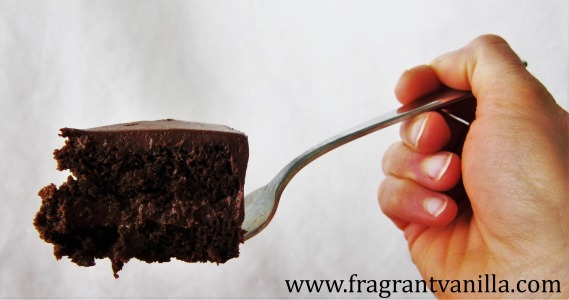 Mini Vegan Mocha Cake 
Makes 2 6 inch 2 layer cakes
2 4 inch cake pans
Cake:
3/4 cup quinoa flour (or all purpose gluten free flour)
3 Tbsp cacao powder or unsweetened cocoa powder
3/4 tsp baking soda
1/2 tsp baking powder
1/4 tsp sea salt
1/2 cup packed soft medjool dates, pitted, soaked in water for 30 minutes and 1/4 cup of the water reserved
2 Tbsp avocado oil or olive oil
1 tsp pure vanilla extract
1 Tbsp L.C.Finns Coffee extract
1/2 cup freshly brewed coffee
1 Tbsp apple cider vinegar
Frosting
1/2 cup plus 2 Tbsp pitted medjool dates, soaked in water for 30 minutes, and 1/2 cup of the water reserved
1/4 cup plus 2 Tbsp  raw walnut butter or raw almond butter
1/4 cup plus 2 Tbsp cacao powder
1 Tbsp L.C.Finns Coffee extract
pinch sea salt
Preheat the oven to 375F degrees and position rack in center of oven. Line the bottoms of two 4-inch-diameter cake pans with 2-inch-high sides with parchment paper. Coat parchment paper and pan sides lightly with oil so that the cake doesn't stick. Whisk flour, cacao powder, baking powder, baking soda, sea salt, in a large bowl to blend well. Place dates, reserved water, oil, coffee, coffee extract, and vanilla extract into a blender, and blend until smooth, then whisk this blended mixture into the flour mixture until well blended. Whisk in the cider vinegar until bubbles form. Transfer cake batter to prepared pans and bake cakes until tester inserted into center comes out clean, about 25 minutes. Cool cakes completely in pan on rack, about 1 hour. Cut around sides of pan to loosen. Turn cakes out onto platter; peel off parchment paper. Let cool completely. Slice each cake in half horizontally (very carefully) with an oiled knife.  Set aside.
Meanwhile, to make the frosting, combine all ingredients In a high speed blender, and blend until smooth (since moisture content in dates varies, and nut butters may vary in runniness, if it seems too thin, add a little more cacao powder, too thick, a little more water).
To assemble, place one cake layer on a plate, and spread frosting 1/2 inch thick over it.  Place the other cake layer over that, then spread the frosting on the top and down the sides of the cake. Repeat with the other cake.
(Visited 94 times, 1 visits today)