Mini Vegan Hazelnut Dark Chocolate Brownies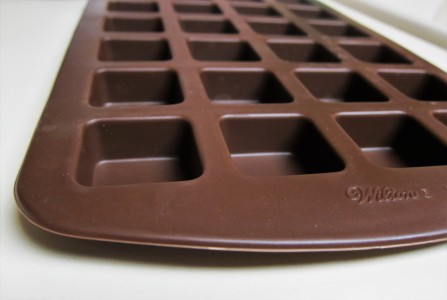 I have always wanted a mini brownie pan.  Lots of people's favorite brownies are the brownies at the edge of the pan after all, and with a  mini brownie pan, you get edge with every bite!  Eric knows how much I love all of my different dessert pans, and trying out new baking gadgets, so he got me one of these pans for Christmas.  I was excited.  I figured I could make other things in it too, like chocolates because the pan is the right size for that as well, and it is silicone for easy removal.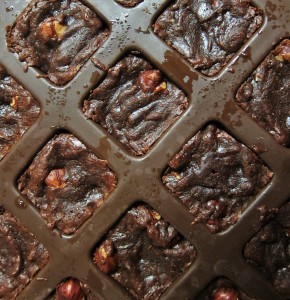 I thought long and hard about what type of brownies I wanted to make.  All day at work, daydreaming about brownies, but what I finally concluded was that I wanted something simple and easy to make.  Nothing too complicated because it had been a really busy hectic day.  But what better way to wind down than by baking brownies right?!  I ended up making hazelnut brownies.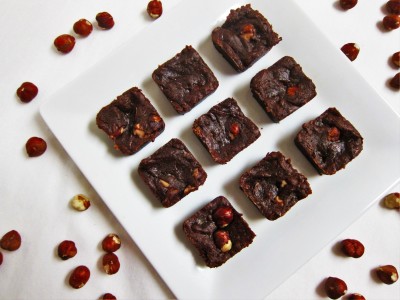 I am loving my home made hazelnut butter lately, and that is really what inspired it. These only have 8 ingredients, and all you do is mix together, pour into the pan and bake, so super simple. I included the hazelnut butter in the batter, as well as chopped hazelnuts in the brownies for lots of nutty hazelnut goodness.  These only took 15 minutes to bake in the new pan, which was awesome, because I got to enjoy them sooner.  These taste better than Nutella!  And, they are small...so you can have more than one!  At least that is my mentality.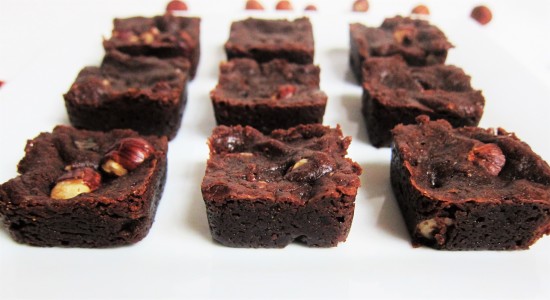 Mini Vegan Hazelnut Dark Chocolate Brownies
Makes 16
Brownies:
1/2 cup olive oil
1/4 cup organic hazelnut butter*
1 1/3 cups coconut sugar
1/4 cup plus 2 Tbsp reduced aquafaba or 2 flax eggs*
2 teaspoon vanilla extract
1 cup gluten free all-purpose flour
1/2 cup cacao powder or unsweetened cocoa powder
1/4 teaspoon sea salt
1/2 cup roasted organic toasted hazelnuts
To make the brownies, pre-heat the oven to 350F degrees. Whisk together the sugar, oil and hazelnut butter until well combined.  Add the aquafaba and vanilla and beat until smooth.  Add the flour, cacao powder and sea salt and beat until smooth, then stir in the hazelnuts.  Scrape the batter into a greased mini brownie pan (or alternatively an 8x8 inch pan).  Place in the oven, and Bake for about 15 minutes (or 30 minutes if in the 8x8 inch pan) or until set (but do not over bake or they will be too dry).  Let cool before unmolding (or cutting into bars if in the 8x8 inch pan).
*To make the hazelnut butter, place about 4 cups toasted hazelnuts in a high speed blender, and blend until smooth, using the tamper to press the nuts down into the blades (this should take about 3 minutes). If your hazelnuts are not getting smooth, add a little almond oil to assist it.  You may also use a food processor, but it takes a lot longer to make the butter, and you have to stop and scrape it down.  Also note that if your blender is not high speed it is probably not capable of making butter. Store in a jar in the refrigerator for up to a few months.
*The aquafaba is the liquid from cooked or canned chickpeas.  You want it to be thick like egg whites.  If you are wanting to make flax eggs, simply mix together 2 Tbsp ground flax seeds, and 6 Tbsp filtered water and let sit in the refrigerator for 15 minutes before using in the recipe.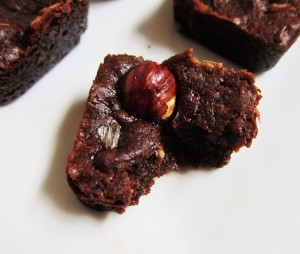 (Visited 139 times, 1 visits today)