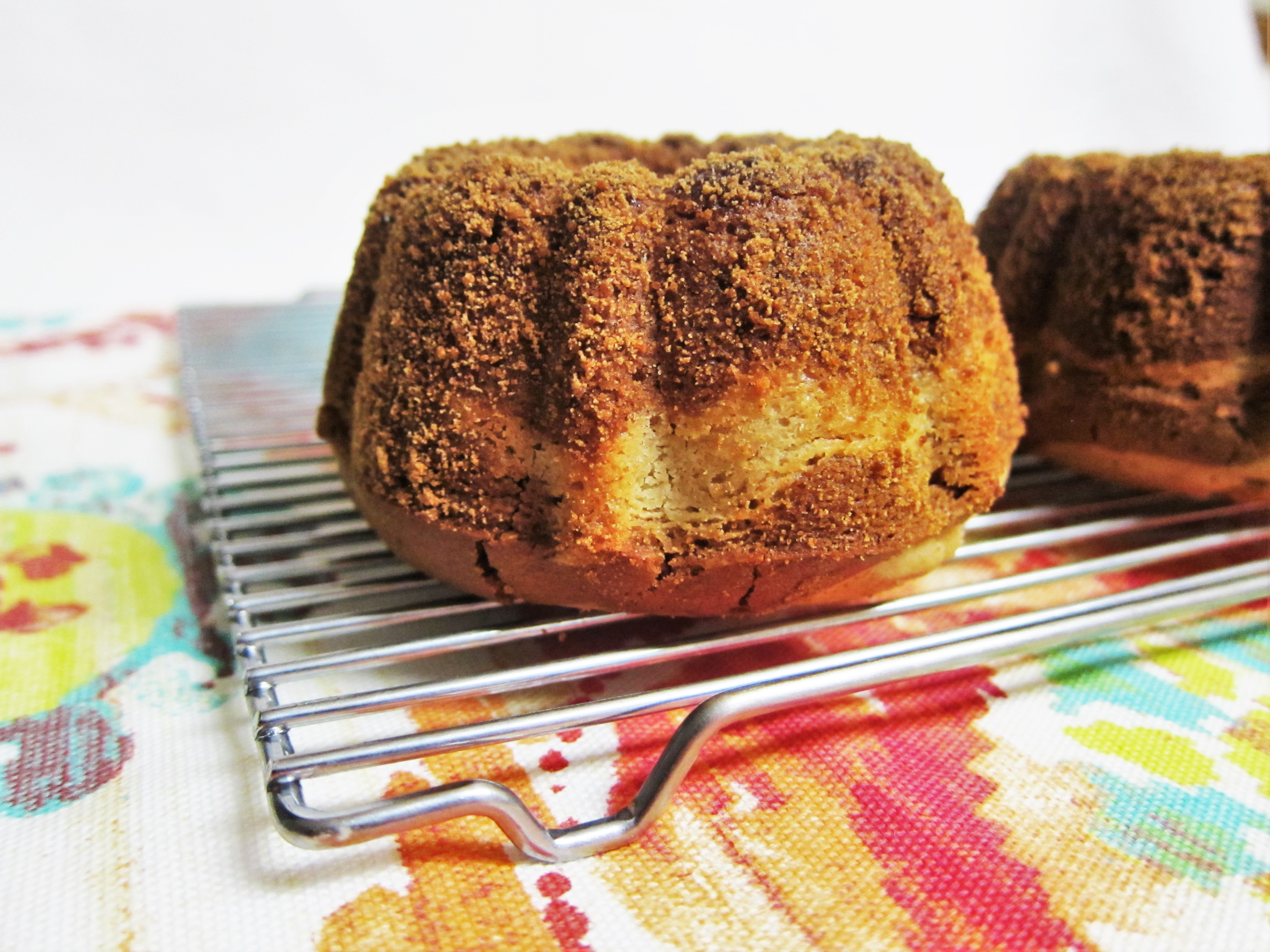 Mini Vegan Cinnamon Sugar Cream Cheese Bundt Cakes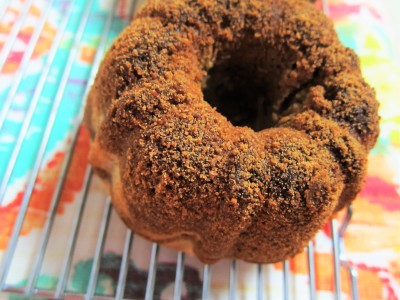 Eric gave me a mini bundt cake pan as one of my Christmas presents, and I was just dying to use it right away to make something delicious. I love the look of bundt cakes, they are beautiful, classic, and many bundt cake pans come from Minnesota since Nordicware is located here.  So they are always kind of a staple for Minnesotans.  I have a large bundt cake pan, but I never use it because a large cake would be way too much for my small family to consume. So it is reserved for very rare occasions when I can share a lot.  So I was quite excited about the mini bundt pan, because I can make just enough for my family and still have a beautifully shaped cake.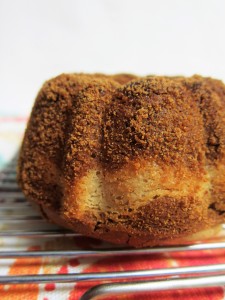 When I asked him what I should make this week, Eric suggested I make vegan churros stuffed with cream cheese, but since I was puzzled as to how to make that in a healthy manor (since churros are fried) and it required too much mental thought, I suggested I bake some cinnamon sugar bundt cakes swirled with "cream cheese".  All of the same flavors, but easier and no frying things required.  Frying things scares me.  Baking is my zone. He loved the bundt cake idea, so I went for it.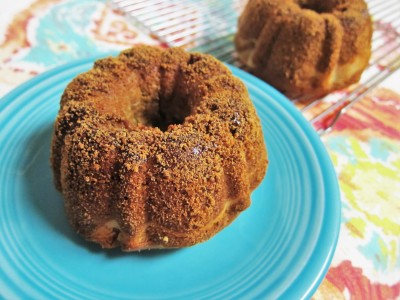 I made a basic cake batter with aquafaba in place of the usual eggs, coconut sugar for sweetness, and a hint of cinnamon, and it tasted wonderful.  I made a simple "cream cheese" for the swirl, that just had to be mixed together simply so the whole thing came together quickly. Once they had baked, I coated them with cinnamon sugar. My kitchen smelled like cinnamon sugar mini doughnuts when the process was done.  It was such a happy smell!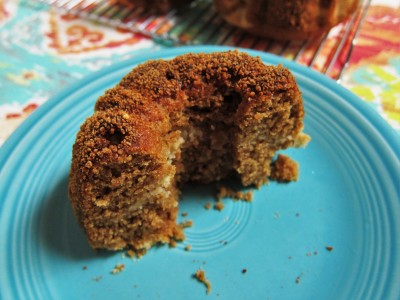 Mini Vegan Cinnamon Sugar Cream Cheese Bundt Cakes
Makes 4
cream cheese:
1/2 cup raw cashew butter
1/4 cup full fat coconut milk (from the top of the can)
1 Tbsp maple syrup
1/8 tsp sea salt
1 tsp cider vinegar
Batter:
1 1/2 cups gluten free all purpose flour
1 tsp cinnamon
1 tsp baking powder
1/2 tsp baking soda
1/4 tsp sea salt
3/4 cup coconut sugar
1/4 cup plus 2 Tbsp coconut oil
3 Tbsp aquafaba* or 1 flax egg
2 tsp pure vanilla extract
3/4 cup full fat coconut milk
1 Tbsp lemon juice
Topping:
2 Tbsp coconut sugar
1/2 tsp cinnamon
Oil a 4 hole mini bundt pan with coconut oil, and preheat the oven to 375F degrees.
To make the cream cheese, whisk together all ingredients until smooth, and set aside.
To make the batter, whisk together all of the dry ingredients in a large bowl, then whisk in all of the wet ingredients.  Pour half the batter into the prepared pan. Drop some of the cream cheese mixture over that, then top with the remaining batter, then the remaining cream cheese mixture.  Swirl around with a knife, to create marbling.  Place in the oven and bake for about 20-25 minutes until a toothpick inserted into the center comes out clean. Let cool in the pans for about 15 minutes, then unmold.
Mix together the cinnamon and sugar topping in a bowl, then once the cakes are unmolded, dust them with the cinnamon sugar mixture.
*The aquafaba is the liquid from cooked or canned chickpeas.  You want it to be thick like egg whites.  If you are wanting to make a flax egg, simply mix together 1 Tbsp ground flax seeds, and 3 Tbsp filtered water and let sit in the refrigerator for 15 minutes before using in the recipe.
(Visited 97 times, 1 visits today)