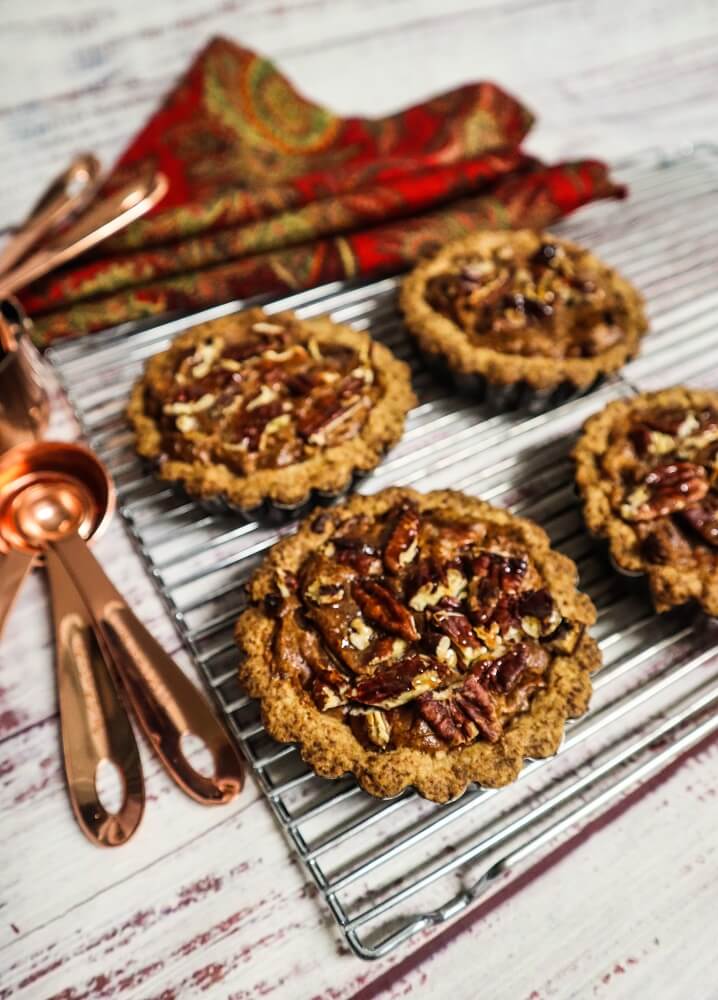 Mini Vegan Bourbon Pecan Tartlettes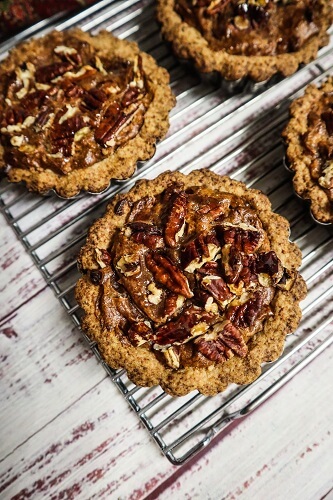 This year for Thanksgiving instead of making one giant pie, I decided to make mini pecan tartlettes.  My family really hasn't had big gatherings for Thanksgiving in years, since my Grandparents stopped being able to host years ago so we have always tried to keep it simple. Now that both of my grandparents are now gone, and we are dealing with quarantine this year it is going to be just 3 of us, so I thought I would make smaller portions, and tartlettes are perfect for that!  If I have leftovers I can easily freeze them as well for my Mom to have later (since I chose pecan pie because it is her favorite).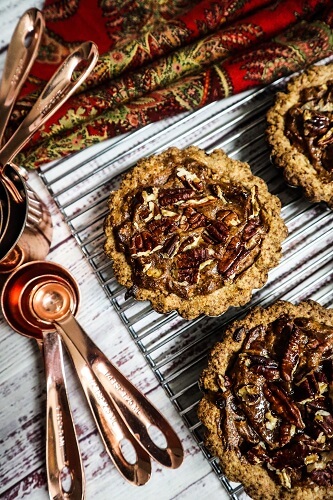 Since my Mom, Eric and I all like the flavor of bourbon, I decided to make some bourbon pecan tartlettes!  I had made a large one with these same flavors years ago before I went vegan, and I have been wanting to make one ever since. This was the perfect opportunity!  I just gave them a classic coconut oil pie crust, because that is my go to, and it always turns out so delicious and buttery!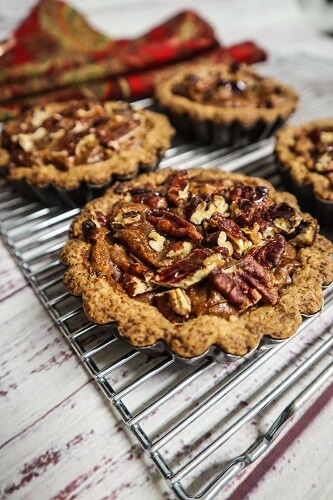 For the filling, I used my date caramel.  Since I discovered date caramel when I was raw vegan for a few years I have never gone back to making refined sugar caramel. Date caramel is so good and it is about as natural as you can get when it comes to caramel.  Dates are nature's candy after all! I just blend them up with some nut butter and a few other things and I could seriously eat that caramel with a spoon!  It makes amazing pie filling!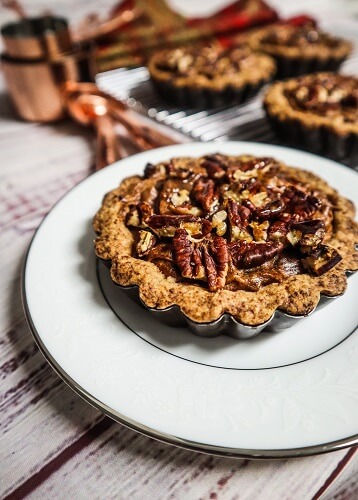 Once the pecans and bourbon were mixed in and they were baking they filled my home with the most heavenly aroma!  I could not wait to try one, but of course they had to cool first.  They were super delicious!  That sweet gooey date caramel with a hint of bourbon and vanilla flavor was so good with the toasted pecans and buttery crust!  These will be perfect for Thanksgiving this week!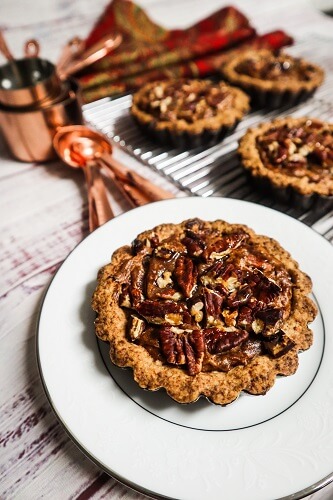 Mini Vegan Bourbon Pecan Tartlettes 
Makes 6 small tartlettes
Ingredients:
Crust:
1 1/4 cups organic whole wheat pastry flour
2 Tbsp coconut sugar or maple sugar
1/4 tsp sea salt
1/4 cup plus 2 Tbsp coconut oil in its solid state
about 3-4 Tbsp cold water
Filling:
1 cup soft pitted medjool dates (if they are not soft, soak them in filtered water for 30 minutes and drain well
before using)
1/4 cup pecan butter (or almond or cashew butter)
1 Tbsp maple syrup, plus more for brushing the top of the tart
1/8 tsp sea salt
1 tsp pure vanilla extract
1/3 cup filtered water
1 Tbsp bourbon
1 Tbsp coconut oil
2 cups toasted pecans, chopped plus more for top of tart
Directions:
Preheat oven to 375F degrees.
To make the crust, in a large bowl, mix together flour, sugar, and sea salt. Cut in coconut oil with a pastry blender or 2 knives until it is in pea sized pieces. Mix in  just enough water to create a smooth dough that holds together but isn't too sticky. Add more water if needed, and knead slightly until a smooth dough is created. Divide dough into 6 pieces, and press into the bottom and up the sides of 6 4 inch inch tart pans.  Set aside in the refrigerator.
To make filling, combine all ingredients in a high speed blender or food processor except the pecans. Process until smooth, then scrape into a bowl and stir in the pecans. Spread the filling over the crusts, and top with more pecans. Brush the tops lightly with maple syrup. Place on a baking tray, then place the tray in the oven.
Bake for about 25 minutes until the crust is starting to brown lightly. Remove from oven and let cool before serving.
(Visited 532 times, 1 visits today)