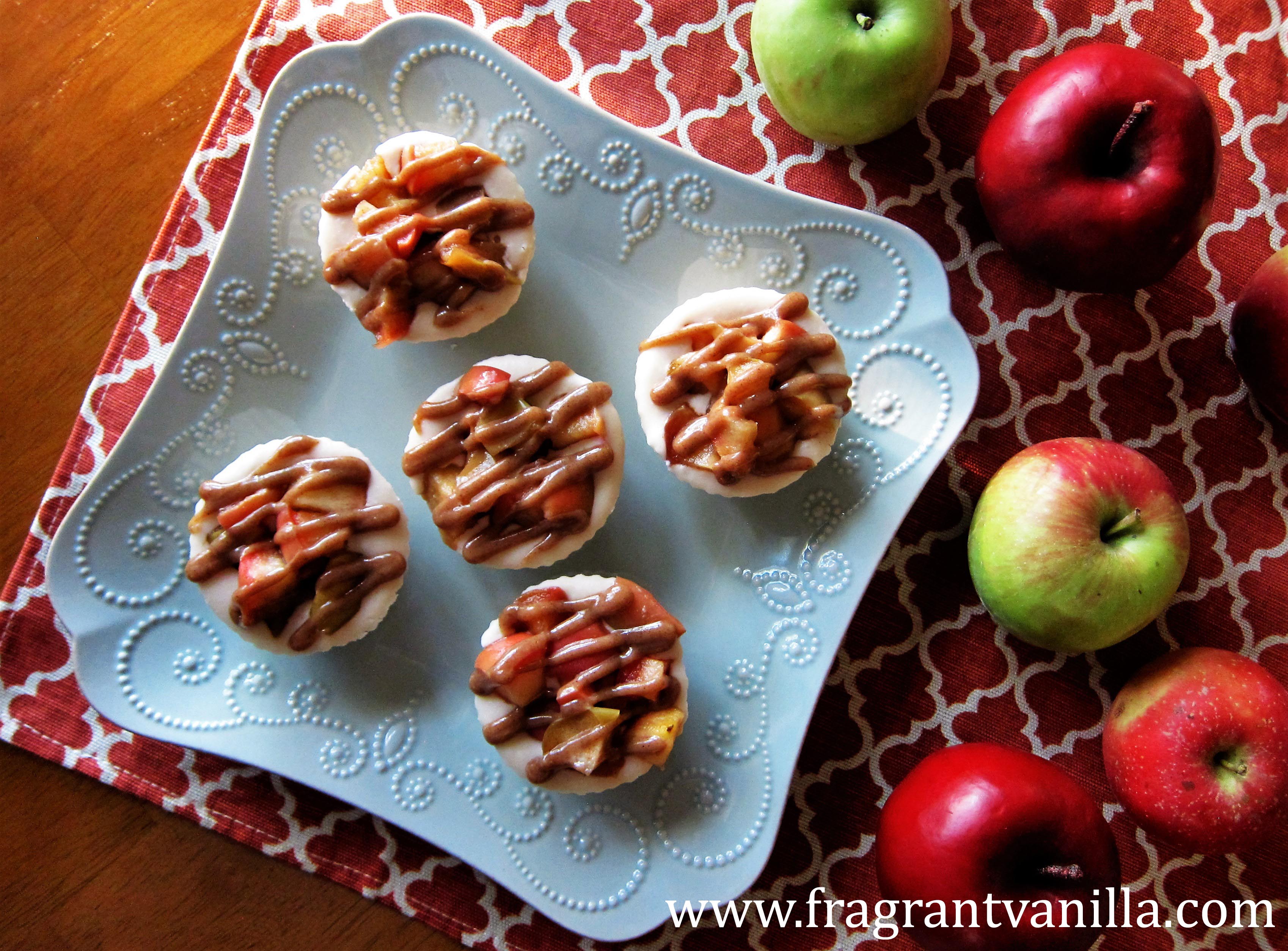 Mini Vegan Apple Maple Cheesecakes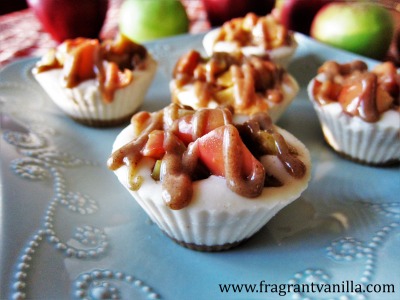 Apples are abundant in my kitchen lately.  So, when I got home from work Friday, and had the urge to bake something to relive stress and chill out, it was going to be apple.  I had a bunch of ideas for what I wanted to make bouncing around in my head and couldn't decide on just one, so I had to ask Eric help me decide.  He said apple cheesecake sounded the best to him.  It sounded good to me too, and I knew I would have more time on the weekend to bake something else if I wanted to so cheesecake it was!  The idea of apples and cream cheese has always been a winner to me, ever since I had a Dutch apple pie with cream cheese filling when I was a kid.  It was amazing.  So I was excited about these!  I decided to make mini cheesecakes, because they are much easier than making a large one, plus good for small families such as mine when you don't want a giant cake.  Not only that, how cute is it to have your own little individual cheesecake?!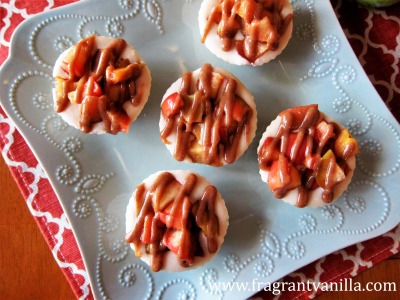 I kept the crust simple and plain, because I wanted to showcase the cheesecake and apples. For the filling, I sweetened it with a little maple syrup and maple extract, and it tasted wonderful!  I could have eaten it with a spoon, like rich frosting, but I poured it into the molds of course.  I kept the apple part simple, just a little cinnamon and maple syrup like my classic apple pie, but it tasted so good because the apples were very flavorful.  It is important to buy things like local apples whenever you can, because they taste much better, and of course they have more nutrients than ones that have sat too long in transit.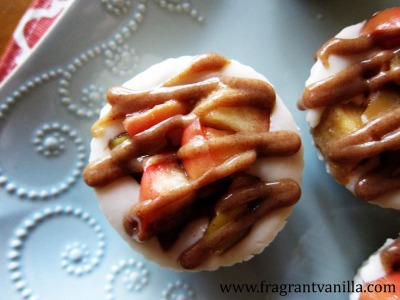 I finished it all off once it was set with a little caramel, and it was so delicious!  I am glad Eric decided on these for the dessert to make, because they are better even than I expected!  Sweet, with the scent of maple and cinnamon, a little tart from the apples, and the gooey caramel to top it off… all together simply heavenly!  If you have some apples lying around from your last trip to the apple orchard, you must give these a try!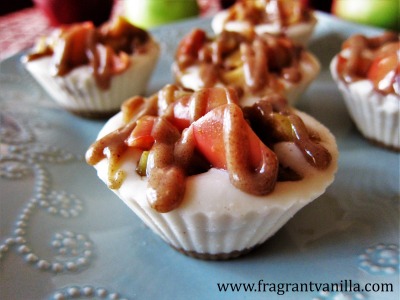 Mini Vegan Apple Maple Cheesecakes
Makes 6
Crust:
1/4 cup gluten free organic oat flour
2 Tbsp almond butter
1 Tbsp coconut butter, warmed to liquid
1 Tbsp maple syrup
1/16 tsp sea salt
Topping:
2 cups diced apples
1 Tbsp maple syrup
pinch sea salt
1/4 tsp cinnamon
Cheesecake Filling:
1/2 cup full fat organic coconut milk at room temperature
1/4 cup cashew butter
1/8 tsp sea salt
2 Tbsp maple syrup
1/4 cup plus 2 Tbsp coconut butter, warmed to liquid
Quick Caramel:
1 Tbsp almond butter
1 Tbsp maple syrup
filtered water as needed
Instructions:
To make the crust, stir together all ingredients in a bowl, and then press into the bottoms of 12 silicone muffin tins.  Place in the freezer while you make the filling.
To make the topping, combine all ingredients in a saucepan and cook over medium heat until the apples are softened, about 7 minutes.  Remove from heat and let cool.
To make the filling, combine all ingredients in a blender and blend until smooth.
Pour the filling over the crust, spoon the apples over it, and place in the freezer to firm up for about 45 minutes or up to an hour.  Once they have firmed up, unmold them and place them on a tray.
To make the caramel, whisk together the pecan butter, maple syrup, and just enough water to make it pourable.
Once the cheesecakes have set, drizzle the caramel over the cheesecakes and serve! Store any left over cheesecakes in the refrigerator.
(Visited 82 times, 1 visits today)