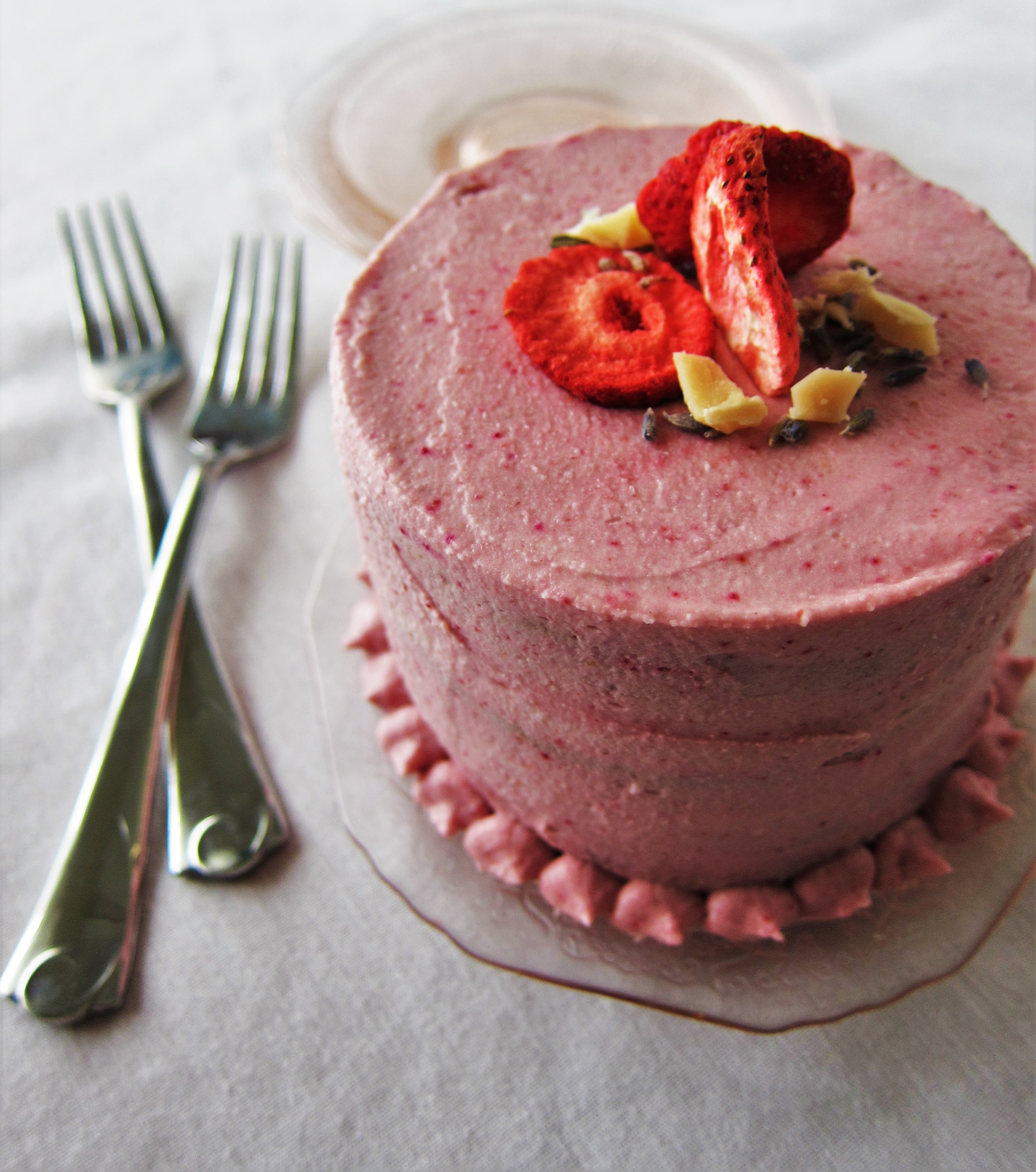 Mini Strawberry White Chocolate Layer Cake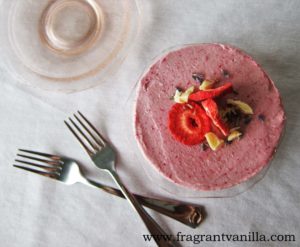 Sometimes I just feel like making a pink girly dessert.  Maybe it is the five year old in me that forever wants to wear sparkles and pink.  So what if I am 30 I think that way sometimes.  So, I decided last weekend I was in that sort of mood and wanted a pink cake.  Maybe it had something to do with being a little stressed out about something and wanting to escape with making and eating a happy cake. But hey, it worked.  Cake making to me is relaxing. It feels like an art form, and is in a way.  An edible art form.  The process is so much fun, especially licking the excess frosting and batter bowls and decorating.  It always makes me feel happy, especially if I am pleased with the end result.  Which I usually am, and if I am not it has to do with how it looks, not usually how it tastes (and sometimes it is ok to have an ugly cake that tastes amazing).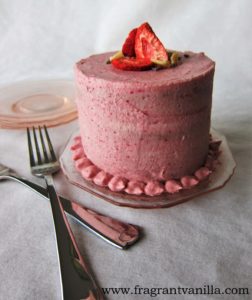 So anyways, back to this cake I made last weekend.  I am in a strawberry eating mood, since it Spring, so I made a Strawberry White Chocolate Layer Cake. Strawberries infused the vanilla cake batter, and the frosting.  I also used a quick strawberry "jam" in between the layers to give it extra flavor. Now you may be wondering if you read the recipe, why I used freeze dried strawberries.  Well, simply put they are loaded with intense strawberry flavor.  So the batter has more strawberry flavor if I use them in there than fresh pureed berries, since it is baked. As far as the frosting goes, they do not add any excess water, so it keeps the frosting from getting runny.  I reserved the fresh berries for the jam.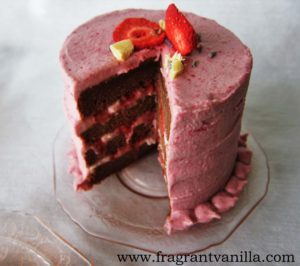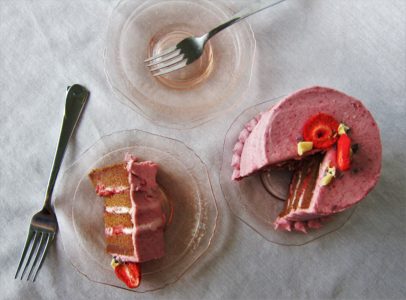 Speaking of frosting, I gave it a white chocolate flavor by adding cacao butter along with the coconut butter.  It tasted like white chocolate strawberry mousse.  I made this a little cake, just enough for me and Eric to share for dessert.  It was delicious!  It had an intense strawberry flavor, it was moist, sweet, and delicious.  This is the perfect special Spring dessert for two to share!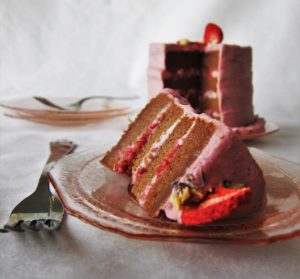 Mini Strawberry White Chocolate Layer Cake
Makes 1 6 inch 4 layer cake
2 4 inch cake pans
Cake:
3/4 cup all purpose gluten free flour
3/4 tsp baking soda
1/2 tsp baking powder
1/4 tsp sea salt
1/2 cup packed soft medjool dates, pitted, soaked in water for 30 minutes and 1/2 cup of the water reserved
1 cup organic freeze dried strawberries
2 Tbsp avocado oil
1 tsp pure vanilla extract
1/2 cup filtered water
1 Tbsp apple cider vinegar
Frosting:
1 15 oz can organic full fat coconut milk
2 Tbsp maple syrup
3/4 cup organic freeze dried strawberries 
1 tsp pure vanilla extract
1/4 cup plus 2 Tbsp coconut butter, warmed to liquid
1/4 cup cacao butter, warmed to liquid
Strawberry Jam:
3/4 cup fresh strawberries
1 Tbsp maple syrup
1 Tbsp lemon juice
1 Tbsp coconut butter, warmed to liquid
Preheat the oven to 375F degrees and position rack in center of oven. Line the bottoms of two 4-inch-diameter cake pans with 2-inch-high sides with parchment paper. Coat parchment paper and pan sides lightly with oil so that the cake doesn't stick. Whisk flour, baking powder, baking soda, sea salt, in a large bowl to blend well. Place dates, reserved water, oil, dried strawberries, and vanilla extract into a high speed blender, and blend until smooth*, then whisk this blended mixture into the flour mixture until well blended.
Whisk the cider vinegar into the batter until bubbles form. Transfer cake batter to prepared pans, and bake cakes until tester inserted into center comes out clean, about 20 minutes. Cool cakes completely in pan on rack, about 1 hour. Cut around sides of pan to loosen if they are stuck at all. Turn cakes out onto platter; peel off parchment paper. Let cool completely, then slice each in half horizontally so you have 2 layers out of each.
Meanwhile, to make the frosting, combine all ingredients in a high speed blender and blend until smooth. Pour into a bowl, and set in the freezer for about 30-45 minutes (whisking every 15) until it reaches the thickness and consistency of thick whipped cream or buttercream frosting.
For the jam, combine all ingredients in a food processor and pulse until jammy, and the strawberries are still a little chunky.
To assemble, place one cake layer on a plate, and spread frosting 1/2 inch thick over it. Spread a little jam over that (keeping it about 1/2 inch from the sides so it does not ooze). Place another cake layer over that, then spread more frosting over it, then more jam, then another cake layer.  Then more frosting and jam and the last cake layer. Spread the remaining frosting on the top and down the sides of the cake. Store any leftover cake in the refrigerator.
If you would like to bake a bigger cake, double the entire recipe for a 6 inch cake, and bake it for about 30 minutes instead of 20.  If you would like an 8 inch cake, quadruple the recipe, and bake for about 1 hour instead of 20.
(Visited 62 times, 1 visits today)