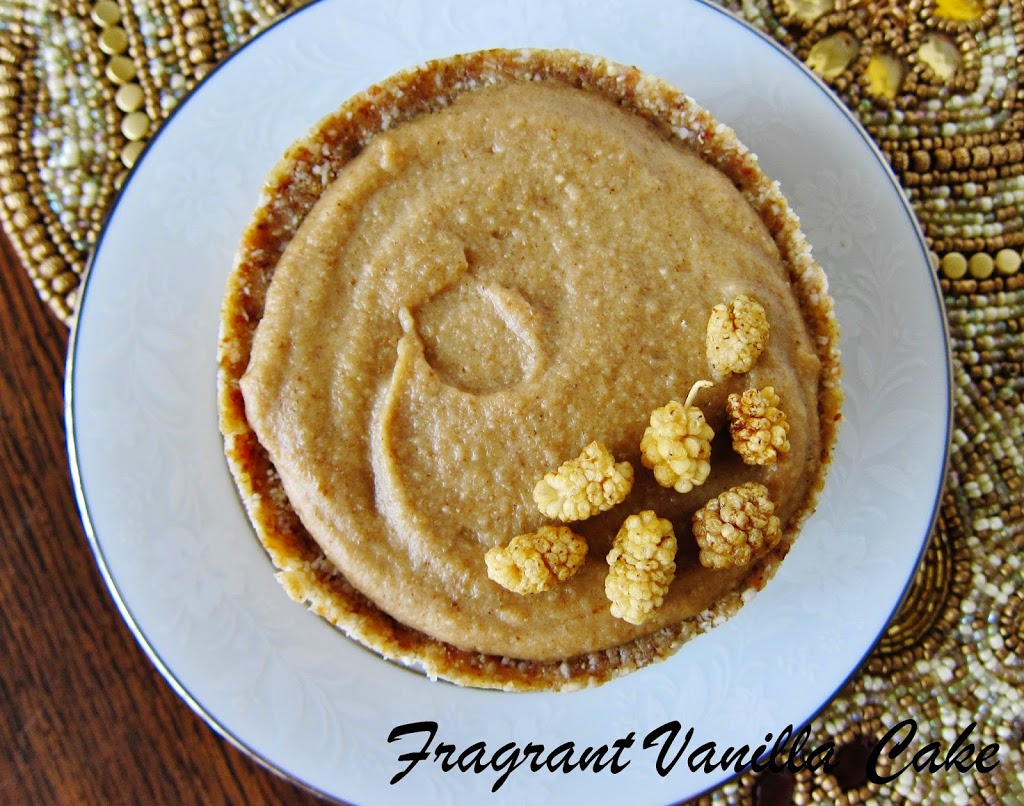 Mini Raw White Mulberry Caramel Tartlette for Two
I thought about making a large scale dessert, but since white mulberries are so precious, and I simply wanted to make a dessert large enough for two so I could share it with Eric, I made a mini tartlette.  Just a simple crunchy crust, and a really simple white mulberry date caramel that came together in less than a minute in my blender.  Altogether a super fast dessert that I made in 30 minutes.  Let me tell you, that caramel was luscious, and what did not make it into the crust, I scraped every last bit out of the blender to enjoy.  It tasted like caramel with a hint of white chocolate thanks to the special white mulberries.
It was the perfect size for two to share, and it was well worth the quick prep to make. And...if you are a big sweets person, you could totally take this down yourself and I would not blame you. It is that good.  If you have never tried white mulberries in caramel, you are missing out.  Get on it people!
Mini Raw White Mulberry Caramel Tartlette for Two
Makes one 4 inch tart
Crust:
1/3 cup sprouted buckwheat
1/2 cup shredded coconut
2 Tbsp ground flax seed
1/4 cup soft, pitted medjool dates
pinch sea salt
Filling:
3/4 cup Vivapura white mulberries
1/3 cup soft pitted medjool dates (if they are not soft, soak them in filtered water 30 minutes and drain before using in the recipe).
3 Tbsp raw coconut butter, warmed to liquid
1/2 cup filtered water
1 tsp pure vanilla extract
pinch sea salt
more mulberries for garnish
In a food processor, combine all crust ingredients, and process until fine crumbs that hold together when squeezed.  Press into the bottom of a 4 inch removable bottom tart pan oiled with coconut oil for easy removal.  Set aside.
For the filling, combine all ingredients in a high speed blender and blend until smooth.  Pour into the crust, and smooth the top. Place in the refrigerator until set, about an hour.  Serve topped with more mulberries
(Visited 512 times, 1 visits today)