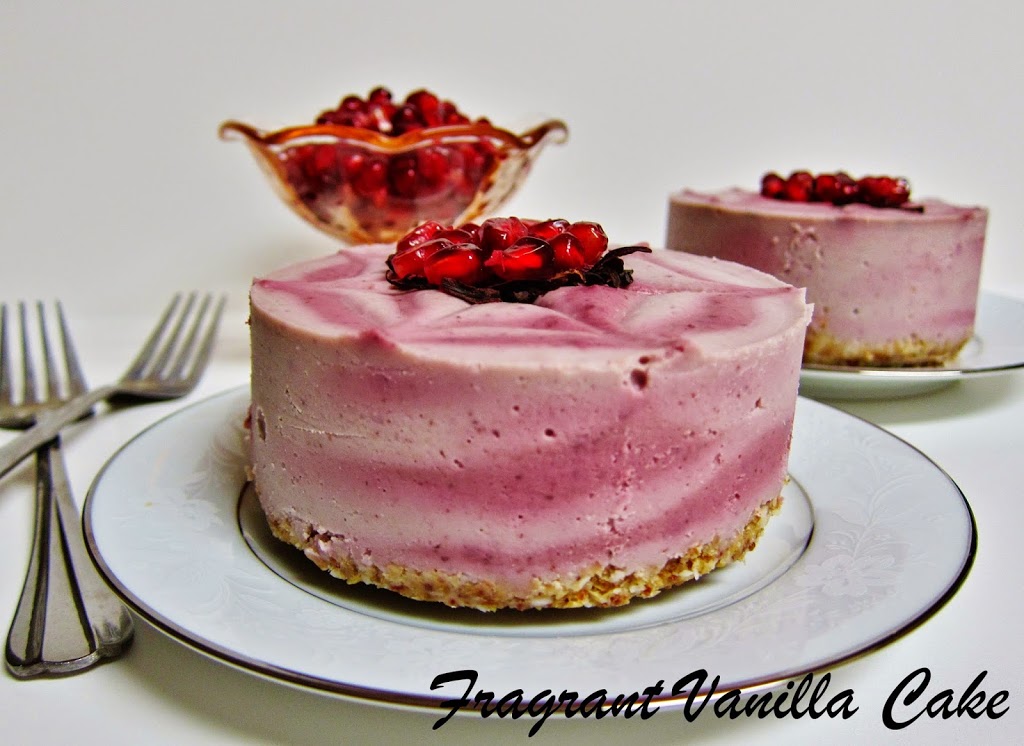 Mini Raw Pomegranate Hibiscus Yogurt Cheesecakes
Pomegranates give color to my winter.  When I am outside, it is a bit dreary, gray, brown (since the snow has melted), chilly and not pretty like summer.  So, instead of looking to the outdoors for color, I find natural color indoors through my food...like pomegranates, whose seeds to me are as beautiful as little rubies.  I tend to keep them around often, because I like them on salads for little bursts of color, or just as part of my large bowl of fruit that I eat every afternoon for a snack,  Sometimes though when I am inspired, I put them in my desserts.
I had made a batch of probiotic coconut yogurt last week, and decided to make mini cheesecakes out of it, because to me raw cheesecake always sounds good, and the ones made with coconut yogurt are my favorite.  They have the tang of dairy.  Not being one to make the same flavors of cheesecake over and over again, I decided that the pomegranate on my counter would make a lovely addition to the cake...then I decided to add hibiscus as well, since I had a pomegranate hibiscus tea once that was amazing.  I had never used this flavor combination in a cake, so it was perfect! I tend to be very random sometimes when making my desserts in case you can't tell.  Usually deciding what exactly to make at the last minute, or changing the recipe I had thought up as I go.
This one turned out wonderful!  I think the best recipes are discovered in the process of making them.  The tart pomegranate and hibiscus were wonderful with the sweet and tangy yogurt filling.  Like a pomegranate hibiscus party in my mouth good!  If you want to make these into one big cake instead of mini pans by all means go for it in a 6 inch round pan.
Mini Raw Pomegranate Hibiscus Coconut Yogurt Cheesecakes
Makes 4 4 inch cakes
Yogurt:
4 cups young coconut meat*
1/2 cup coconut water
Crust:
2/3 cup
 raw sprouted buckwheat groats (or additional coconut)
1/3 cup ground flaxseed
3/4 cup dried finely shredded coconut
1/8 teaspoon sea salt
10-12 soft medjool dates, pitted and chopped (if they are not soft, soak them in water until they are and drain them well)
Filling:
2/3 cup raw coconut nectar, (or liquid sweetener of your choice)
1/2  teaspoon sea salt
1 Tbsp pure vanilla extract and seeds from half a vanilla bean
3/4 cup 
raw coconut butter
 (warmed to liquid)
1 1/2 cups fresh pomegranate seeds
1 Tbsp dried hibiscus flowers, soaked in 2 Tbsp filtered water
1 tsp beet powder
Pomegranate seeds and hibiscus for garnish
To make the yogurt, combine all ingredients in a high speed blender and blend until smooth. Pour into a glass bowl, cover with plastic wrap, and allow to sit in a warm place overnight.
To make the crust, lightly coat four 4 inch spring form removable bottom pans with coconut oil. To prepare the crust, process flax, coconut, buckwheat and sea salt in a food processor until fine crumbs, then add the dates and process until the mixture holds together when squeezed between your fingers (if not holding together, add more dates). Firmly press crust into the bottom of the prepared pans, and set aside.
To make the filling, in a high speed blender or food processor, combine yogurt, coconut nectar, sea salt, and vanilla in a food processor and blend until smooth and creamy. With the processor running, add the coconut butter and process for a minute until blended.  Add the pomegranate seeds and hibiscus and blend until smooth.  Remove half from the food processor and place in a bowl  Add the beet powder to the filling remaining in the processor and blend until uniform in color.  Place in a bowl.
To assemble cheesecakes, spoon 1 Tbsp of the lighter filling onto the center of each crust, followed by the darker filling, in the same spot. Continue to do this until the pan is full (it will create a striped look in the finished product).  Use a toothpick to create a design in the top of the cake if you wish. Place in the freezer for about 4 hours to firm up. Garnish the top with fresh pomegranate seeds and dried hibiscus before serving.
(Visited 119 times, 1 visits today)