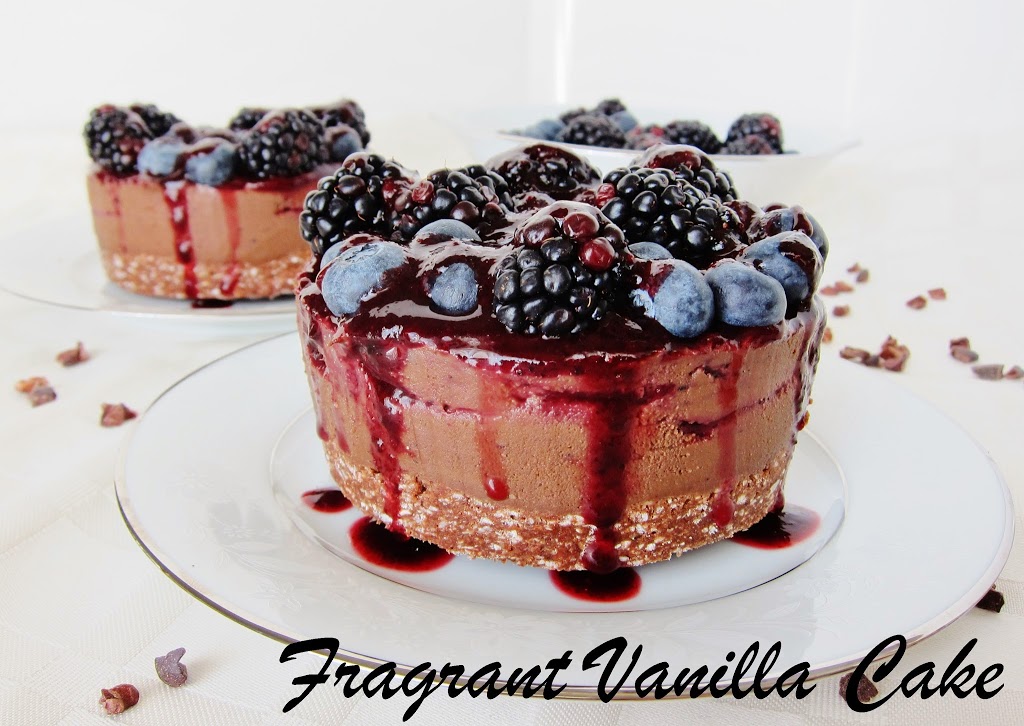 Mini Raw Dark Chocolate Black and Blueberry Mousse Cakes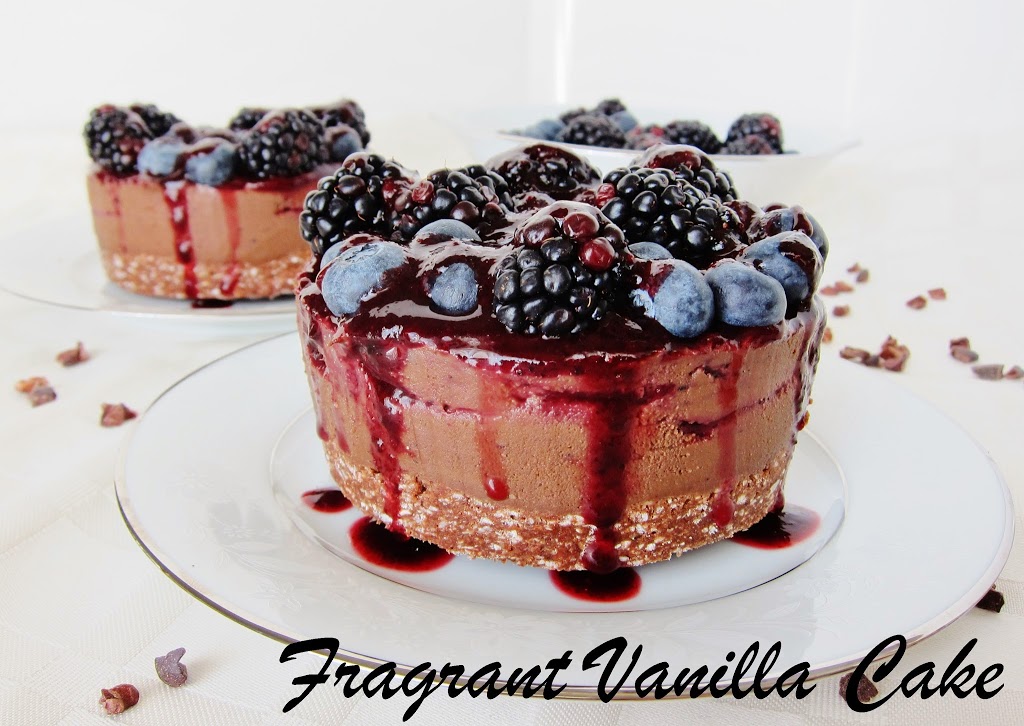 Berries + Dark Chocolate = Sexy.  I mean, come on, there is a reason people serve chocolate dipped strawberries for Valentine's day.  Although the red fruits like strawberries and raspberries are most commonly paired with chocolate (and I myself love the combination), lets not forget about the blue and purple berries.  Those are amazing with cacao too!  I used to have a favorite chocolate bar that combined blueberries and lavender with dark chocolate and it was amazing.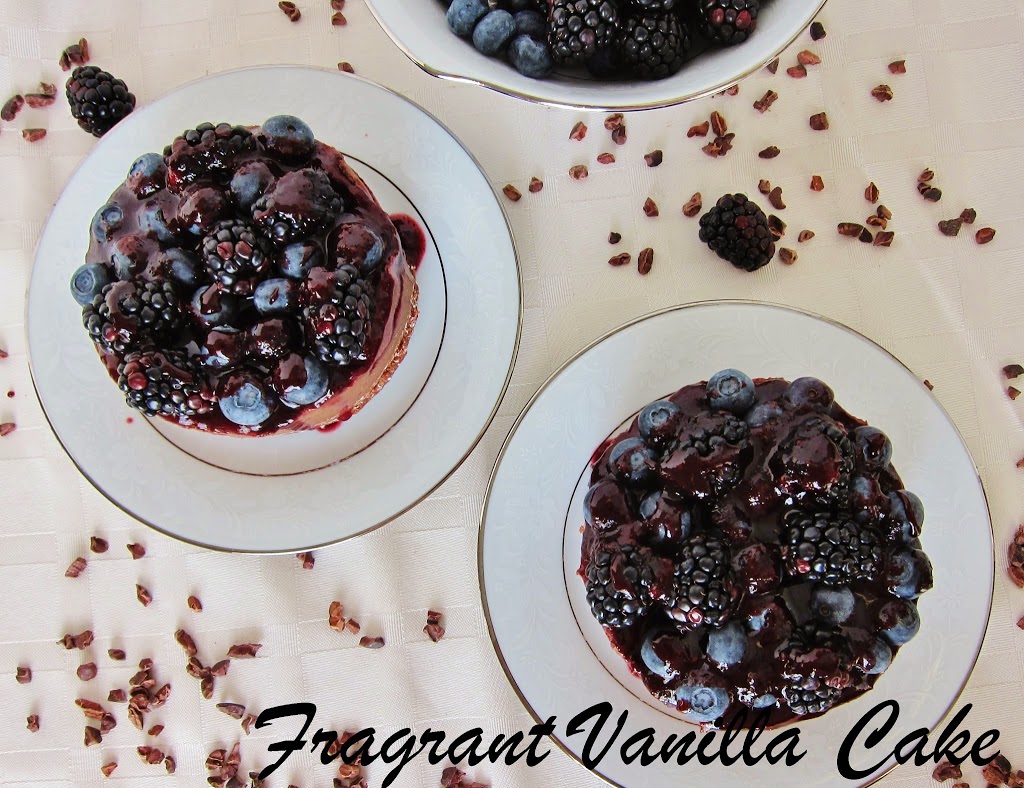 So, when I was given blackberries and blueberries this week to make something with, immediately a dark chocolate mousse came to mind to pair them with.  Although I could have simply made parfaits, layering the mousse and berries, I decided on little individual cakes instead. After all, who doesn't enjoy having their own little cake all to them self.  I used rich creamy avocados for the mousse made decadent with raw cacao powder, vanilla and a bit of the berry puree, then rippled it with ribbons of jammy berry goodness and topped it off with more fresh berries and sauce.  It was a beautiful sight, but more importantly it was simply heavenly.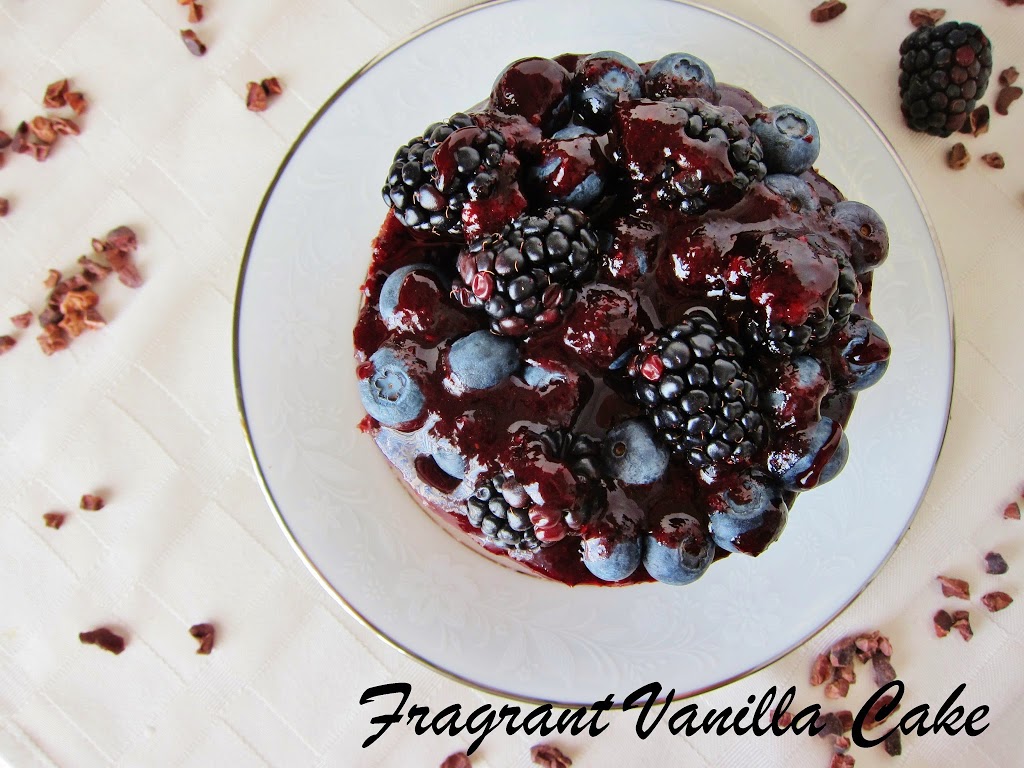 I shared them with Eric my boyfriend who actually gave me the blackberries, and he loved it.  I knew before he even said so because the cake was gone pretty fast.  If you haven't tried the black and blueberry dark chocolate combination, it is amazing and you should make this cake to share with someone (or just for yourself, that works too).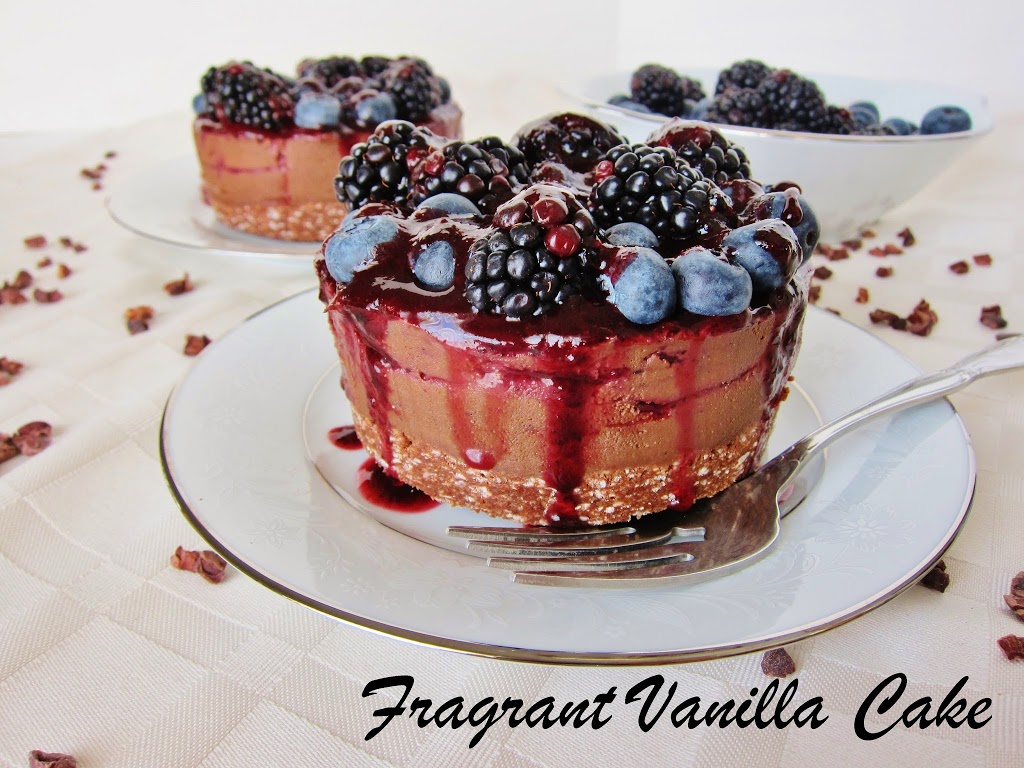 Mini Raw Dark Chocolate Black and Blueberry Mousse Cakes
Makes four 4 inch cake
3/4 cup dried finely shredded coconut
1/8 teaspoon sea salt
10-12 soft medjool dates, pitted and chopped (if they are not soft, soak them in water until they are and drain them well)
3 Tbsp raw cacao powder
Black and Blueberry Puree:
1 1/4 cups fresh blackberries
1 1/4 cups fresh blueberries
2 Tbsp raw coconut nectar or maple syrup
1 tsp pure vanilla extract
Chocolate Filling:
4 cups diced ripe avocados (about 3 medium)
1/2 cup plus 2 Tbsp raw coconut nectar, or maple syrup
1/2 tsp sea salt
1 Tbsp pure vanilla extract
1 1/4 cups raw cacao powder
1/4 cup plus 2 Tbsp raw coconut butter, liquefied
1/4 cup of the berry puree
Fresh organic blackberries and blueberries for garnish
Lightly coat a 4 4 inch spring form removable bottom pans with coconut oil. To prepare the crust, process flax, coconut, buckwheat and sea salt in a food processor until fine crumbs, then add the dates and cacao powder and process until the mixture holds together when squeezed between your fingers (if not holding together, add more dates). Firmly press crust into the bottom of the prepared pans, and set aside.
To make the berry puree, combine all ingredients in the food processor and process until well blended.  Set aside
To make the chocolate filling, combine all ingredients in the food processor and process until smooth. Set aside.
To assemble cakes, pour half the chocolate filling over the crusts, then drop some of the berry puree by the tsp over that.  Swirl with a knife to marble. Pour the rest of the chocolate filling over the cakes and smooth the tops. Place in the freezer for about 4 hours to firm up.  Once firmed up, to the cakes with blackberries and blueberries, then whisk a bit more coconut nectar into the puree to thin it out if too thick (it should be runny to drizzle over cakes).  Drizzle the cakes with the puree and let it run down the sides.  Serve!  Store extra cake in the fridge.
Note: You can make one big cake if you like, just use a 6 inch round springform pan.
(Visited 193 times, 1 visits today)