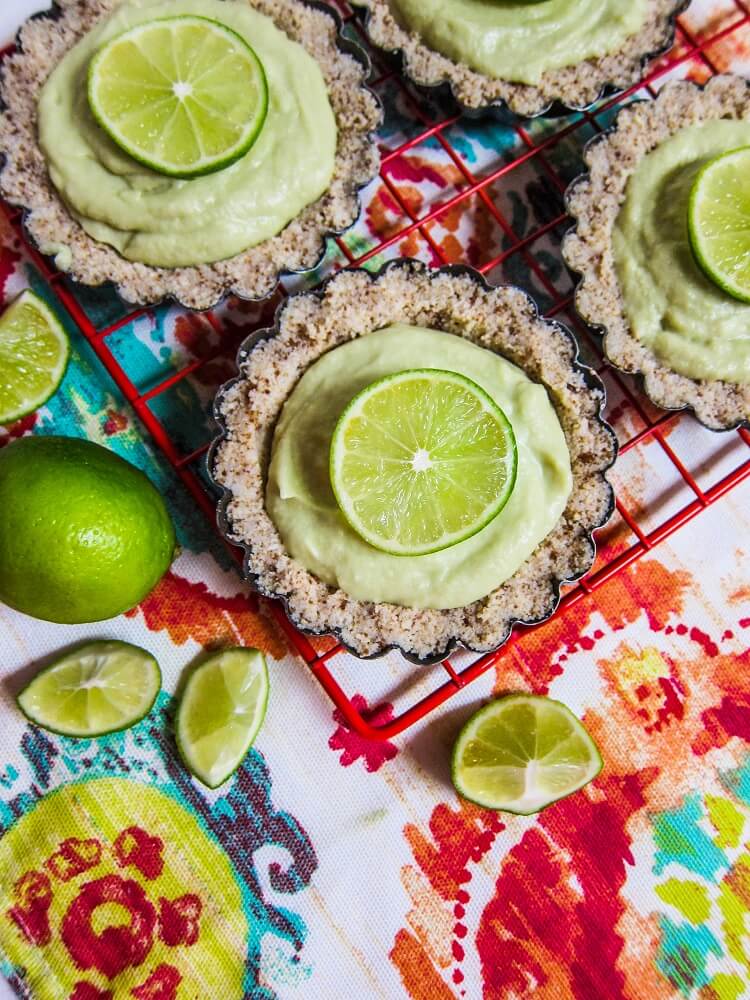 Mini Avocado Lime Cream Tartlettes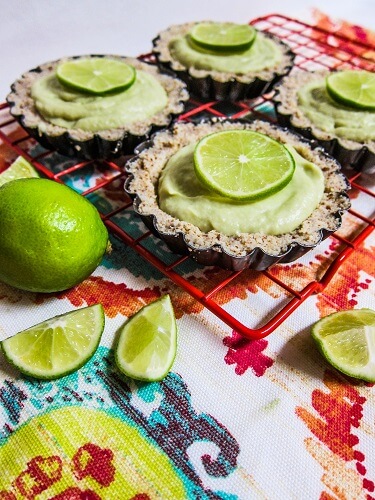 I had a bag of limes on my counter just waiting to be used for something and key lime pie sounded really good, but I didn't want to make a giant key lime pie just for myself and it seemed like maybe a lot of work for the energy level I had at the time. I was pretty tired from work and it just being gloomy outside but some summery limes in a dessert seemed like the perfect cure. So long as it was easy to make, so what I decided on was mini tartlettes. I love them because they are perfectly portioned, easy to share and I am not tempted to eat half a big pie.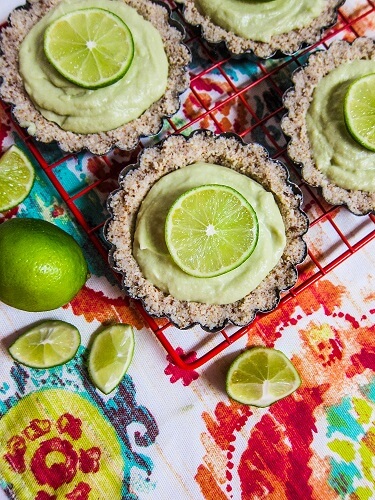 Since these were going to be easy to make, I made a no bake crust this time instead of the usual pie crust because waiting for them to bake and cool would take too long. I made a rich crust with almond flour and it worked out perfectly! Also bonus this is gluten free, because I did not use any flour for this, so I am sure some of you can appreciate that! Or you may be like me and have just have almond flour on hand you are not quite sure what to do with so this is the perfect use for it!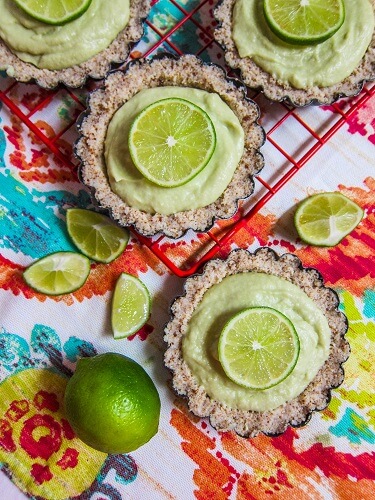 The filling was super simple to make, you just buzz everything in your blender or food processor and voila! Delicious key lime pie filling. I used plenty of tart lime juice as well as zest to make these super fragrant, and just enough maple syrup to sweeten them. The base was a mixture of avocado and coconut milk and coconut butter, to make it nice and creamy and rich. I could have eaten it with a spoon like a mousse but of course then my tart shells would go to waste so I restrained myself.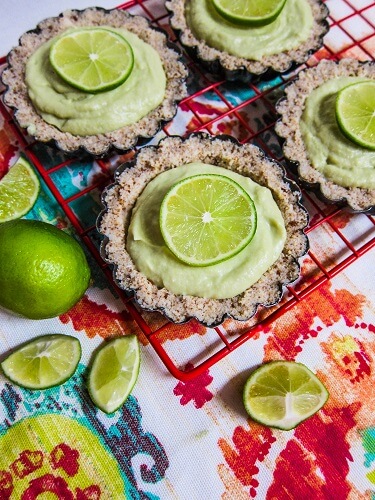 They were done in under and hour and they turned out super delicious. The filling tasted like a richer version of classic key lime pie, the almost buttery nutty almond tart the perfect pairing with it! If you are a fan of key lime pie, but don't want to make a whole giant one, give these babies a try!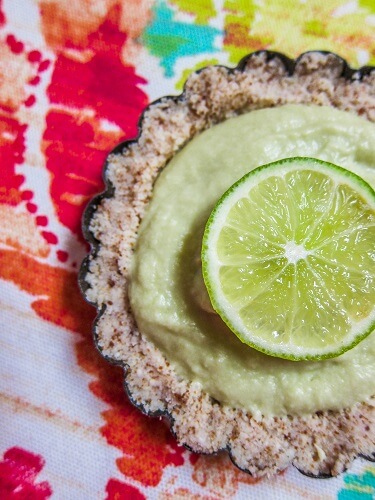 Mini Avocado Lime Cream Tartlettes
Crust:
1 cup almond flour
1/2 cup coconut butter, warmed to liquid
1 Tbsp almond butter
1/4 cup maple sugar
1/8 tsp sea salt
Filling:
3/4 cup full fat coconut milk (the thick part from the top of the can)
1 medium ripe avocado
1/3 cup lime juice
1 Tbsp organic lime zest
2 Tbsp maple syrup
1 tsp pure vanilla extract
1/2 coconut butter, warmed to liquid
Instructions:
Combine all crust ingredients in a bowl, and mix together.
Press the crust mixture into the bottoms of 4 mini tart pans. Place in the freezer while you make the filling.
To make the filling, combine all ingredients in a high speed blender or food processor until smooth. Pour into the crusts, and set in the freezer until they firm up, about 30-45 minutes.
Once they are set, enjoy!
Store leftovers in an airtight container in the refrigerator for up to 1 week.
(Visited 139 times, 1 visits today)