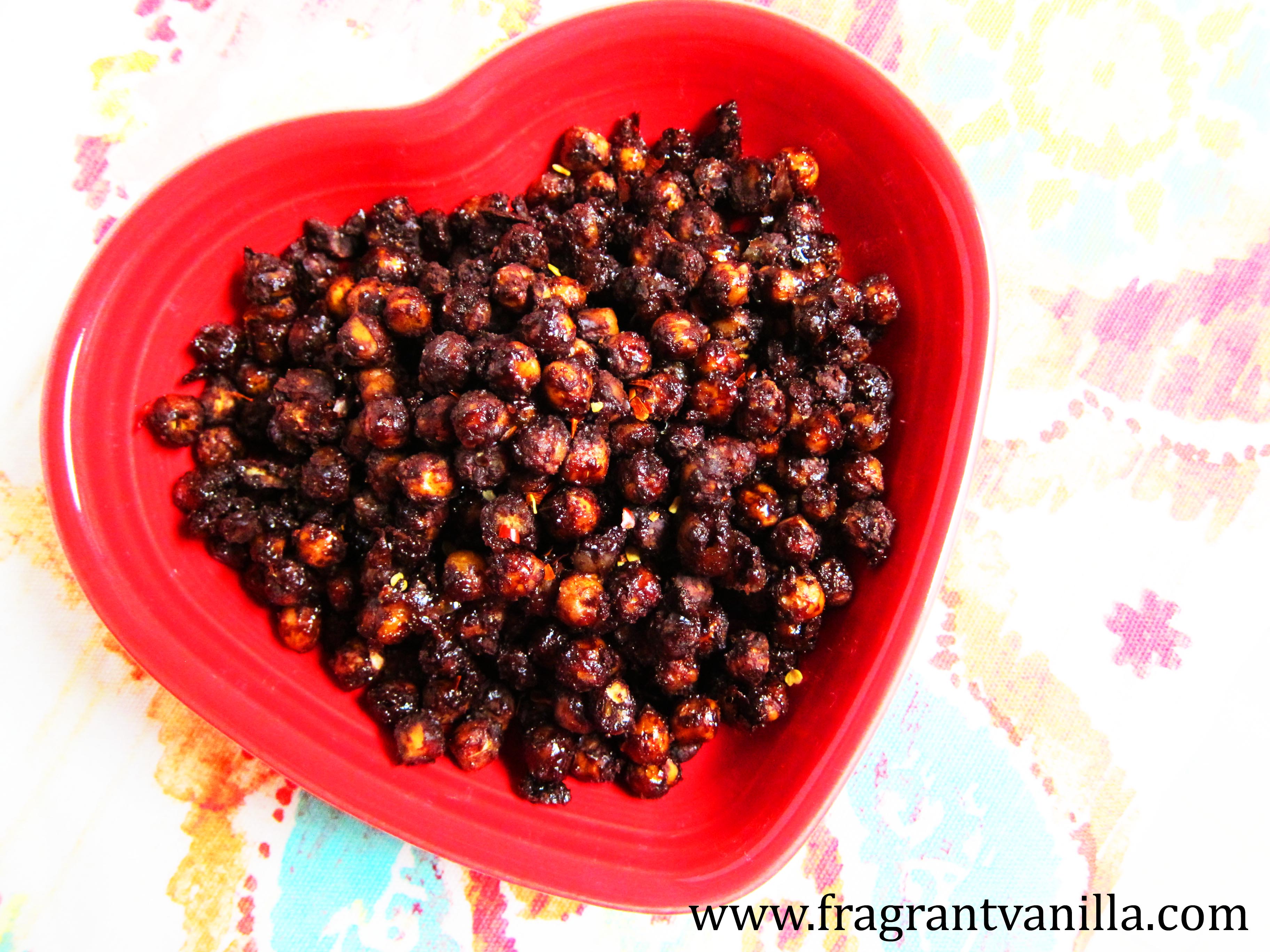 Mexican Chocolate Roasted Chickpeas
I have been wanting to make roasted chickpeas for a long time now.  I mean, I eat chickpeas all the time, in the form of hummus or to top my salads off with, or stir into soups.  So why not for a snack as well?  I admit, I do just eat plain cooked chickpeas with sea salt sometimes for a snack when I need something fast, since I keep a big container of them in my refrigerator at all times. But that is a little boring.  I wanted to make a snack with more pizazz that I could get excited about!  I thought about making some savory ones (and I will eventually) but this time chocolate sounded good.  Maybe it was because when I was buying a few things at work I spotted the Valentine's candy display, most of which was chocolate and it got me craving some.  It being within a month of Valentines day is a good excuse to make more chocolate goodies as far as I am concerned.  At least these are healthy, with the extra protein from the chickpeas and no refined sugar and all!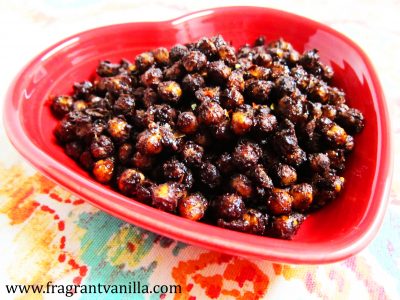 I looked at a few recipes for chocolate chickpeas, and decided to just come up with my own based on them because that is what I usually do.  I can never just make a recipe as is and leave it alone, it always ends up totally different.  Maybe that is why I am a food blogger.  Most of the recipes I saw used coconut oil along with the cocoa powder, but I decided that I like nut butter better.  I don't use a lot of oil in my recipes if I can help it, and these were going to be Mexican chocolate chickpeas so almond fit.  Think mole sauce, it contains almonds a lot of the time.  I sweetened it with a little maple syrup, which along with the almond butter made a rich chocolate sauce.  I added some chipotle powder and cinnamon and the chickpeas tasted delicious even before I roasted them!  I always like to taste things before I bake them to make sure they meet my standards.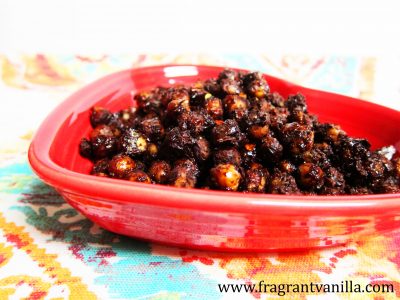 They made my house smell amazing while baking!  Chocolate and spice filling the air and making me happy!  If you ever have a bad day, bake something that smells good, it totally lifts your mood! I admit I was on edge at the end of the day and kind of crabby when I decided to make this snack, but I did feel better by the end of the process.  Something about being in my own kitchen and creating things at a leisurely pace always calms me down too.  So how did they taste?  Wonderful!  You should totally try them out the next time you are craving chocolate.  With these you can get a little protein and fiber along with your chocolate and not just sugar.  I have decided that I need to roast more chickpeas and come up with more exciting flavors!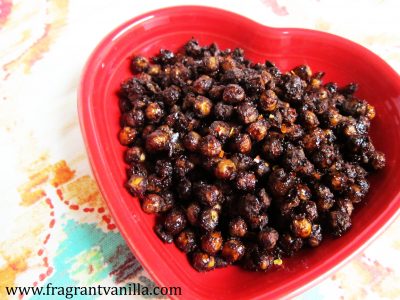 Mexican Chocolate Roasted Chickpeas
Serves 4
Ingredients:
2 cups cooked chickpeas
2 Tbsp unsweetened cocoa powder
1 1/2 Tbsp almond butter
2-3 Tbsp maple syrup (depending on how sweet you want it, I used 2)
1/8-1/4 tsp chipotle powder (depending on how spicy you like it)
1/4 tsp cinnamon
1/4 tsp sea salt
Instructions:
Preheat oven to 375F degrees, and line a sheet pan with parchment.
Place the chickpeas into a bowl, and mix with all other ingredients.
Spread chickpeas out on the parchment, place in the oven and roast for 25 minutes, then stir, and roast another 20.  Remove from oven and let cool before enjoying.
(Visited 79 times, 1 visits today)