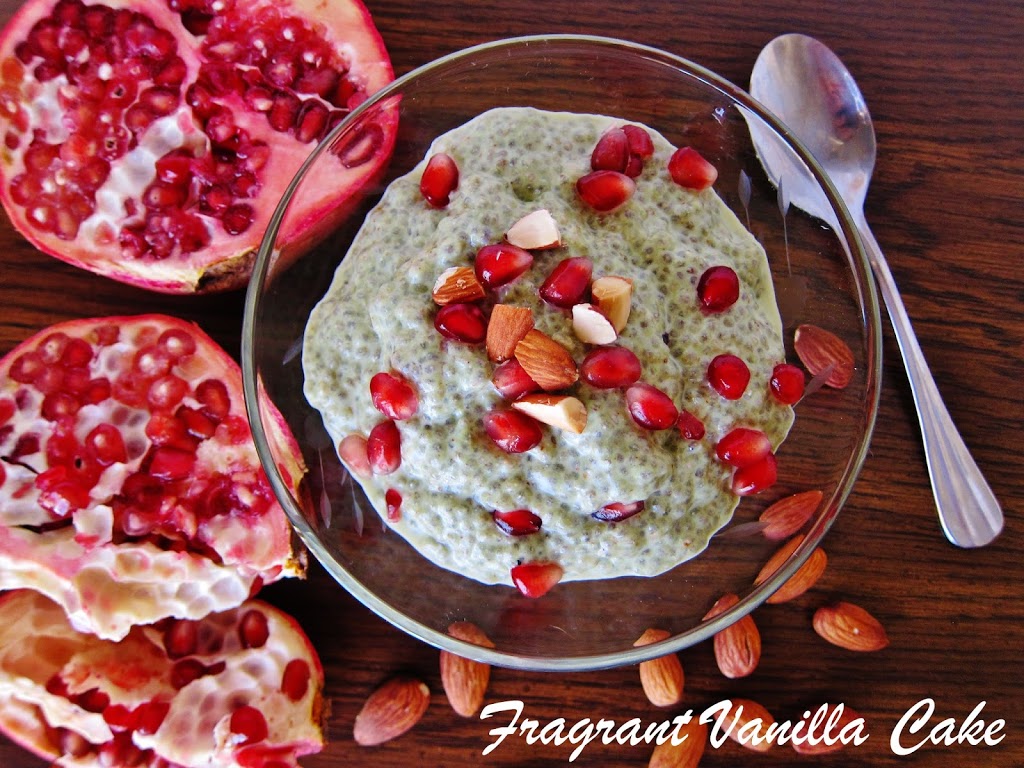 Matcha Almond Chia Porridge with Pomegranate
Mornings can be hectic I am not going to lie. I wait until the last possible minute to wake up leaving enough time for a run and a shower and by the time that is all over there is not much time to make breakfast. That said though, I never skip breakfast! I used to when I was a kid (shame on me), but that just doesn't cut it as an adult. I need the food to refuel so I can be productive at work and not starving. Plus I get really crabby when my blood sugar is low. So, I come up with quick breakfasts that are either made ahead of time, or made quickly. Smoothies are part of the made quickly group, love them, and who doesn't love breakfast that tastes like sweet dessert?! Plus it is easy to hide nutritious things in there. Chia porridge, can also taste amazing and chia seeds are wonderful for keeping you full and supplying you with your daily omega 3 oils.
I decided to make a Matcha Almond Chia Porridge last weekend. No, I was not in a hurry, which was why I had time to photograph it, but this is a make ahead and take out of the fridge when you need it sort of thing. I shared some with my boyfriend Eric as well because he has hectic mornings as well. This porridge tasted amazing. Like rice pudding my Mom used to make when I was a kid and I loved, plus the earthy hint of matcha to provide an energy boost and tart sweet little pomegranate seeds. Freaking delicious! With breakfast like this, there is NO excuse to skip eating in the morning.
Matcha Almond Chia Porridge with Pomegranate
Serves 2
2 cups raw almond milk
1-2 Tbsp raw coconut nectar or maple syrup (depending on how sweet you want it)
2 tsp matcha powder
1/2 tsp almond extract
pinch of sea salt
2/3 cup chia seeds
1 cup pomegranate seeds
1/4 cup chopped raw almonds
Combine all ingredients but pomegranate seeds and almonds in a glass jar, put the lid on and shake well, then let sit overnight (or at least a few hours). Stir in pomegranate seeds, top with chopped almonds, and enjoy!
(Visited 53 times, 1 visits today)