Maple Pumpkin Seed Butter Cups
I received a giant bag of organic raw pumpkin seeds as a gift, and the first thing I made with them is some pumpkin seed butter.  I actually really like pumpkin seed butter.  I tend to get stuck in the rut of eating peanut butter and almond butter or using tahini but pumpkin seed butter is actually really delicious and really healthy!  They are high in antioxidants and magnesium, and have a good amount of fiber.  I am trying to get more of a variety in the things I eat and get out of those ruts so making this pumpkin seed butter was a great idea.  Plus I feel like we are getting into pumpkin seed season here.  I know it is not technically fall, but September is fall as far as I am concerned.  Next month we will be carving pumpkins and toasting the seeds!  Which is actually something I look forward to every year.  My Mom used to roast the seeds when I was little for us to enjoy as a snack, so I continue on with the tradition.
Back to that pumpkin seed butter though, I made a giant jar.  And although I will be just eating a good portion I thought it would be good to include it in some recipes too, especially since some of my readers may have a nut allergy and this would be suitable for them. The first thing I made is some pumpkin seed butter cups.  Because I was craving nut butter cups and I figured the beautiful green pumpkin seed butter would be perfect in some!  I love the color of this butter by the way, it has to be one of the prettiest nut butters there is.
I could have just put it into the cups as it was just plain with a little sea salt and that would have been good, but I thought it would be even better with a touch of maple syrup added to it.  It was a delicious combination and I could have just eaten it that way with a spoon but I knew it would be even more crave worthy with the dark chocolate.  They were totally heavenly.  I love peanut butter cups, but these are just as good!  The pumpkin seed butter is rich and just sweet enough with a hint of maple flavor and the intense dark chocolate is the perfect pairing with it!
I am one of those people who likes really intense dark chocolate with a high cacao content, so I usually mix a regular dark chocolate with some unsweetened chocolate to achieve this balance.  But if you are more of a sweet (vegan) milk chocolate person go for it with that!  That is what making things like this is about, enjoying the process of making them, modifying them to your tastes and enjoying your work!  Although, these are pretty easy not too much hard work involved.  If you get your hands on some pumpkin seed butter or happen to try making some (I describe how I make it at the bottom of the post), give these a try!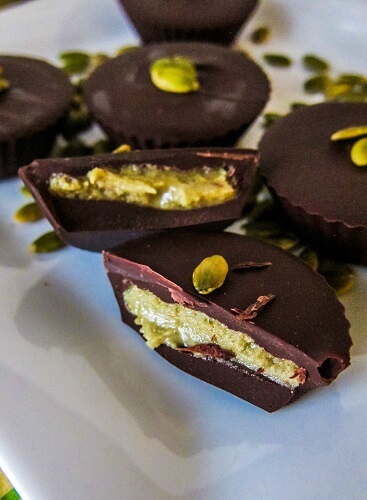 Maple Pumpkin Seed Butter Cups
Makes 6 large cups
Chocolate:
1 1/2 cups vegan dark chocolate chips, or vegan dark chocolate chopped
Filling:
1/4 cup pumpkin seed butter*
1 Tbsp maple syrup
1/4 tsp sea salt
Instructions:
Melt the dark chocolate in the top of a double boiler until smooth.
Spoon a little chocolate into the bottoms of 6 peanut butter cup molds set on a plate or tray, filling them about 1/4-1/3 full.  Place in the freezer until hard, about 10 minutes.
Mix together the pumpkin seed butter, maple syrup and sea salt until smooth.
Spoon a heaping 1 tsp of the pumpkin seed butter mixture over the hardened dark chocolate layer, then pour the remaining dark chocolate over it in the cups until the pumpkin seed butter is covered, and tap the tray on the counter to level it.
Place them in the freezer until set, about 20 minutes.
Enjoy! Store any extra in the refrigerator.
*If your pumpkin seed butter is particularly runny, you may want to mix a Tbsp of coconut butter with it to thicken it up a little bit.
*I make my own pumpkin seed butter by blending up 4 cups of raw pumpkin seeds with about 1/2 tsp sea salt in a high speed blender and using the tamper to press them down into the blades until smooth.  It is a bit thicker and less spreadable than store bought, but if you want it more smooth, you can add a few Tbsp avocado oil to it while blending.

(Visited 139 times, 1 visits today)