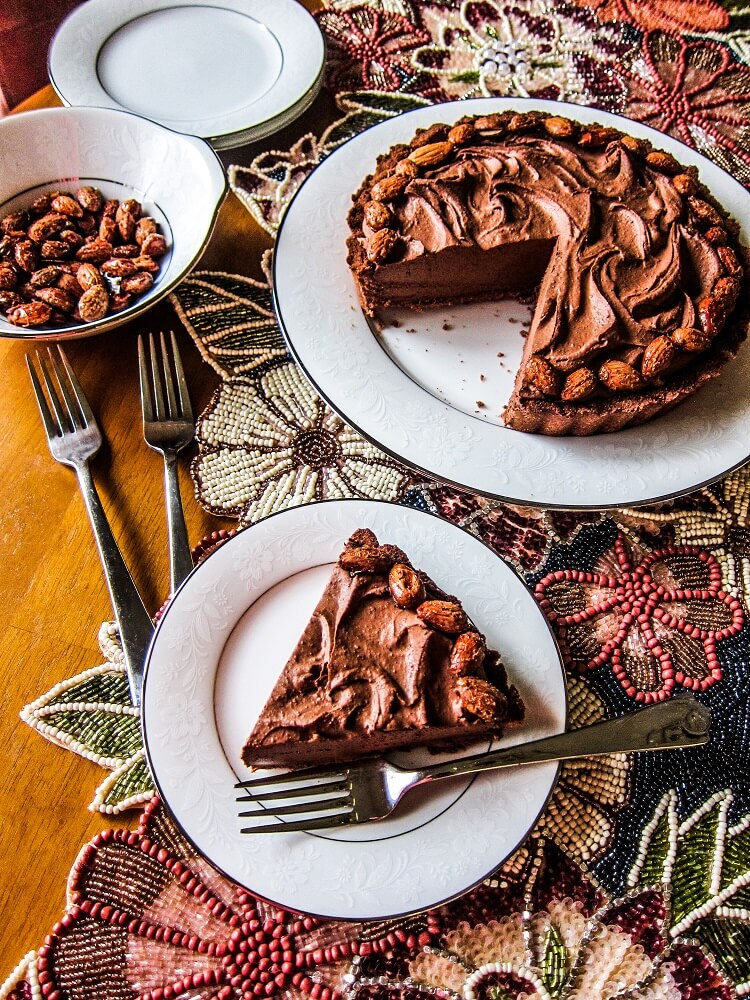 Maple Almond Chocolate Mousse Tart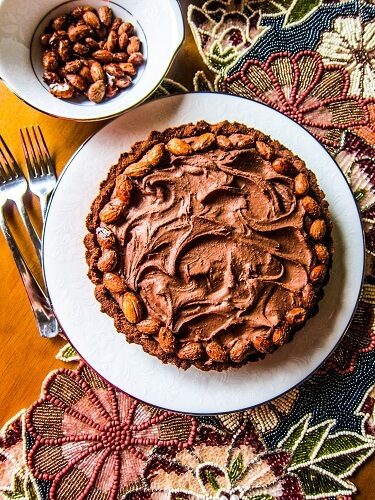 When I was in high school, my friend gave me a dessert book, and some of the recipes in it quickly became staples. One of which was a super simple chocolate mousse. You just whipped up chilled heavy cream, then poured melted dark chocolate into it while whisking and it created the most deliciously rich heavenly mousse I had ever tasted. I made it almost every weekend for a while at one point. I even made a version of it with a bit of bourbon which was crave worthy! I make a version of this mousse now, even to this day but with thick full fat coconut milk. I think it is even more amazing with the coconut milk.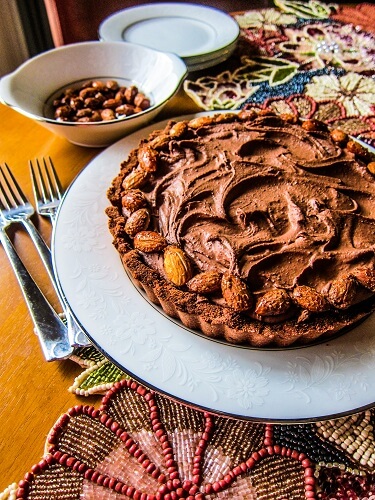 I decided last weekend that I wanted to make a tart with that mousse as the filling. My Mom recently asked if I could make something with maple as well, and it was her Birthday last weekend, so I decided to make this a maple almond mousse tart with a little smooth almond butter to give it a lovely almond flavor. That's the thing about this mousse, it is so versatile, you can add anything to it to give it the flavor profile you want.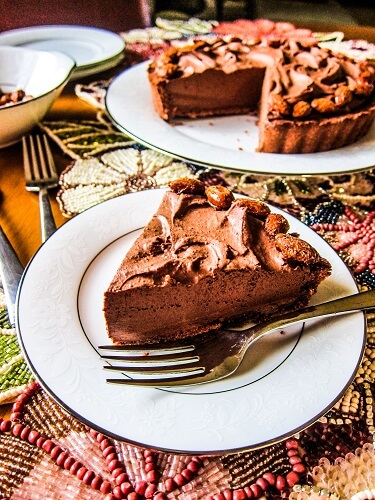 For the crust, I used my classic pie crust with a little cacao butter added and it turned out pretty good! Normally for things like this, I would just make a no bake oat crust, but I like the texture of this crust better. I was the perfect base also for that rich smooth mousse because it was buttery and crunchy providing a nice contrast.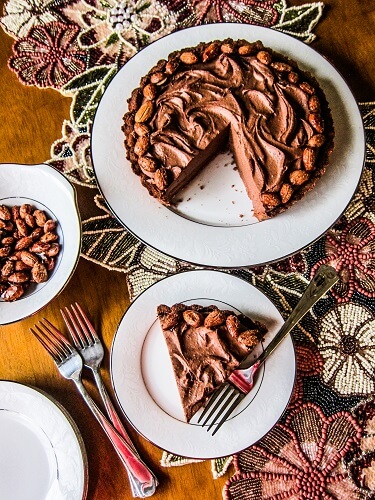 The mousse for this was so good just on its own even before it made it into the crust. I could have just eaten it just like it was, and if you don't feel like making this into a tart, just spoon it into glasses and enjoy. But boy was this tart heavenly. The dark chocolate was rich and intense in the mousse with a light sweet almond flavor and the aroma of maple, The chocolate crust made it even better! I garnished it with some maple almonds because why not?! If you are in a chocolate sort of mood, give this crave worthy tart a try!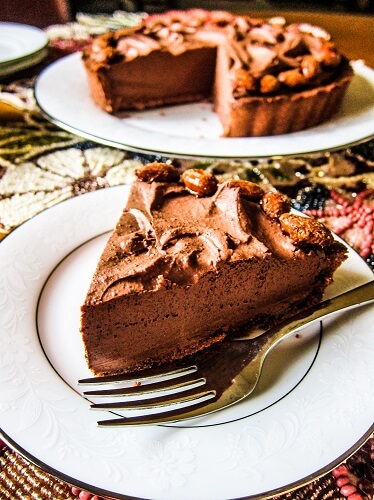 Maple Almond Chocolate Mousse Tart
Makes 1 8 inch tart
Ingredients:
Crust:
1 1/4 cups Bob's Red Mill all purpose gluten free baking flour
2 Tbsp cacao powder
3 Tbsp coconut sugar or maple sugar
1/4 tsp sea salt
1/4 cup plus 2 Tbsp coconut oil in its solid state
about 3-4 Tbsp cold water
Filling:
1 1 15 oz can full fat organic coconut milk, chilled
2 cups vegan dark chocolate chips
2 Tbsp almond butter
3 Tbsp maple syrup
1 tsp maple extract (optional)
Garnish:
1/2 cup almonds
1 Tbsp maple syrup
1 Tbsp maple sugar
1/8 tsp sea salt
Instructions:
Preheat oven to 375F degrees.
To make the crust, in a large bowl, mix together flour, cacao powder, sugar, and sea salt. Cut in coconut oil with a pastry blender or 2 knives until it is in pea sized pieces. Mix in  just enough water to create a smooth dough that holds together but isn't too sticky. Add more water if needed, and knead slightly until a smooth dough is created.
Roll out into a 9 inch circle using floured parchment underneath and floured rolling pin. Transfer dough to an 8 inch tart pan and fit into the pan (don't worry if it tears, just patch it up and nobody will know). 
Place in the oven, and bake until set, more dry and starting to brown a little, about 25 minutes.
Remove from the oven and let cool completely.
For the filling, melt the chocolate in the top of a double boiler, then pour into a glass measuring cup with a spout.
Place the coconut milk, almond butter and maple syrup in a food processor and blend until smooth.
Turn the food processor on, and with the motor running, slowly pour the chocolate into it and blend until uniform in color.
Pour the filling over the crust and spread evenly.  Place in the freezer to firm up (about 1-2 hours).
Meanwhile, make the maple almonds for the garnish. Preheat the oven to 350F degrees, toss the almonds with the maple syrup, sugar, and salt and spread out on an oiled sheet pan. Place in the oven and roast for about 15 minutes until starting to brown and fragrant. Cool completely.
When the tart has chilled enough, garnish the top with the almonds.
Enjoy!
Tart keeps refrigerated for 1 week in an airtight container.
(Visited 465 times, 1 visits today)