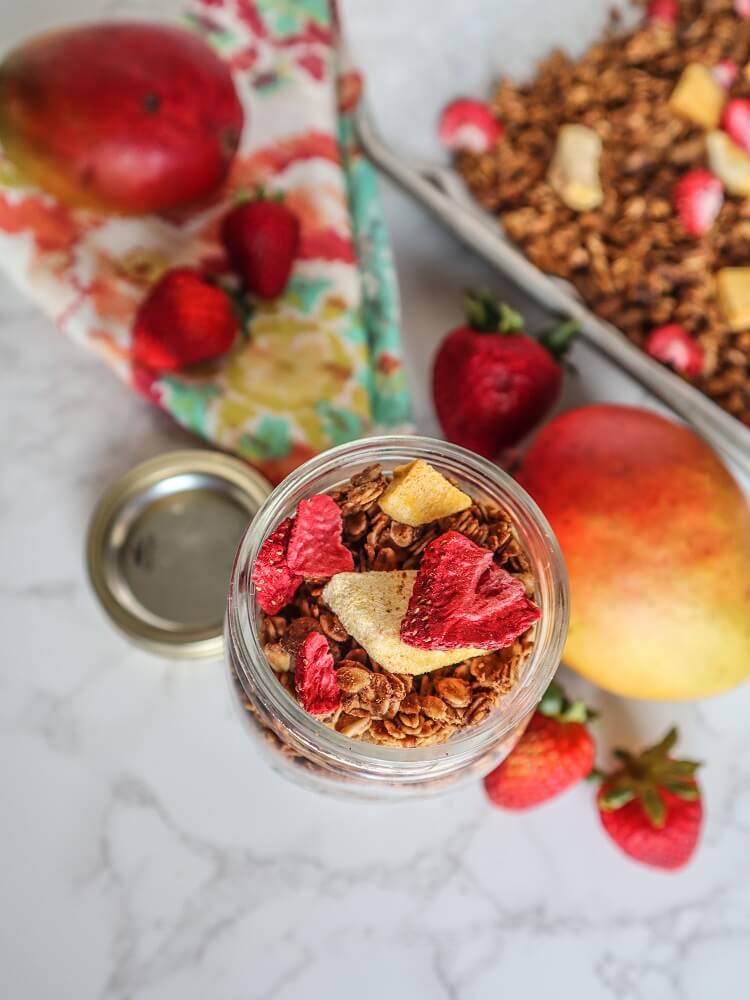 Mango Strawberry Granola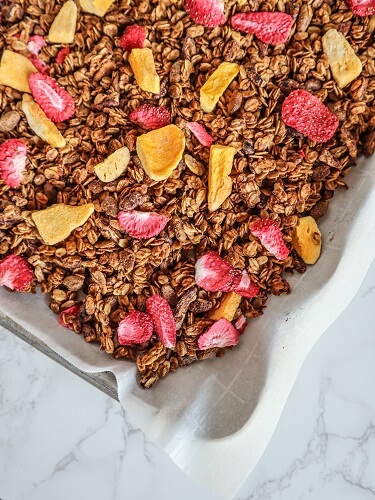 I was never a big granola person, until I discovered home made granola!  Store bought was a bit too sweet and sugary for me sometimes, and the flavors weren't that exciting but when I make my own at home I can tailor it to my sweetness level and add all kinds of fun add ins!  Granola is something that I love to have on hand, and when I make it it is fun to snack on because nothing beats a pan full of warm granola fresh from the oven!  There are times when I can not stop snacking on it and 1/4 of the pan is gone before I know it!  Last weekend I decided to make some Mango Strawberry Granola and it turned out so delicious I decided to share the recipe with you all!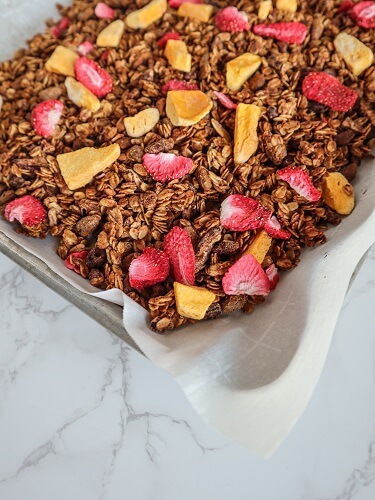 For my granola base, I like to use old fashioned rolled oats because I like texture.  If you prefer a different oat such as just regular rolled that would work too.  The idea is to use what you have on hand!  In this one I used pistachios and pecans, two of my favorite nuts for snacking but I think this would be awesome with cashews as well if you like those going with the tropical theme.  If you wanted to add in a little coconut that would be good too, and I am totally going to do that next time, I just didn't have any on hand.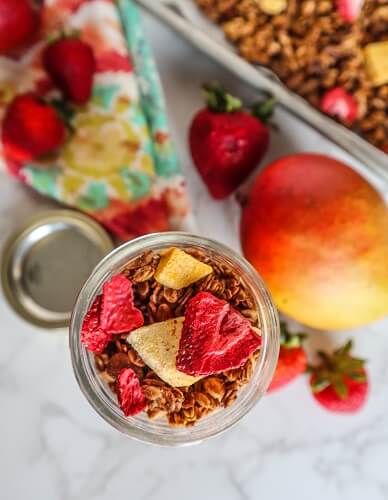 I used coconut oil to get this nice and crispy, but I also added in some almond butter instead of just using all oil because I prefer that. A note for those that want to go oil free, I have successfully replaced the oil with a fruit puree before, and that works great along with the nut butter. So if you wanted to use a mango puree or banana puree to make this oil free go for it! I add in some sea salt and vanilla and this granola is perfectly balanced!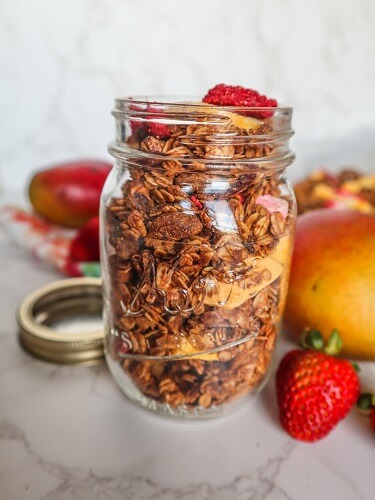 It smelled so amazing while baking I could not wait to enjoy some!  But first I added in the fruit which is actually freeze dried, so it works out perfect for keeping this more shelf stable.  If it lasts that long that is.  It is pretty darn addicting when you start snacking on it from the tray, and my husband who is kind of picky sometimes about this type of stuff actually liked it too!  If you are looking for the perfect crunchy snack, definitely give this Mango Strawberry Granola a try!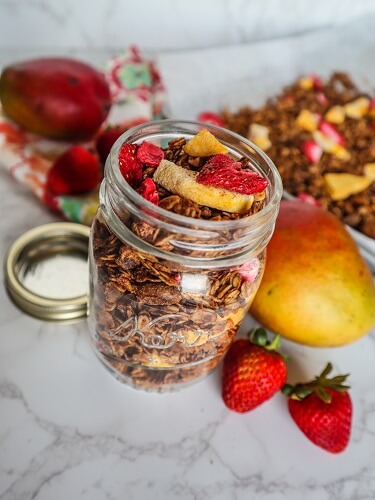 Mango Strawberry Granola
Makes 6 cups
Ingredients:
3 cups organic old fashioned rolled oats
1 cup shelled pistachios
1 cup pecans
1/4 cup coconut oil, warmed to liquid
1/4 cup maple syrup
1/4 cup almond butter or cashew butter
1/2 tsp sea salt
1 tsp pure vanilla extract
1/2 cup freeze dried strawberries
1/2 cup freeze dried mangoes
Instructions:
Line a large baking sheet with non-stick foil, and spray with cooking spray.
Preheat the oven to 350F and set rack at the medium position.
In a large bowl, combine oats and nuts, and set aside.
In another bowl, whisk together oil, maple syrup, almond butter, sea salt, and vanilla extract until well combined, then pour over oat mixture and toss to coat until completely blended.
Pour out onto prepared baking sheet, and spread out evenly.
Bake for 35 minutes, stirring about every 10 minutes or so until the granola is evenly browned. Remove from oven and let cool. Stir in strawberries and mangoes and enjoy!
(Visited 140 times, 1 visits today)