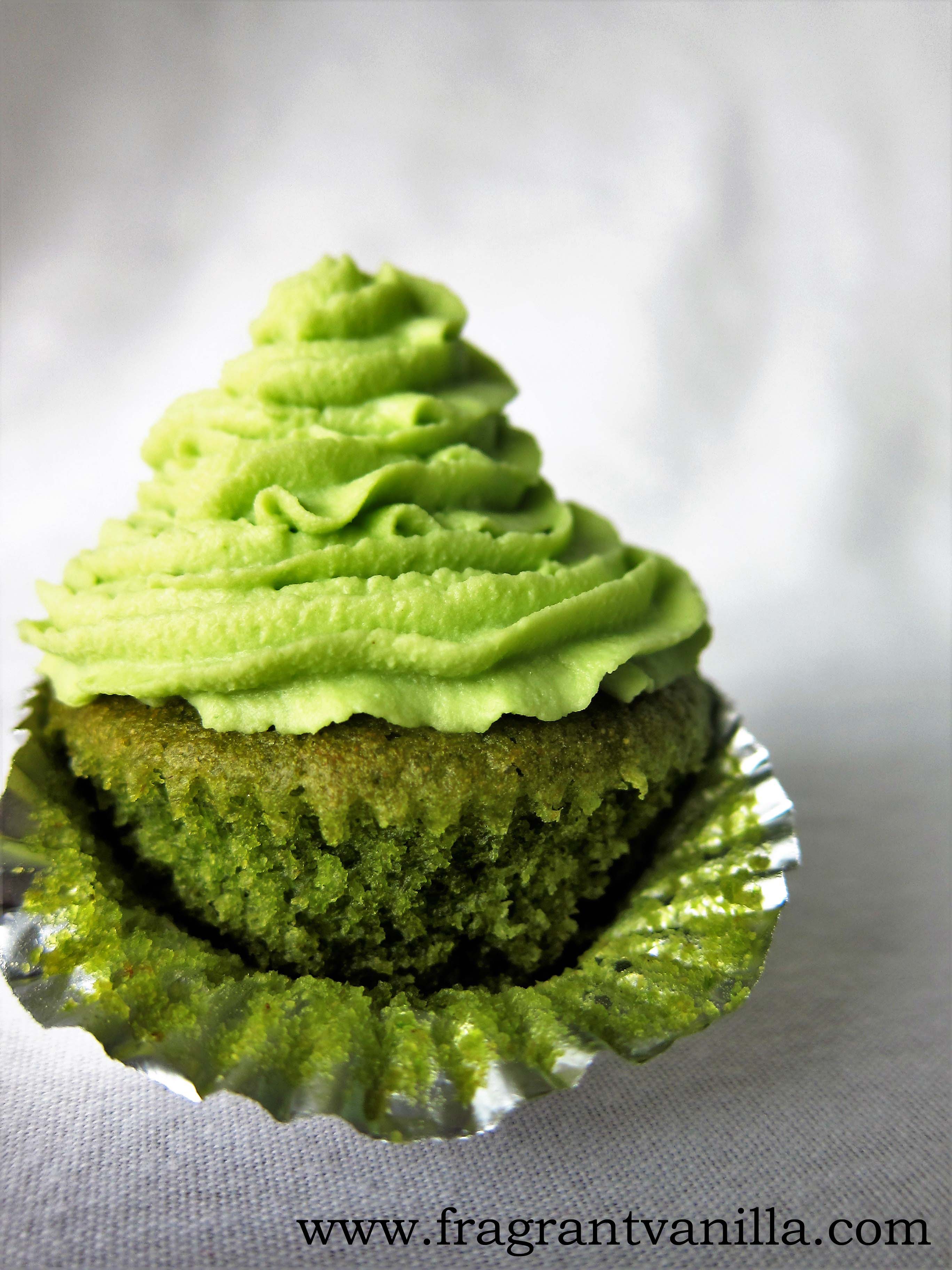 Mini Lucky Green Vegan Cupcakes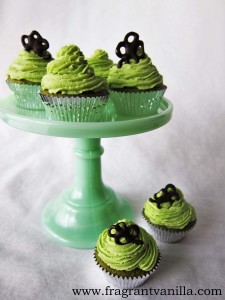 I felt like making cupcakes on my day off.  Because what could be better than baking cupcakes on your day off while relaxing and listening to good music?  I find it extremely relaxing to bake, and cupcakes are fun I was feeling pretty lucky.  In a good mood, and everything was going right.  While I was at it, I decided to make these lucky green cupcakes.  Since St. Patty's day is coming up and all, and I am in the mood for all things green.  I am missing the green grass, so ready for the trees to have leaves again, and run in shorts.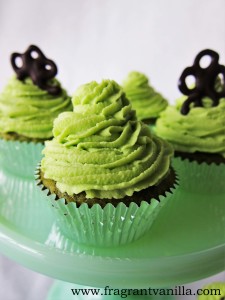 I thought about making these matcha cupcakes, but since I did not have any and did not want to run to the store, I went with what I had and made them vanilla mint.  Before I was vegan I made this fabulous green vanilla mint cake, and I thought I would make that in cupcake form.  Back then I was using regular fake food coloring, not knowing that it was bad, but this time I opted for natural spinach and it made my cupcakes a lovely hue of green.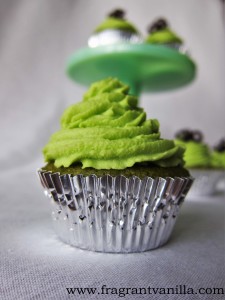 I frosted them with a fluffy vanilla mint frosting, and they were luscious.  Perfectly moist cake topped off with creamy frosting and scented of vanilla and mint. I topped them off with cute little chocolate shamrocks, because I had the time, and I was quite pleased with them.  These would be so cute to serve for St. Patrick's Day! Anyone else looking forward to spring as much as I am?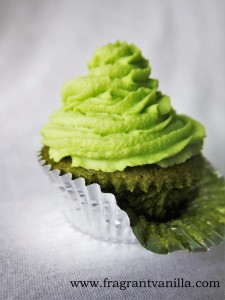 Mini Lucky Green Vegan Cupcakes (Mini Vegan Vanilla Mint Cupcakes)
Makes 12 mini cupcakes
Cake:
3/4 cup all purpose gluten free flour
1/2 cup granulated xylitol
3/4 tsp baking soda
1/2 tsp baking powder
1/4 tsp sea salt
1/2 cup applesauce
1/2 cup packed spinach
2 Tbsp avocado oil or olive oil
1 tsp pure vanilla extract
1 tsp peppermint extract
1/4 cup plus 2 Tbsp filtered water
1 Tbsp apple cider vinegar or lemon juice
Frosting:
1 15 oz can full fat organic coconut milk, chilled
1/4 cup maple syrup
pinch sea salt
1 tsp pure vanilla extract
1 tsp peppermint extract
1 handful baby spinach leaves
1/2 cup plus 2 Tbsp melted coconut butter
Preheat the oven to 375F degrees and position rack in center of oven. Line 12 mini muffin tins with liners. Whisk flour, sugar, baking powder, baking soda, sea salt, in a large bowl to blend well. Place all wet ingredients in the blender and blend until smooth, then whisk wet ingredients into the flour mixture until well blended but do not overmix. Transfer batter to prepared tins and until tester inserted into center comes out clean, about 12-15 minutes. Cool cakes completely on cooling rack, about 1 hour.
To make the frosting, combine all ingredients in a high speed blender and blend until smooth. Pour into a bowl, and place in the freezer for about 30-45 minutes until the consistency of whipped cream (whisking every 15 minutes).  Place in a pastry bag and pipe decoratively over the cupcakes or just spread over the tops of the cupcakes.
*Xylitol is toxic to dogs, so please do not feed these to dogs. Coconut sugar may be used in place of the xylitol, just keep in mind the cupcakes will not be as green they will be more brown.
**I garnished the cupcakes with little chocolate shamrocks.  If you want to make those, pipe melted vegan dark chocolate into little shamrocks on a piece of parchment paper.  Place in the freezer until set, about 10 minutes, then carefully take off and place on top of the cupcakes.
(Visited 1,225 times, 1 visits today)