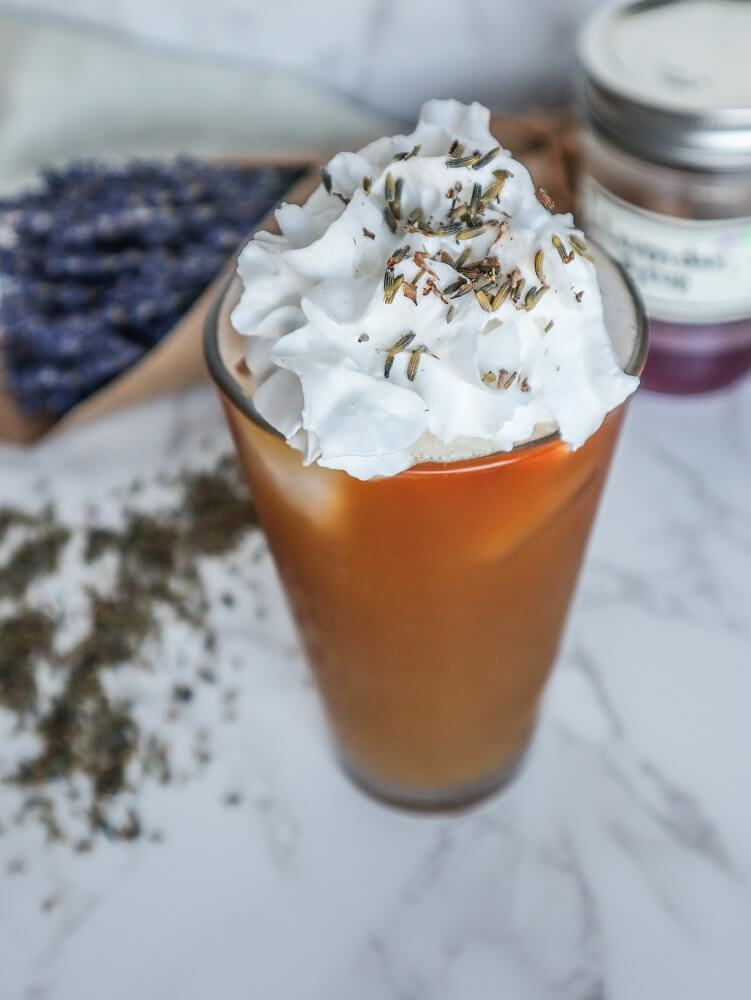 Lavender Vanilla Iced Latte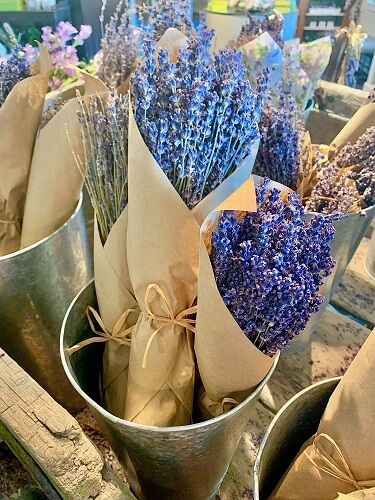 While we were in Wisconsin for our anniversary trip last month, we stopped by a lavender farm shop called Island Lavender and it smelled so amazing!  Lavender is one of my favorite scents, and it was really tempting to buy so many things from the shop!  We did buy some lavender, and other lavender scented goodies like teas and soaps, but it also may have influenced what I ordered for flavors whenever we stopped at coffee shops along the way, because I became quite fond of lavender lattes.  I am a coffee lover, so before the trip, I scoped out locally owned coffee shops to stop at every day.  I ordered lavender lattes at least 4 times. Iced or hot, they are one of my favorite flavors now, and if I see one on a menu I am tempted to order it, especially during the summer.  I know it sounds kinda bougie, but if you are a lavender lover like me and you have tried one I am sure you know why I love them! And as I found out last weekend, they are really easy to make at home too! Since we are still technically in summer, I made an Lavender Vanilla Iced Latte and it turned out fabulous!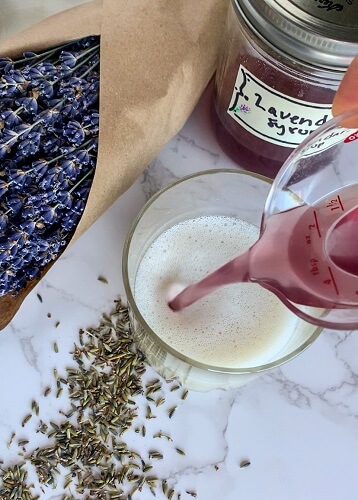 I always love it and appreciate it when coffee shops make their own house made syrups, and it is really quite simple to do if you would like to make your own deliciously flavored drinks at home!  You just make a simple syrup with half water, half sugar then add your flavors for infusion.  This time I used regular sugar because I wanted to create a vibrant purple syrup with the lavender, but you could use other sweeteners like brown sugar, coconut sugar or maple syrup if you are doing something fall flavored (I will be posting a recipe using that soon, because I also made a coffee drink with that last weekend). Also, a note on this syrup, I chose to add butterfly pea flowers in order to tint it purple because I think that is fun!  I happened to have a large bag on hand just waiting to be used.  The thing about them though is that they tint the liquid blue and you have to add a touch of lemon to make it purple, which is what I did, in case you are wondering about the small amount of lemon in my syrup recipe. You can not taste the lemon when you make the drink though. The butterfly pea flowers are optional, and if you do not have them and want a simpler recipe, you can just infuse with the lavender. In about 5 minutes you have a delicious syrup that you can keep in the refrigerator for a month!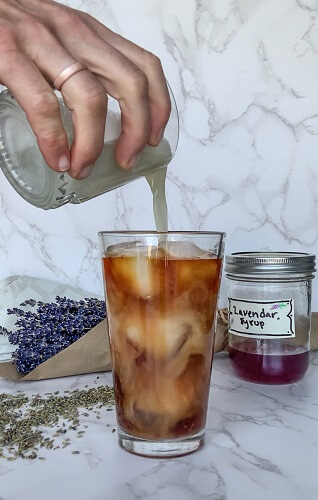 I don't have an espresso maker, so I just used strong brewed coffee and it worked out great!  I used oat milk for this because it is my absolute favorite, especially in coffee.  I frothed the milk and syrup, and a touch of vanilla together before adding it to make it a little more smooth, and it worked out perfect!  Lastly I topped it off with some coconut whipped cream just to be fun.  I know that is not traditional for a latte but I was feeling indulgent that day.  If you are wondering where you get a can of coconut whipped cream from, Aldi sells it and it is awesome!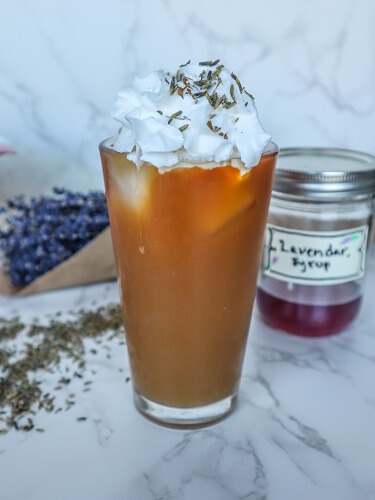 This drink turned out so delicious!  It was so balanced, just the right amount of sweetness with the light scent of lavender and vanilla, so smooth!  It was delicious iced, and this is probably how I will enjoy it for the last few days of summer, but I tried it in some hot coffee as well and it was awesome!  If you are a lavender fan, definitely give this  Lavender Vanilla Iced Latte a try! Or maybe use it to switch up from all the pumpkin spice lattes for a bit.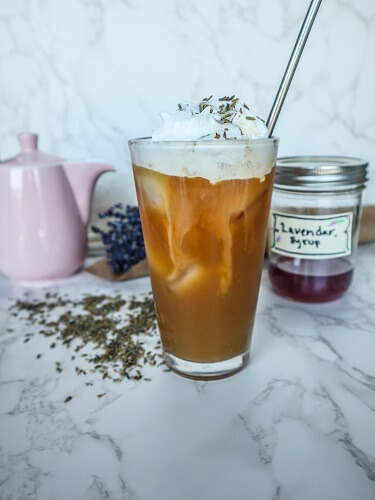 Lavender Vanilla Iced Latte
Makes 1
Latte:
1/2 cup ice
1 cup strong brewed coffee
1-2 Tbsp lavender vanilla syrup (depending on how sweet you like it), recipe follows
1/4 tsp pure vanilla extract
1/2 cup oat milk
Coconut whipped cream (optional for topping)
Instructions:
To make the latte, add the ice and coffee to a tall glass. In a smaller glass, blend or whisk the lavender syrup into the milk, then pour over the coffee in the glass. Top with whipped coconut cream if desired.
Lavender Syrup
Makes 1 cup, 16 servings
1/2 cup granulated sugar
1/2 cup boiling water
1 Tbsp dried lavender flowers
1 Tbsp butterfly pea flowers (optional for color)
2 tsp lemon juice (use if using butterfly pea flowers to turn it purple)
Instructions:
In a measuring cup, combine all of the syrup ingredients and stir to dissolve sugar. Let sit for 5-7 minutes, then strain into a jar to remove the solids, and chill. Keeps in the refrigerator for a month.
(Visited 138 times, 1 visits today)