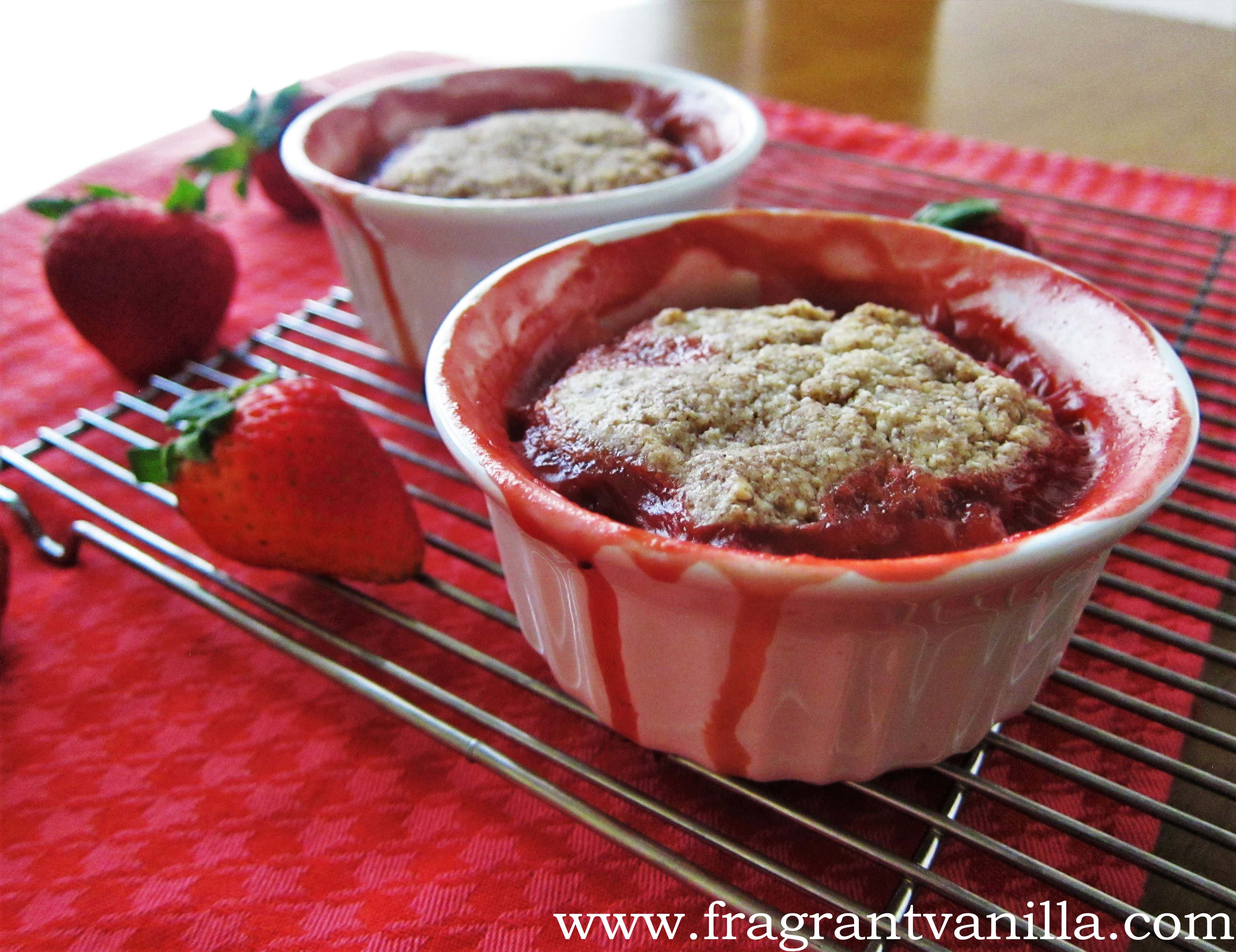 Individual Vegan Strawberry Rhubarb Cobbler with Almond Biscuits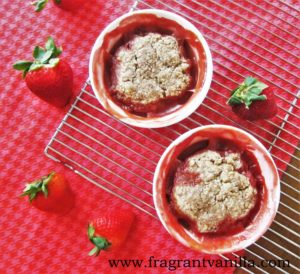 A lot of times when I go out running, I admire the gardens in people's yards as I run past wishing they were mine, and I was able to grow all of the good stuff they are.  I live in a townhome, so all I am allowed is small pots.  I grow herbs, but that is about it. There isn't much growing this time of the year, but there is rhubarb, which got me to thinking I want strawberry rhubarb something or other. It is such a delicious combination.  My Grandma used to make the most delicious strawberry rhubarb sauce, and I would eat so much that she would say "Careful, or you will get a stomach ache!" I assume from all of the sugar.  I never did though.  I loved that stuff.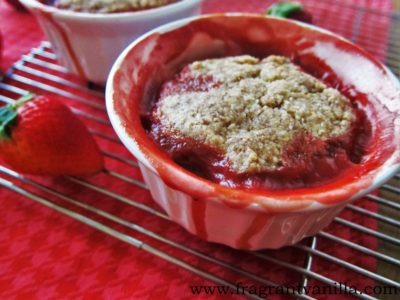 My Dad grows rhubarb, and I hope to go over to his house and pick some soon, but I caved and bought some at the store because it was there,  and I had loads of strawberries at home and I wanted to make something strawberry rhubarb!  I had recently seen some individual strawberry rhubarb cobblers on Facebook, and I admit they made me crave them hard core.  They were not vegan, but I said to myself, I can veganize them and I bet they will taste even better.  So I did.  I one upped them too, and made almond biscuits.  I made a few cobblers with nut biscuits last year and I fell in love with them.  My Mom enjoyed them so much she asked me to make them a couple times, so I shared some of these with her too.  OMG...did they ever smell amazing while baking. Like strawberry rhubarb pie, but these were so much easier to make.  They were so delicious!  The perfect way to end my strawberry rhubarb draught (both items are seasonal here in Minnesota in the Spring, and we have been eating winter produce for so long)!  Also, nothing beats having your own cute little individual dessert!  It is all yours, and portion controlled.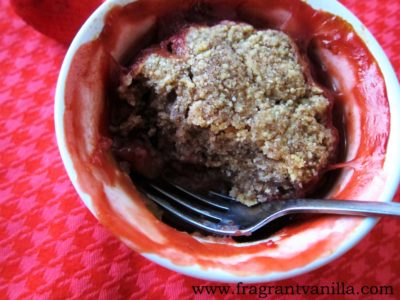 Individual Vegan Strawberry Rhubarb Cobblers with Almond Biscuits
Serves 4
Fruit:
1 1/2 cups organic strawberries, quartered
1 1/2 cups sliced organic rhubarb
1 Tbsp maple syrup
2 Tbsp gluten free all purpose flour
1 Tbsp lemon juice
1 tsp pure vanilla extract
biscuit topping:
3/4 cup all purpose gluten free flour
1/2 cup almond meal
2 Tbsp coconut sugar
1/2 tsp plus 1/8 tsp baking powder
1/8 tsp sea salt
2 Tbsp solid coconut oil, cut into chunks
1/4 cup cold full fat coconut milk (chilled in the fridge is best), mixed well
1 tsp pure vanilla extract
6 inch wide ovenproof bowl or pie plate
Preheat oven to 400 degrees with the rack at the center position. Place a baking sheet lined with foil on the rack. Oil four 1 1/2 cup (capacity) ramakins with coconut oil. In a large bowl, toss together the fruit, maple syrup, lemon juice, vanilla, flour. Spoon into the ramakins, and cover with foil. Place plate on baking sheet and bake for 30 minutes until fruit is cooked through and bubbling.
Meanwhile, when the fruit in the oven is almost at 45 min, to make biscuits, in a large bowl, combine the flour, almond meal, sugar, baking powder, and salt. Cut in the oil with a pastry blender or 2 knives until the mixture starts to clump into pea sized pieces. In a small bowl, stir the vanilla extract into the coconut milk. Add the milk to the dough, and stir a few times, but do not overmix. The dough should hold together when squeezed, but still be clumpy. Place dough on a floured work surface, and pat into four circles slightly smaller than the ramakin's width (they don't have to be perfect).
Remove baking fruit from oven. Place biscuit circles on top of the cobbler. When all biscuits are on top of cobblers, sprinkle with coconut sugar and return to the oven. Bake for about 15 minutes
until biscuits are cooked through and lightly brown and toasted on top (keep a close eye on they could burn very quickly). Remove from oven and let cool until warm, and top with some ice cream or coconut vanilla whipped cream and...enjoy!
(Visited 76 times, 1 visits today)