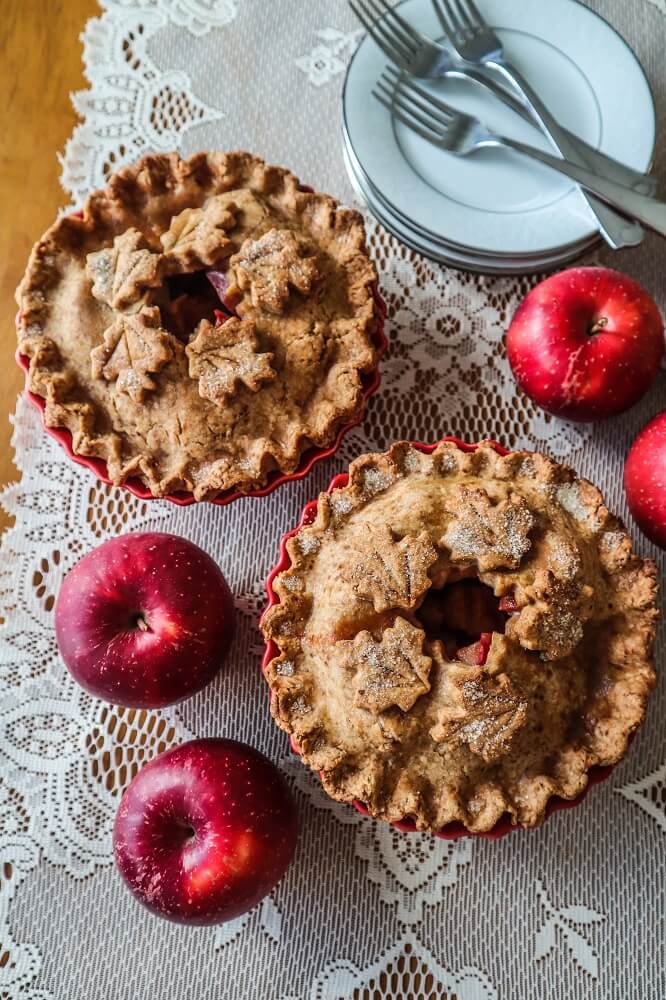 Individual Vegan Apple Pies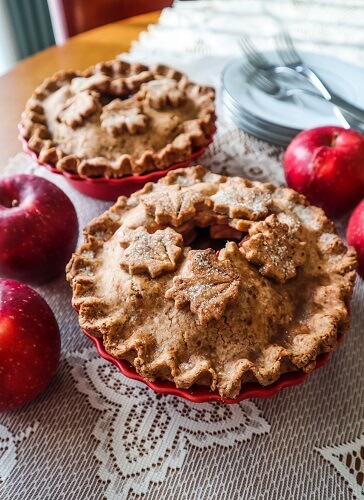 I have been enjoying lots of apples lately since we went to the apple orchard a couple of weekends ago.  Nothing beats a fresh Minnesota apple as far as I am concerned, especially for apple pie!  I made some last week, because I have been craving it and finally had the time.  My Mom always made the best apple pie when I was little.  People would always ask her to bring it to gatherings or Holidays like Thanksgiving.  She didn't make her own pie crust usually, she used the store bought, but what made it so good were the Haralson apples and dash of lemon juice in the filling plus not as much sugar as most people use.  It was the most balanced apple pie ever with a little bit of tartness plus sweet from the apples.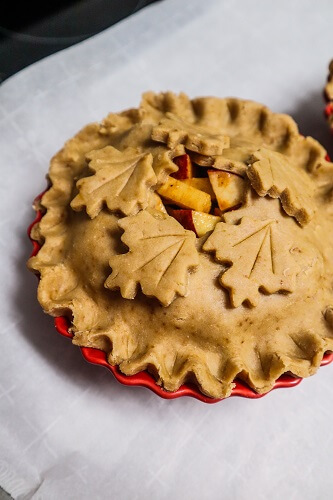 I make my apple pies the same way now.  Plenty of apple flavor.  It absolutely matters what type of apples you put into the pie you make.  I would recommend ones that taste good to you before you bake them.  If you use really mild flavored ones the pie might come out somewhat bland.  One time we had to use these frozen ones to make something at work and I think they were red delicious apples (my least favorite) and they needed a lot of doctoring up.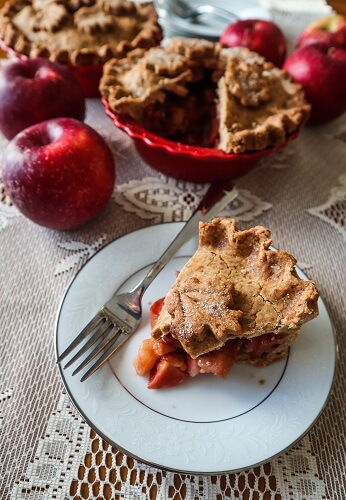 I decided to make two smaller pies, because I wanted to share one and keep one for myself.  It is kind of fun after all to have your own little dessert!  I got two servings out of it though.  I made my classic pie crust, with vegan butter as opposed to coconut oil for a more pliable crust to work with for a double crust pie.  I admit I tend to make crumble top pies more because they are a little less fussy, but I felt like cutting cute shapes out of the dough this time.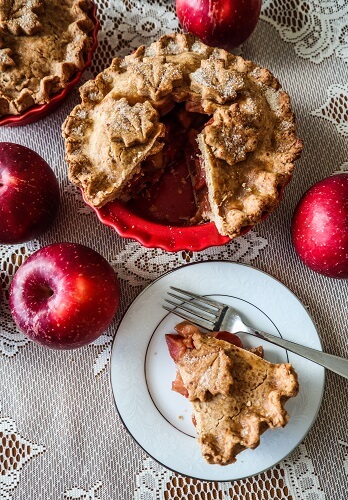 My kitchen smelled amazing while it was baking, and I could not wait to try it!  The pie turned out sooo good! I served it warm with coconut milk ice cream.  If you just want a really good classic apple pie, give this one a try!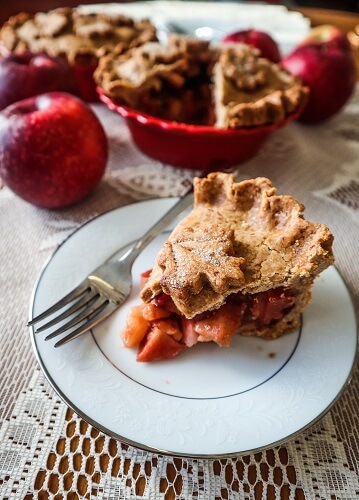 Individual Vegan Apple Pies
Makes two 4 inch inch deep dish pies
Filling:
4 cups Haralson (or other tart sweet apples) cut into 3/4 inch cubes
1/4 cup maple sugar (or brown sugar)
1 tsp cinnamon
1 tsp pure vanilla extract
juice of one lemon
a pinch of sea salt
2 Tbsp organic whole wheat pastry flour
Crust:
2 1/2 cups organic whole wheat pastry flour
1/4 cup coconut sugar or maple sugar
1/4 tsp sea salt
3/4 cup Earth Balance buttery sticks (pressed into the measuring cup), or your favorite vegan butter to bake with
about 6-12 Tbsp cold water
Topping:
thick coconut milk
maple sugar
Instructions:
Preheat the oven tp 400F degrees.
To make the filling, combine the apples, maple syrup, and cinnamon, vanilla, lemon juice, sea salt and flour in a bowl.
To make the crust, in a large bowl, mix together flour, sugar, sea salt, and spices. Cut in Earth Balance with a pastry blender or 2 knives until it is in pea sized pieces. Mix in  just enough water to create a smooth dough that holds together but isn't too sticky. Add more water if needed, and knead slightly until a smooth dough is created.
Divide dough into 4 pieces. Roll each out into a 5 inch circle on a sheet of parchment paper, then use the paper to help you transfer two of them to two 4 inch deep dish pie plates.  Pour the apples into the pies, cut a hole in the remaining dough circles right in the center with a cookie cutter, then place them on top of the pies.  Pinch the edges down to seal them, and trim off the excess (you can roll this out and create cute shapes for the top of the pie). Flute the edges.
Brush the pie with a little coconut milk, top with any extra dough shapes if you want to decorate it, and brush those with a little milk too.  Sprinkle with maple sugar, and place on a baking sheet.  Prick the crust a few times with a fork, and place it in the oven. Bake for 45 minutes, then check to see if the top is getting too brown, if it is tent with foil and place back in the oven until the pie is bubbling about another 15 minutes.
Remove from the oven to a wire rack.
Allow to cool completely before serving.
*If you want to make this 1 8 inch pie instead of the two smaller pies, roll the dough into 2 9 inch circles instead of 4 and proceed the same with the recipe, just keeping in mind it might take about 15-20 minutes longer to bake.
*If you want to make this gluten free  swap the whole wheat pastry flour for Bob's Red Mill gluten free baking flour, or your favorite GF flour.
(Visited 270 times, 1 visits today)