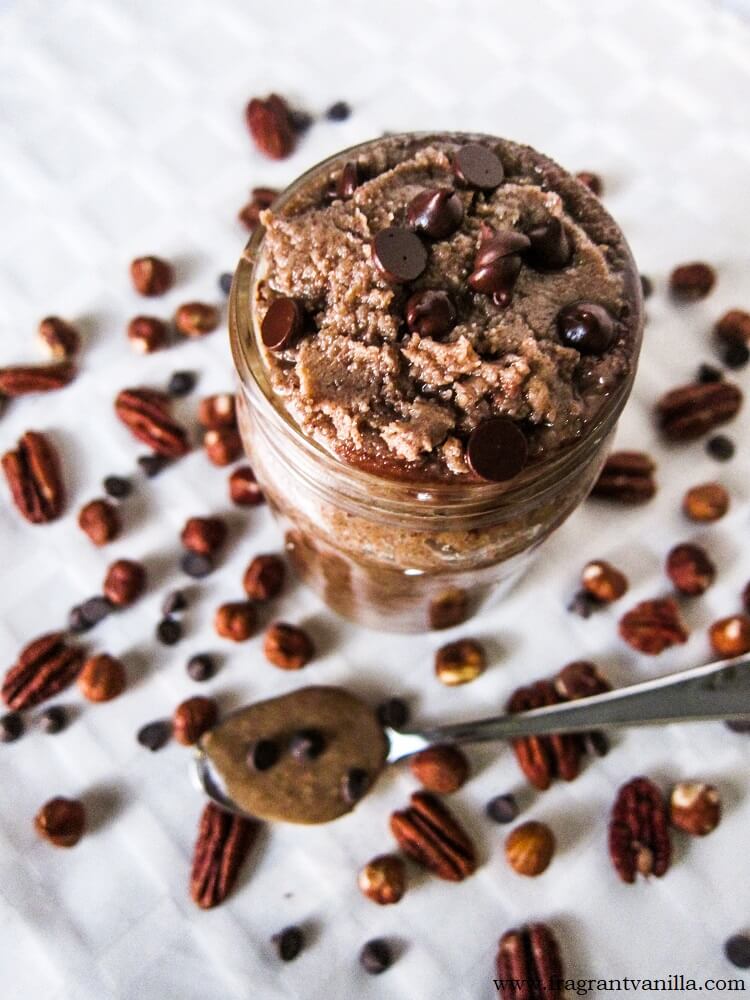 Hazelnut Pecan Maple Cinnamon Chocolate Chip Butter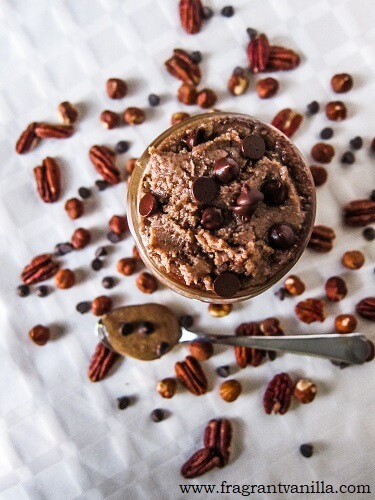 The weather was so perfect last weekend!  About 45F degrees in the morning and 70F degrees in the afternoon.  As far as I am concerned it could stay like that all year long and I would be happy. It was the prefect weather to do my long run on Saturday, the crisp cool air a nice switch from the sticky humidity we have all Summer.  It always makes me feel fast and refreshed instead of worn out when it is cool.  It was so nice out that Eric and I decided to take a trip down to Alexis Bailly Vineyards down in Hastings MN.  They have a really lovely outdoor area to enjoy your wine, and not only that, they are a vegan friendly vineyard!  All of their wines are vegan, and they even have a vegan cheese selection with cheeses from Herbivorous butcher which I think is awesome. I have not seen that any place else around here. We sat and enjoyed our wine, walked through the vineyard, played a few games of cornhole, and it was a really fun afternoon!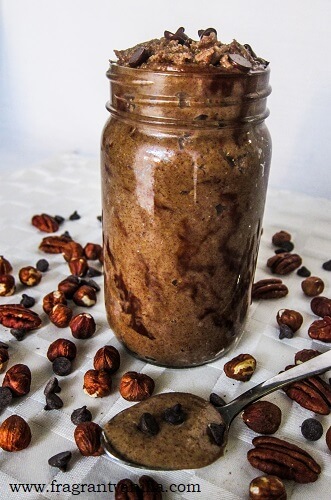 I spent a lot of the day outside on Sunday as well, and so I didn't have much time to make any recipes.  But I was really craving some good fancy nut butter so I decided to make some since it is quick, easy and painless if you have a high speed blender. Also, I had a bunch of hazelnuts on hand that I had been saving for something like this, so it was perfect!  I ended up making a Hazelnut Pecan Maple Cinnamon Chocolate Chip Butter.  Yes, I know it is a mouthful to say, but that doesn't mean it is complicated.  I like to mix hazelnuts with a softer more oily nut like pecans, because they don't always blend up super smooth.  Plus mixed nut butters usually taste amazing. This one was no exception.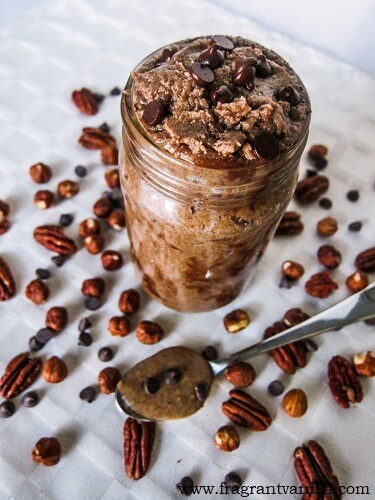 I blended up the hazelnuts and pecans with a bit of cinnamon and maple sugar and it tasted fabulous just like that.  If you are wondering why I used the maple sugar instead of  maple syrup, it is because if you use maple syrup, the texture will become crumbly and not nice and spreadable which is not what you want.  So do not swap them.  If you must use a different sweetener, coconut sugar would be a suitable substitute (and just add maple extract if you want that maple flavor).  I added in chocolate chips too even though it tasted good it was because it just sounded good.  Kinda like cookie dough in nut butter form. Omg was it ever delicious!  The chocolate chips were a little melty and gooey once I stirred them in because the nut butter was warm, and the flavor of the butter itself was nutty and sweet!  If you are as nut butter obsessed as I am, give this a try!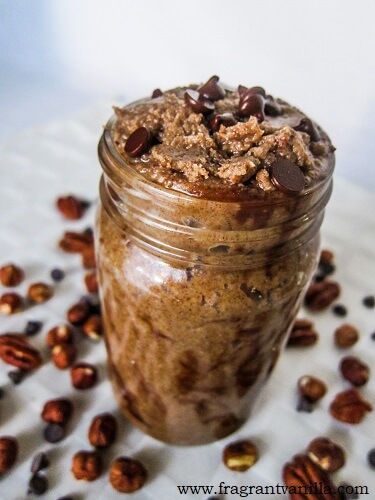 Hazelnut Pecan Maple Cinnamon Chocolate Chip Butter
Makes about 16 oz
Ingredients:
1 1/2 cups raw hazelnuts
2 cups raw pecans
1/4 tsp sea salt
1/4 cup maple sugar
1 tsp cinnamon
3/4 cup vegan dark chocolate chips
Instructions:
In a high speed blender, combine the nuts and sea salt and blend until smooth, using the tamper to push the mixture down into the blades.
Add the sugar to the blender and blend until well incorporated, then stir in the chocolate chips.
Pour into a jar.
Keeps for a few months in the refrigerator.
(Visited 70 times, 1 visits today)