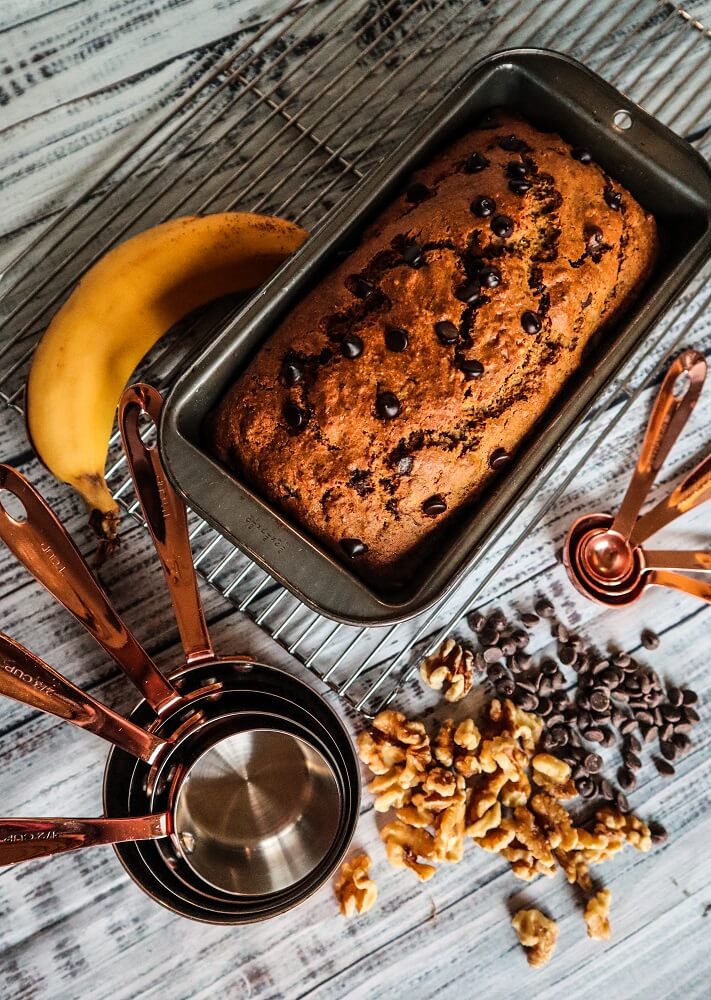 Grandma's Banana Bread Veganized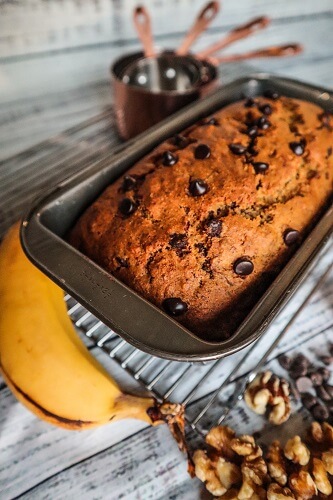 My Mom made the best banana bread when I was little. It was my Great Grandma's recipe, passed down to my Grandma, then to my Mom.  Written out on a recipe card, from a time long before we could look up recipes online. I have tried many different kinds, we often had some at church gatherings back in the day, or neighbors brought some over, or they had it at potlucks and whatnot, but my Great Grandma's recipe was the best. It was moist, and soft but not too dense (some banana bread gets a bit too dense for my tastes).  She always made it with walnuts for a little crunch, then my Mom modified that to add chocolate chips, which I always loved growing up.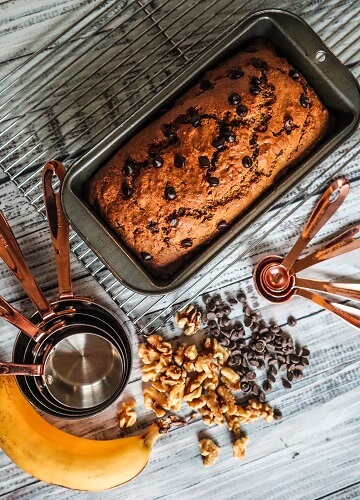 The thing I love about this bread is it is so easy to make too.  Surprisingly I have never tried to veganize this recipe, but I was thinking about making some banana bread last weekend and I thought, why not?!  I have her old recipe card, and I veganize old recipes from back in the day all the time.  It was about time after all. I missed that banana bread recipe.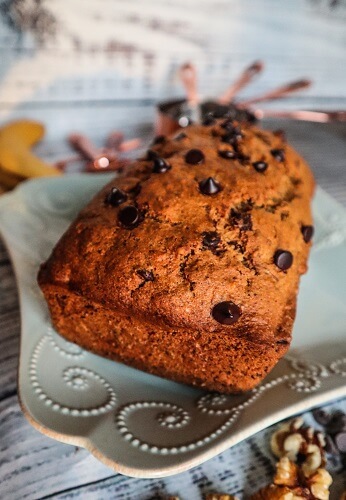 It was actually really easy to veganize. Eggs, milk, and butter would need to be substituted.  I swapped out the eggs for flax eggs which are usually my go to egg replacer. I always have ground flax seed on hand, since I use some in my oatmeal.  To make a flax egg, you just mix together 1 Tbsp ground flax seed and 3 Tbsp filtered water and allow to gel 15 minutes.  It works perfect in recipes like this or cookies.  I used oatmilk instead of the sour milk in the original recipe, and added a little cider vinegar to this one (for the sour) and it worked perfect!  Instead of the butter I used avocado oil, because it has a buttery flavor.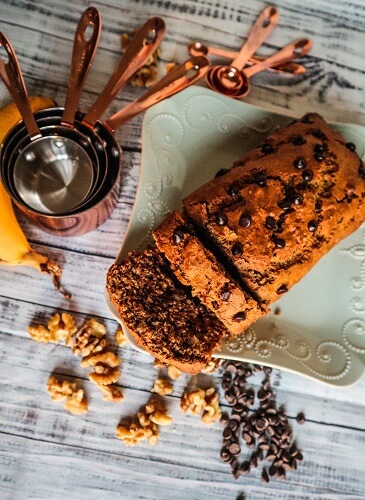 I added the walnuts and the chocolate chips, because I used to love them both in the recipe.  I know some people don't like nuts, so they could leave them out but I enjoy some texture. The bread smelled amazing while baking and I could not wait to try it!  It rose nicely in the oven and it was beautiful!  Once it had cooled and we were able to dive in, it was super delicious!  It tasted just like the bread I grew up with, and I am sure Grandma would be proud if she were still here to try it.  She always enjoyed when I shared my baked goods with her when she was not able to bake anymore.  If you are looking for a really good classic banana bread recipe, give this one a try!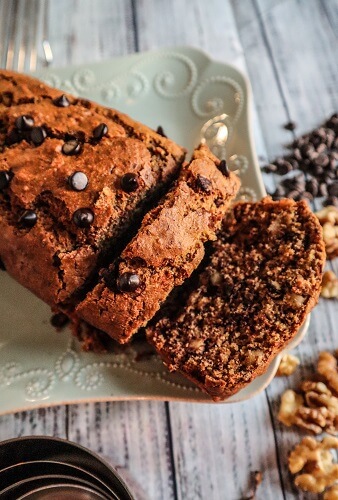 Grandma's Banana Bread Veganized
Makes 1 loaf
Ingredients:
1 cup maple sugar*
1 Tbsp ground flax seed mixed with 3 Tbsp filtered water (allowed to sit 15 min. before using)
1/2 cup oat milk*
2/3 cup mashed ripe bananas
1/4 cup avocado oil*
1 tsp pure vanilla extract
1 1/2 cups organic whole wheat pastry flour*
1 tsp baking soda
2 tsp cider vinegar
1/2 cup chopped walnuts
1/2 cup vegan dark chocolate chips
Instructions:
Preheat the oven to 350F degrees, and oil an 8x4 inch loaf pan.
In a large bowl, whisk together the sugar, flax mixture, oat milk, bananas, oil, and vanilla until smooth.
Whisk in the flour and baking soda, then the vinegar until combined.
Fold in the walnuts and dark chocolate chips until evenly distributed.
Pour the batter into the prepared pan, place in the oven and bake for about 1 hour until a toothpick inserted into the center comes out almost clean with a few crumbs attached.
Remove from the oven and let cool before removing from the pan.
Bread keeps at room temperature for up to 3 days in an airtight container or wrapped, in the refrigerator for up to 1 week, or frozen for up to 4 months.
*Notes:
Instead of the maple sugar, you could also use coconut sugar or granulated sugar if you prefer those.
You can use any type of unsweetened plant based milk in this recipe, such as soy, almond or coconut instead of the oat if that is what you have on hand.
If you would like to make this oil free, use 1/4 cup almond butter ( or your favorite nut or seed butter) instead of the oil.
If you would like to make a gluten free version of this bread, swap the whole wheat flour for Bob's Red Mill gluten free all purpose baking flour (I have tried this brand and know it works well for recipes like this).
(Visited 1,067 times, 1 visits today)