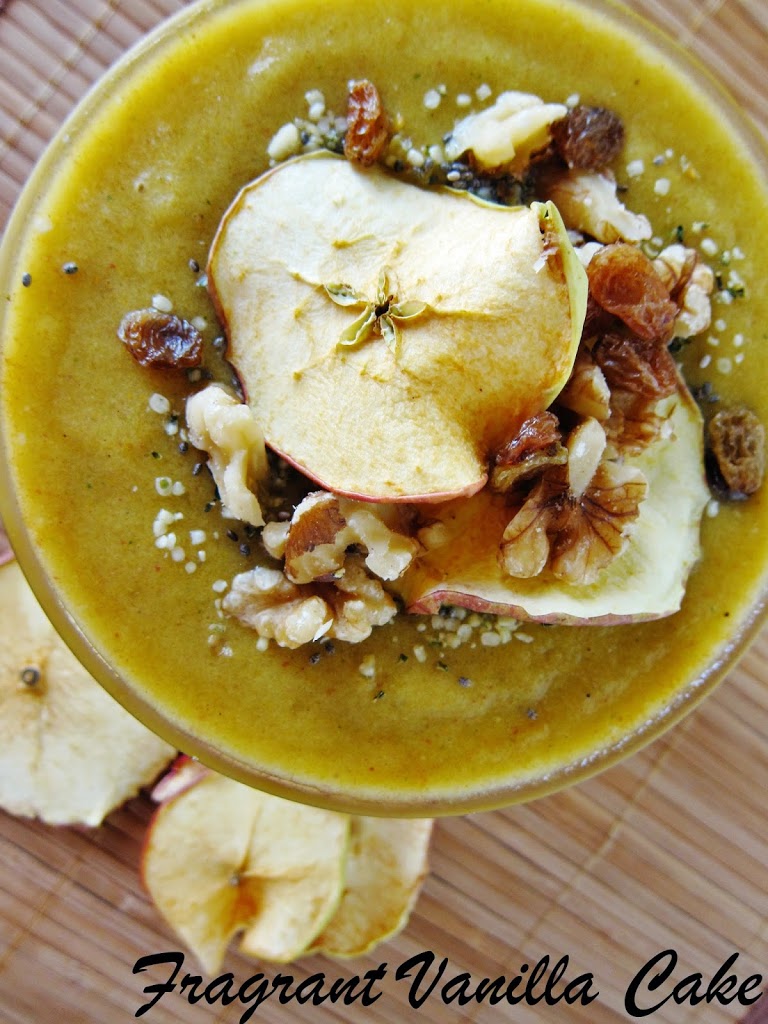 Golden Apple Smoothie Bowl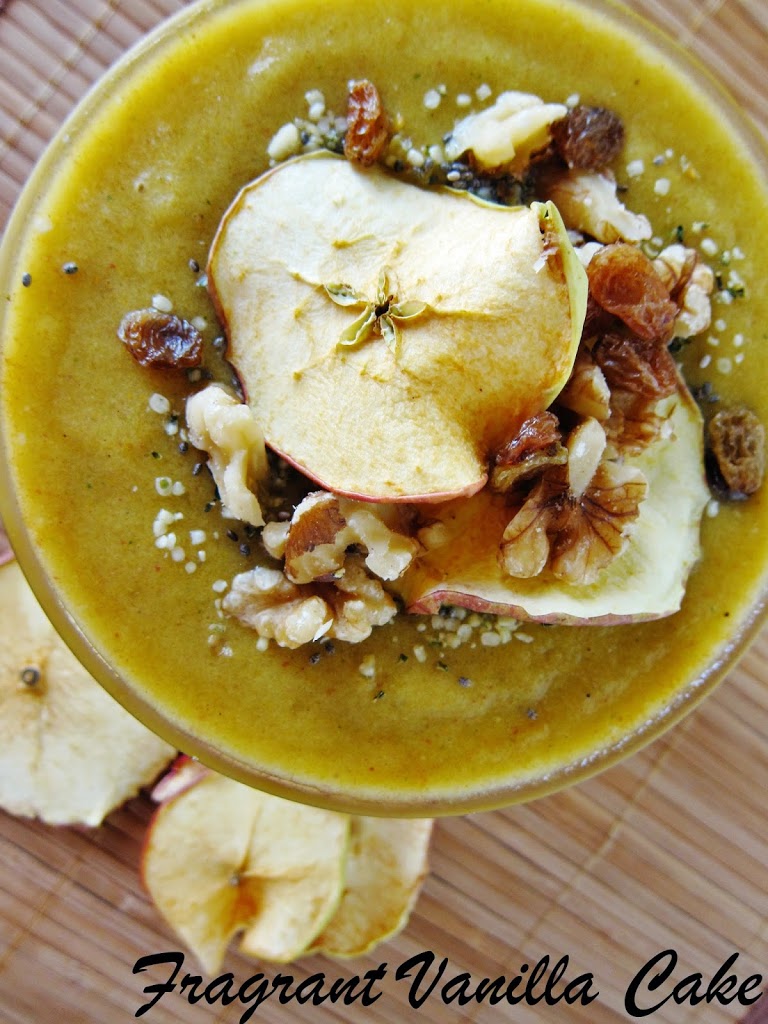 I have been enjoying apples lately...tis the season! Especially the local honey crisps, they are so tasty! I have been eating them just as is mostly, but I love them in desserts, savory items and smoothies too. I made this smoothie last weekend, and it was so good I thought I would share the recipe with you all. I call it the golden apple smoothie bowl because of the lovely golden color it has.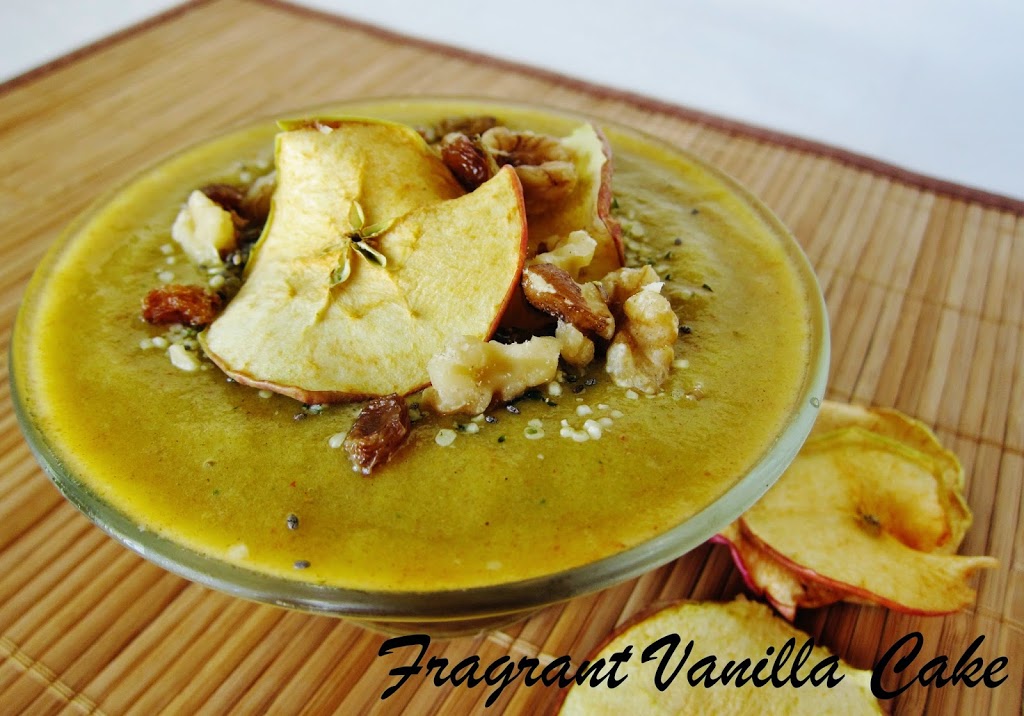 What makes it golden? Turmeric! I added in a bit of turmeric and ginger along with the other spices for their anti-inflammatory properties. This tasted like apple pie in smoothie form, and I topped it off with more dried apples, walnuts, golden raisins and chia and hemp seeds for healthy omega 3s. It was wonderful. Perfect for refueling after my workout! I don't think I will ever tire of smoothie bowls, the possibilities are endless!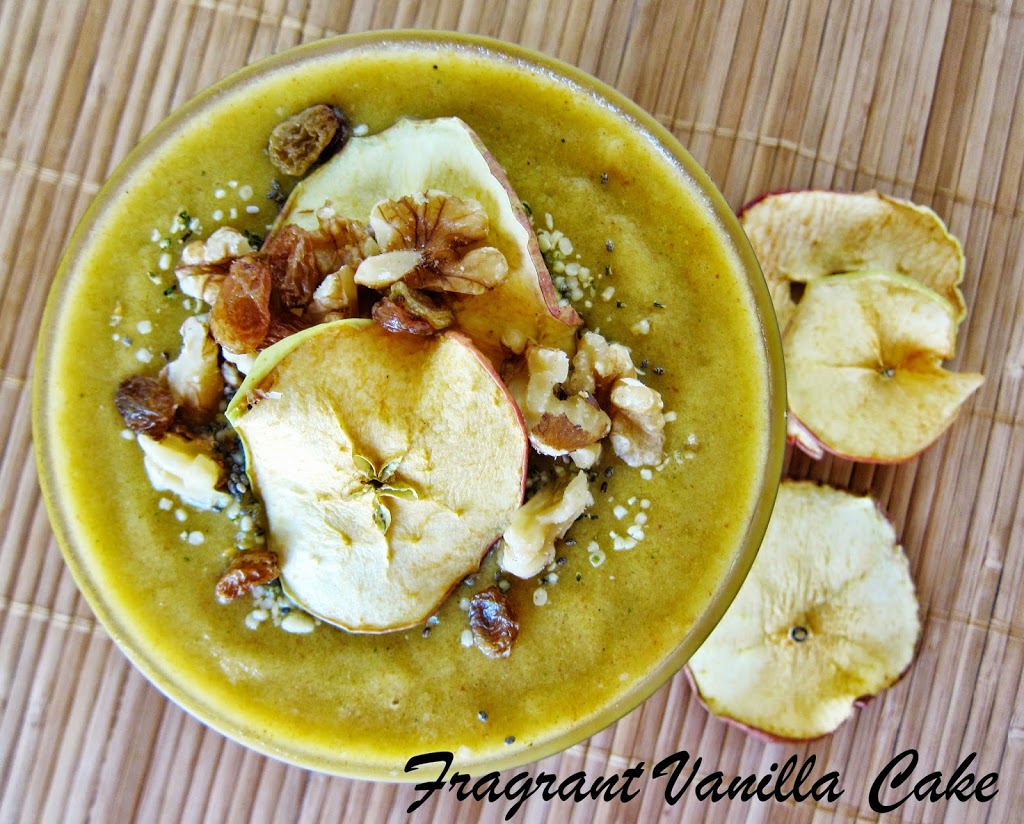 Golden Apple Smoothie Bowl
Serves 1
Smoothie:
2 large sweet apples, chopped
1 1/2 cups frozen bananas, cut into pieces (about 2 bananas)
1 tsp pure vanilla extract
1 tsp cinnamon
1/4 tsp nutmeg
1/2 tsp turmeric
1 small chunk fresh ginger
1 scoop raw vanilla protein powder (I used Sunwarrior Blend)
1/4-1/2 cup raw hemp milk or your choice raw milk (depending on how liquidy you like it, I like mine thick so I add less)
stevia to taste (optional, or your choice liquid raw sweetener)
Toppings (feel free to be creative and add your own):
dried apples
chia seeds
shelled raw hemp seeds
large flake coconut
raw walnut pieces
golden raisins
For the smoothie, combine all ingredients in a blender and blend until smooth, using the tamper to press the mixture into the blades. Pour into a bowl, top with toppings. Enjoy!
(Visited 90 times, 1 visits today)