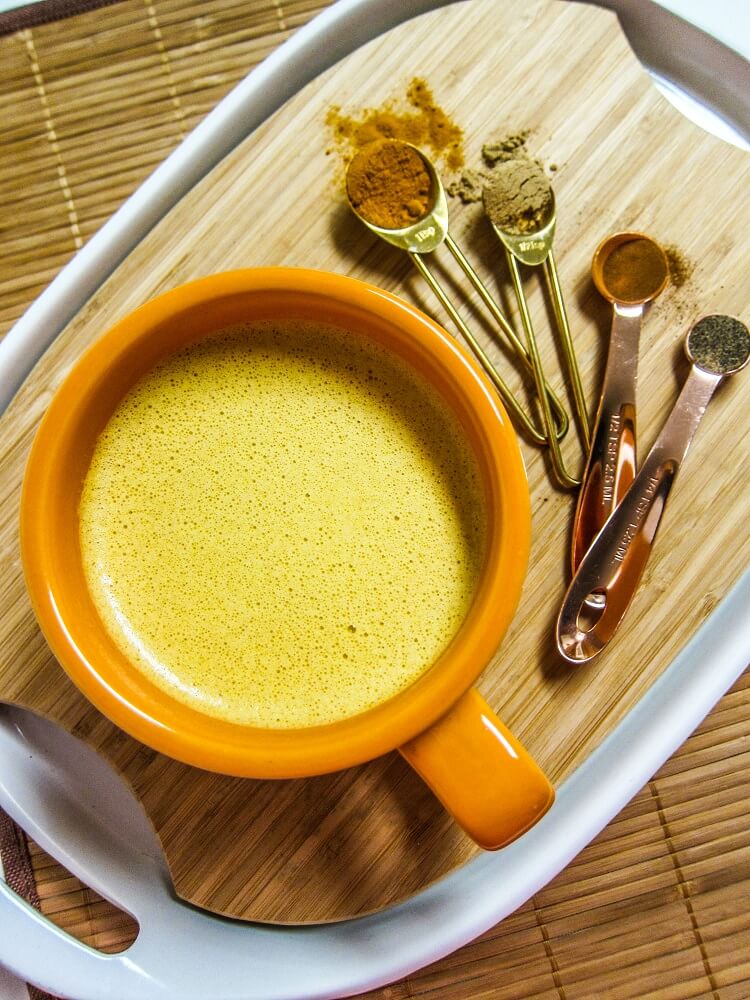 Golden Almond Turmeric Latte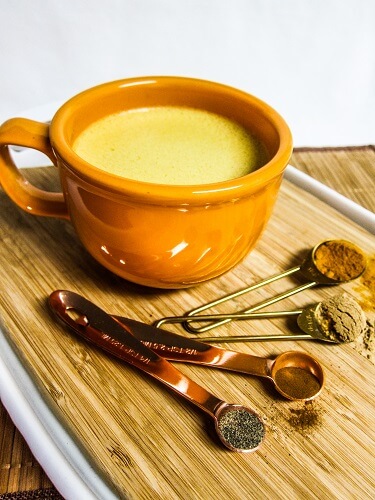 I recently posted a recipe for Vegan Golden Turmeric White Chocolates, and you all seemed to love them so thank you for all the love! But I also have had many requests for a golden turmeric latte recipe, since I mentioned in the post that I have been loving those and buying and making them in the past few weeks. Well, last weekend I wrote it down, so I could share it with you all! It is pretty simple and straight forward which is always good when it comes to recipes you are making when you just want to sit back and relax. Trust me, this drink is perfect for sitting back and relaxing with!
The first golden latte I had a few weeks back at a coffee shop was made with oat milk, but I made mine with almond milk. It was delicious but at home I usually make almond milk. Why don't I just buy it at the store? Well, I find I like my home made stuff the best when it comes to nut milks (no weird additives or too much sugar etc.), and it is so quick and easy to make anyhow! So I have included my recipe for that as well. But if you prefer to use your own favorite almond milk (or other milk if you are allergic to nuts). I just love the almond milk flavor with the spices! I know I use a lot of coconut milk in everything else, and that is good in this too but I wanted it a little bit less thick.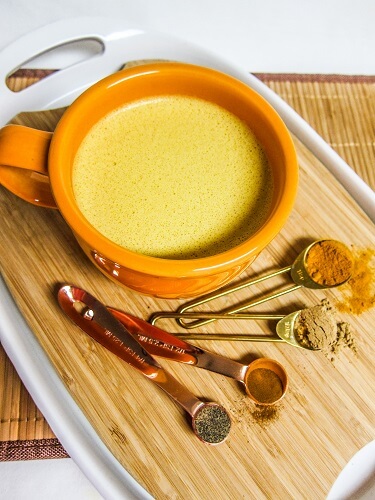 You can make this in the time it takes you to heat up milk on the stove (so just about 3-4 minutes), so it takes no time at all! Not only that, your kitchen will smell amazing as you make this. I love turmeric not only for its beautiful color and flavor, but the fact that it is anti-inflammatory! So is the ginger that is used in this latte, and because I am combining it with a milk that contains fat, it is more readily absorbed into the body. I have also added cinnamon and black pepper to this, as is traditional for a golden latte and the combination of the spices is heavenly!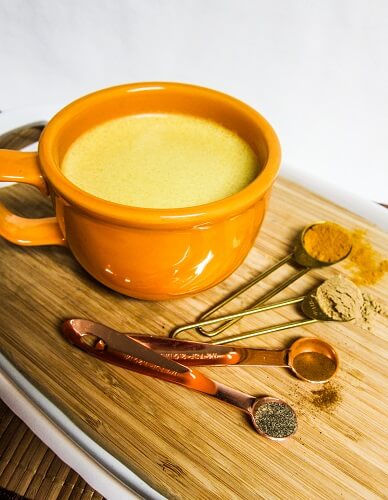 It is so good! Warming and delicious, a little rich from the almond milk, and the aroma of the sweet cinnamon, spicy ginger turmeric and pepper just made my happy. I actually didn't add the optional maple syrup that I list in the ingredients, because I don't like my drinks very sweet, but if any of you are like Eric my boyfriend (who likes everything sweet) you may like to add a little maple syrup too. I hope you try this the next time you are in the mood for a warming drink! This is a little healthier than hot cocoa and this is also perfect for before bed relaxation time!
Golden Almond Turmeric Latte
Serves 1
Ingredients:
1 1/2 cups vanilla almond milk (recipe follows)
1/2 tsp ground turmeric
1/4 tsp ground ginger
pinch black pepper
1/4 tsp cinnamon
1 tsp maple syrup or to taste (optional if you like things a little sweet)
Instructions:
Add all ingredients to a small pot on the stove, and bring to a simmer, whisking as you go to ensure that all of the spices incorporate well.
When it is boiling, remove from heat, and pour into your cup.
Enjoy!
Vanilla Almond Milk
Makes about 4 cups
1 cup raw almonds, soaked overnight and drained
4 cups filtered water
1/4 cup pitted medjool dates (or 3 Tbsp maple syrup (or to taste)
pinch sea salt
1 tsp pure vanilla extract
Instructions:
Add the almonds, filtered water, dates, sea salt and vanilla to the blender and blend until smooth.
Pour through a nut milk bag into a glass jar or container with a lid, and enjoy!
Keeps for one week in the refrigerator.
(Visited 415 times, 1 visits today)