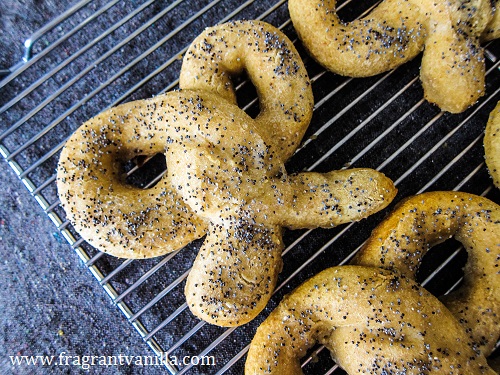 Gluten Free Vegan Poppy Seed Pretzels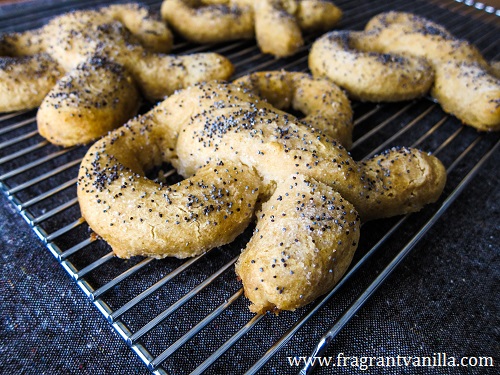 Eric asked me a couple weeks back if I had ever thought about making pretzels.  The truth is, yes but I was kind of intimidated by them.  I used to love big giant soft pretzels when I was in school.  In middle school I would get them for lunch with that fake nacho cheese stuff, and I thought they were pretty bomb.  But the truth is looking back on it, I am sure they were not as good as I thought they were.  Being all processed and all.  Then I got to high school, and discovered Auntie Anne's Pretzels at the mall, and they were way better. They were all warm and fresh and whether I ordered the original with cheese or the cinnamon sugar I was happy.  I don't eat that sort of stuff anymore though, and I have considered making soft pretzels at home, but I kind of always shoved it aside, because I thought that they wouldn't turn out.  Especially since I now eat mostly gluten free.  But I was willing to accept the challenge because Eric wanted some.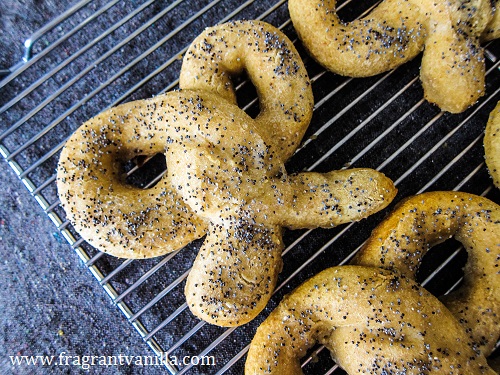 I did my research on how to make pretzels, and kind of combined all of it into this recipe.  Because there wasn't any one recipe that suited my needs, or that I wanted to follow.  These contained yeast like regular pretzels, but I used gluten free flour instead of the usual bread or all purpose.  I was worried that they might not hold together properly, but luckily I was successful!  What really scared me was the baking soda bath prior to baking, I thought that they might not hold together well since they did not contain eggs like regular pretzels, but I solved that by not submerging them too long.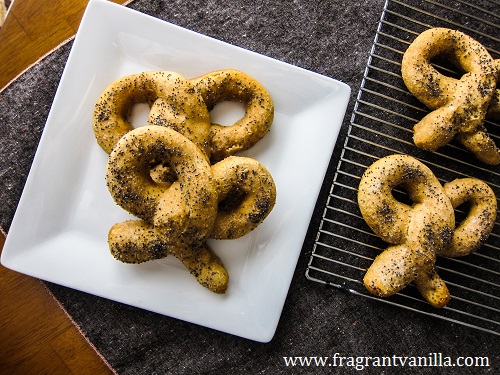 I decided to top them off with coconut oil in place of the usual egg wash or butter, and poppy seeds and sea salt.  Just because I love the look and texture of poppy seeds, and pretzels must be salty if they are to be savory.  I was pretty pleased with how well they came out, considering they were gluten free and vegan.  If you have a hankering for pretzels and don't want to go the unhealthy route, give these a go!  Also feel free to experiment with toppings!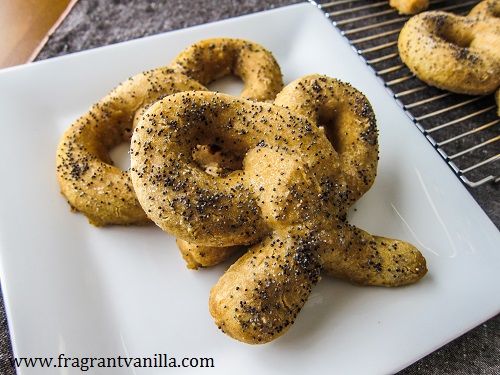 Gluten Free Vegan Poppy Seed Pretzels
Makes 4
Makes
1 package rapid rise yeast
1 tsp plus 1 Tbsp maple syrup divided
1/3 cup warm water (not above 110° F)
1/2 tsp. salt
1 flax egg (1 Tbsp ground flax seed plus 3 Tbsp filtered water)
1 1/3 cups plus 2-3 Tbsp All Purpose gluten free flour
1/3 cup baking soda for soda bath
coarse sea salt, poppy seeds, or other toppings of choice
Instructions:
In a small bowl, dissolve the yeast in the warm water with 1 tsp maple syrup.  Let sit for a few minutes.
In a larger bowl, whisk together the 1 Tbsp maple syrup with the sea salt, flax egg, and yeast.
Mix in 3/4 cup of the flour, then the rest (as needed) until you form a soft, but not too sticky dough.
Knead for about a minute, then divide the dough into 4 balls.
Roll each ball into a log about 3/4 inch thick and shape into pretzels.
Place them on a parchment lined tray, and place in a warm area to rise for 30 minutes.
Preheat the oven to 375F degrees, and bring about 5 cups filtered water to a boil along with the baking soda in a pot on the stove.
Once the water on the stove has come to a boil, add each pretzel to it, and allow to stay in the water submerged for about 10 seconds on top of a slotted spoon (any longer and they might fall apart because they are gluten free and more fragile). Remove from the water allowing to drain, and place back on the tray.  Repeat with other 3 pretzels.
Brush the pretzels with coconut oil, sprinkle with sea salt, and poppy seeds, and place in the oven.  Bake for about 10-12 minutes until golden brown.  Remove from the oven, allow to cool slightly and enjoy!
(Visited 74 times, 1 visits today)