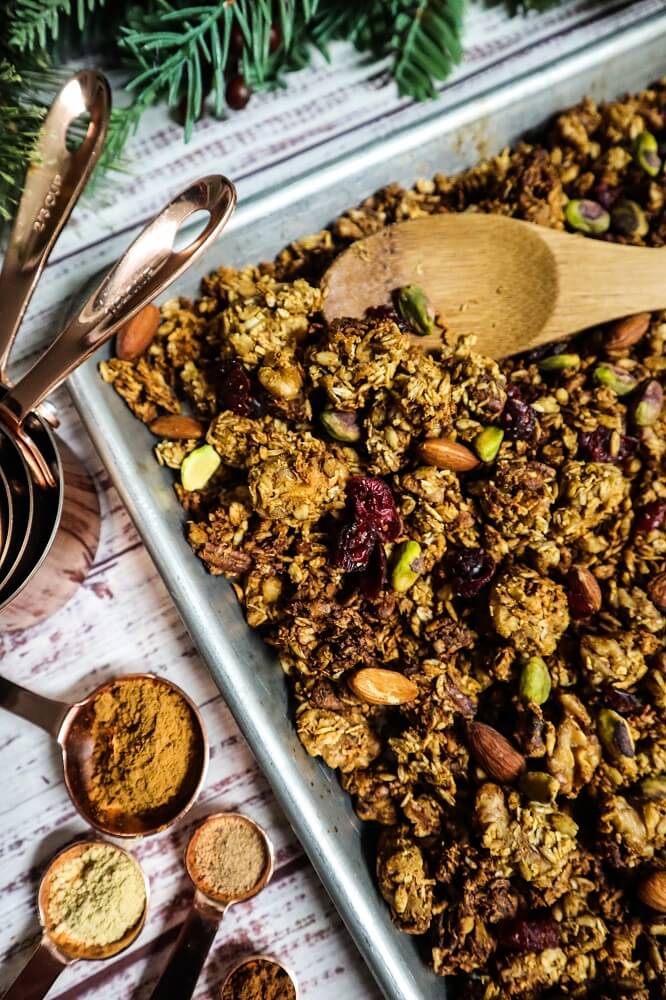 Gingerbread Granola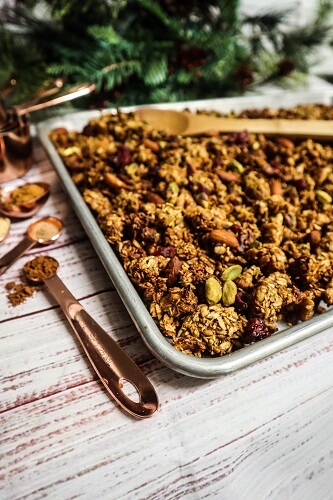 The Christmas music everywhere has begun!  Not that it is a bad thing, it gets me in the mood for the season, and I have a few songs that I really like.  But then there are the over-played ones with 5 different versions of the same song that I hear over and over on the satellite radio at work many times a day that get a bit old.  When I am at home though, I create a playlist of the good ones to listen to while doing things like holiday baking or present making!  Now that Thanksgiving is over, I am craving more Christmasy flavors like gingerbread. I will definitely be baking some cookies soon, but I decided to make gingerbread granola last week! I like to keep granola on hand at all times in my pantry for when the snack craving hits.  My favorite are those made with aromatic spices, like this one!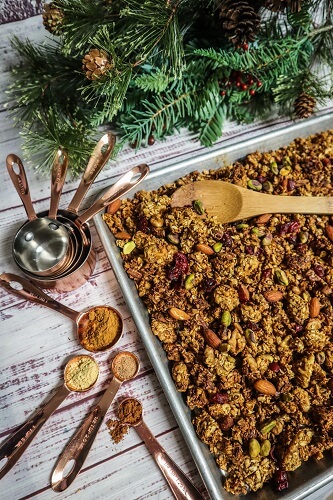 For the base, I always like to use a combination of oats and coconut to start, because the coconut gives the granola a nice sweetness along with the crunchy oats.  I added 5 different types of nuts to this one, because at Christmas when I was little, we always had a bowl of nuts in the shell on the counter, and a nutcracker so we could enjoy them.  So a variety like this makes me think of Christmas time and I thought it fit in my Christmasy gingerbread granola.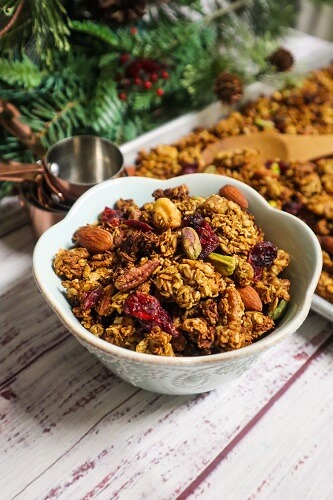 To coat the mixture I used a combination of nut butter, apple sauce, maple syrup, molasses and spices.  Yes, that is right, no oil.  I used to think that you could not get crunchy granola without oil but I was totally wrong and now I usually use either apple sauce, pumpkin or sweet potato puree, or banana in its place with great results.  Once you bake it, it gets nice and crispy! It smelled sooo good while baking, like a batch of delicious cookies!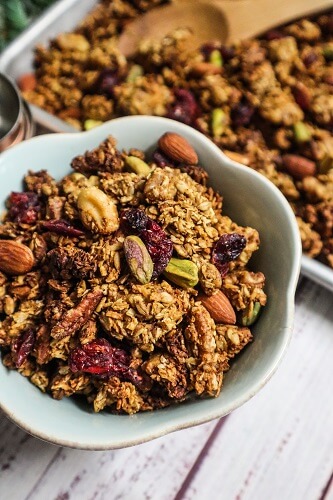 I could not wait to try it!  But first I added in some dried cranberries for color.  It was sooo good!  It was crunchy and aromatic with the scent of Christmas cookies!  I could not stop sampling it as I walked by, be warned this stuff is addictive and may not last long in your home!  If you are a granola fan, definitely give this a try!  If you always buy store bought especially give it a try, because once you make your own you will never go back!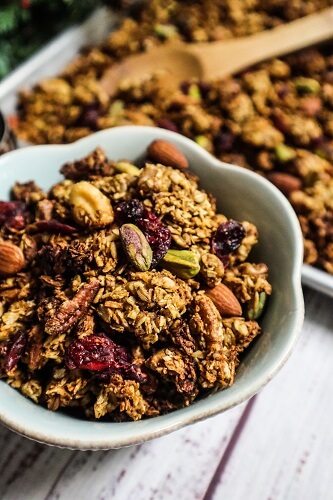 Vegan Gingerbread Granola
Makes 6 cups
Ingredients:
3 cups organic gluten free old fashioned rolled oats
1 cup raw pecans
1 cup raw walnuts
1/2 cup raw almonds
1/2 cup pistachios
1 cups finely shredded, dried unsweetened coconut
1/2 cup organic apple sauce
1/4 cup maple syrup
1/2 cup pecan butter or almond butter
2 Tbsp molasses
1 tsp cinnamon
1 tsp ginger
1/2 tsp cloves
1/4 tsp nutmeg
1/2 tsp sea salt
1 tsp pure vanilla extract
1 cup dried cranberries
Instructions:
Line a large baking sheet with non-stick foil, and spray with cooking spray.
Preheat the oven to 350F and set rack at the medium position
In a large bowl, combine oats, nuts, and coconut, and set aside.
In another bowl, whisk together apple sauce, maple syrup, nut butter, molasses, spices, sea salt, and vanilla extract until well combined, then pour over oat mixture and toss to coat until completely blended.
Pour out onto prepared baking sheet, and spread out evenly.
Bake for 35 minutes, stirring about every 10 minutes or so until the granola is evenly browned. Remove from oven and let cool.
Stir in cranberries, and enjoy!
Keeps for up to 1 month in the refrigerator in an airtight bag, or at cooler room temperature for up to 2 weeks.
(Visited 625 times, 1 visits today)