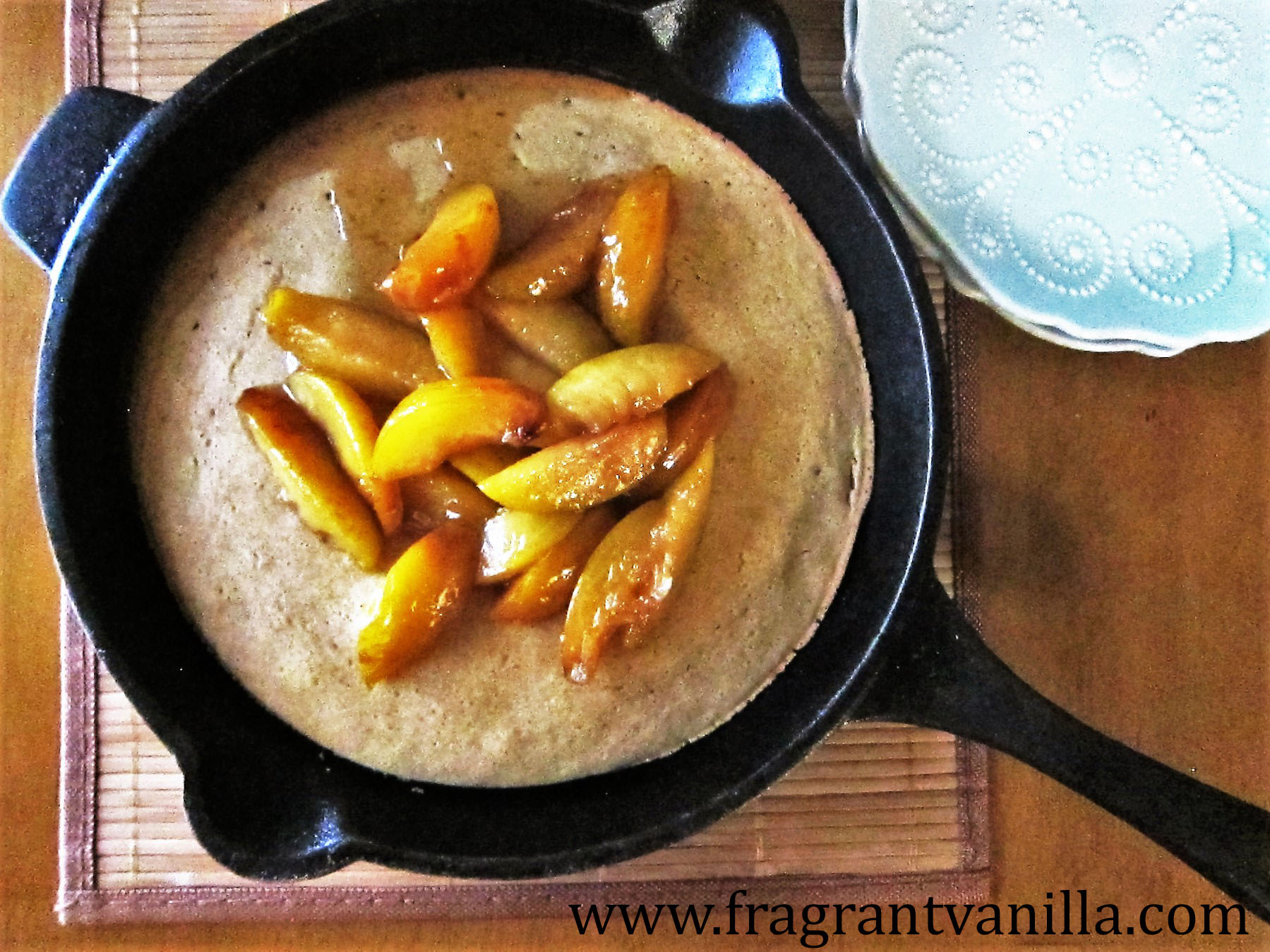 Giant Vegan Oven Pancake with Sauteed Pluots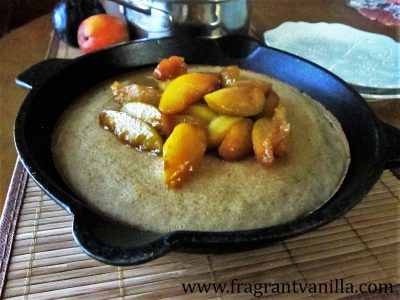 Sometimes you just want pancakes, but don't want to slave over a hot stove flipping them.  If that is you, read on.  It is definitely me, because I have other stuff to do sometimes!  When I was younger my Mom would make oven pancakes in a pie dish or skillet and they were always delicious.  We would top them off with sautéed fruit or powdered sugar and lemon zest.  I never thought of them as lazy pancakes, just different pancakes.  I now appreciate the hands off approach to them though.  I haven't had one of those pancakes in ages to be honest, probably the last time was when I was still in high school.  But I was thinking about them yesterday, and decided I wanted to make one.  Pancakes just sounded good, it was kind of a gloomy cloudy afternoon.  To me, they are sort of a comfort food, and not just breakfast fare.  They are perfect for an out of the ordinary dinner.
I kept these pretty simple, making the batter in the blender (which is what I always do for pancakes now, because it has a nice pour spout and all).  I made them gluten free, with applesauce to keep them moist instead of the loads of oil in some traditional pancakes, and a little nut butter for richness.  With a little maple syrup to sweeten the batter it tasted just right.  I heated my cast iron skillet in the oven, poured in the batter and waited.  I wasn't quite sure how this would turn out to be honest, because this is the pancake batter I normally just use to make small pancakes.  But it cooked up beautifully!  One giant pancake with the texture of a regular pancake.  It smelled amazing.  I made some sautéed pluots in maple syrup to top it off, because that is what I have on hand, and the pluots are wonderful this year!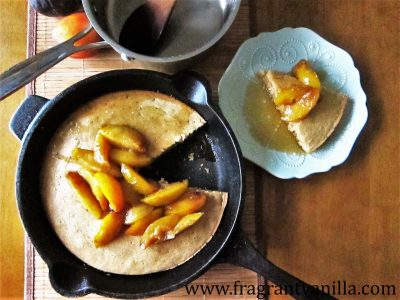 It tasted like heaven.  Just as I had imagined it, and now I have a no fuss way to make pancakes.  I mean, sure you can't stack it, but it is much more fluffy than the little pancakes, since it is taller and bigger which I love.  Feel free to top this off with whatever fruit you have on hand and is in season.  For upcoming fall, I think pears and apples will also be lovely!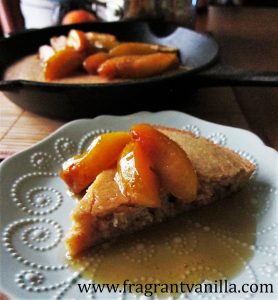 Giant Vegan Oven Pancake with Sauteed Pluots 
Serves 2-3
Pancakes:
1 1/2 cups gluten free all purpose flour
2 tsp baking powder
1/2 cup apple sauce
1/4 cup pecan butter or almond butter
1 cup filtered water
2 tsp pure vanilla extract
1/4 tsp sea salt
1 tsp maple extract
3 Tbsp maple syrup
Coconut oil for the pan
Topping:
3 pluots, sliced
1/4 cup maple syrup
1 tsp pure vanilla extract
Instructions:
Preheat the oven to 375F degrees with the rack in the center of the oven.  Place a 9 inch cast iron skillet (or 9 inch baking dish) in the oven.
In a food processor, combine all pancake ingredients (except the coconut oil) and process until just blended, and set aside.
Once the oven and pan have heated carefully remove the pan from the oven and oil with a little coconut oil.  Pour the pancake batter into the hot skillet, and place in the oven.  Bake for about 12 minutes, or until the pancake is set in the center.  Remove from oven.
Meanwhile, to make the pluot topping, combine all ingredients in a saucepan over medium heat, and cook until the pluots have softened.  Once they have softened, add the vanilla.  Top the hot pancake with it!
(Visited 105 times, 1 visits today)