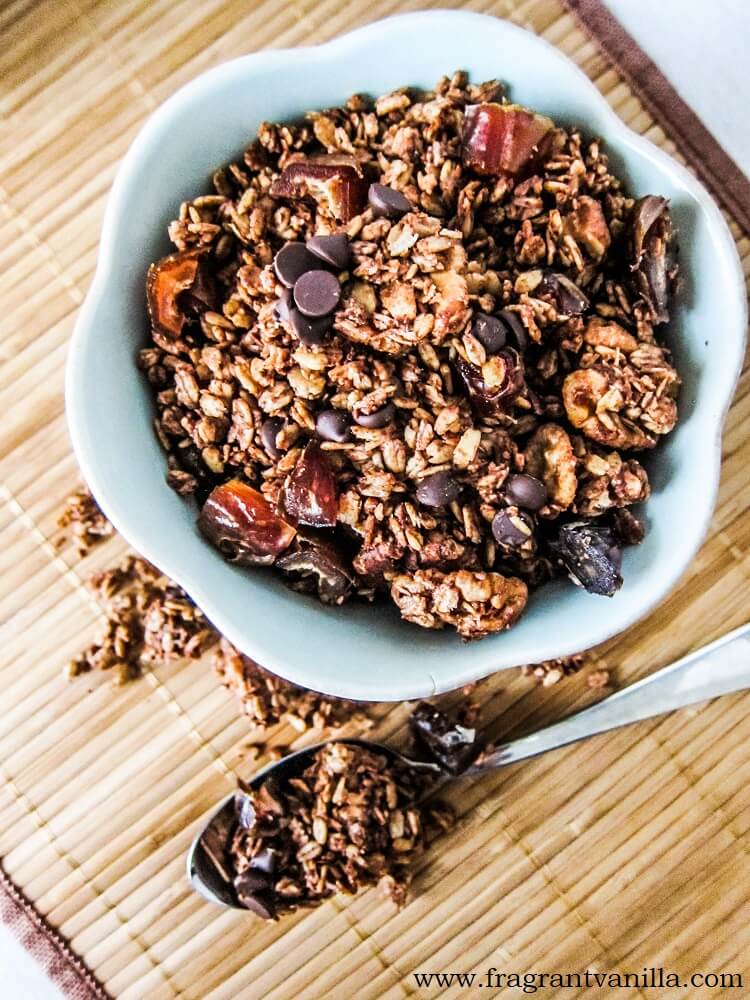 German Chocolate Granola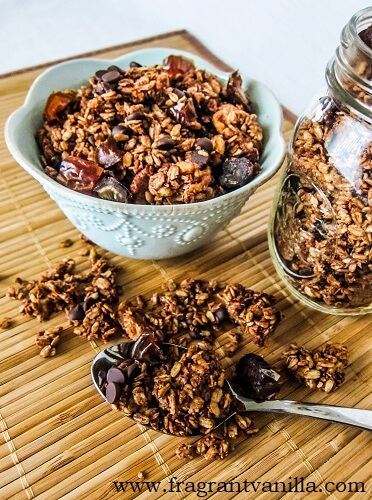 When I was little, granola was something that I thought hippies made or something that was brought along on camping trips.  But the truth is I had never actually tried it and it just looked like something healthy to me.  At that point in my life I wasn't into "healthy" foods made with whole grains that you could see.  Granola was something that they sold in the bulk bins at the health food store, or in the breakfast aisle.  I got over my fear of whole grains a few years later, and when I finally did try granola (probably after begging my Mom to buy me some), I thought it was super delicious.  I mean, what's not to love about the crunchy sweet snacky goodness that granola is?  Once you finally try it.  It was some time later that I realized the store bought stuff wasn't the healthiest, and I started making my own at home back in college. It was even better than the store bought.  I found a good recipe, then tweaked it quite a few times until I found the perfect balance.  I made granola every few weeks for a few years, because I loved snacking on it.  My granola making has since gone by the wayside, but I get a craving for it sometimes.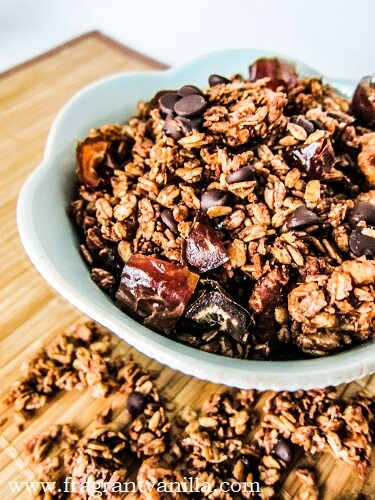 Last weekend I decided it was time for some granola.  I had made a raw German chocolate granola a few years back that was really good, so I decided to make that one, only not raw, with rolled oats in place of the buckwheat and cooked in the oven instead of the dehydrator.  That was the only thing I didn't like about making raw granola.  Having to wait overnight to enjoy it while it dried.  Well, this stuff is done in less than an hour and I love warm granola!  I wanted to include the things you would find in a German chocolate cake for this, a cacao coated chocolate base for the oats, and walnuts and coconut like you would find in the frosting, as well as dates because the frosting is usually caramel, and dates are natures caramel.  Lastly it needed chocolate chips.  You could use cacao nibs if you wanted it less sweet, but I was going for a dessert like thing here.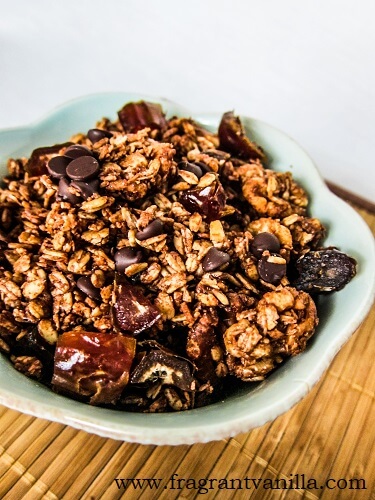 I treat granola like dessert actually because I love the crunchy texture, sweetness, and slight saltiness it has.  It is crave worthy stuff, hard to put down sometimes especially when it is sitting there cooling. Every time I walked by I had to grab some!  This one was more decadent than the usual vanilla based ones I make, and I loved it!  If you are a chocolate fan, and looking for the perfect crunchy snack, give this a try!
German Chocolate Granola
Makes 12 cups
Ingredients:
6 cups organic gluten free old fashioned rolled oats
2 cups raw walnuts
2 cups finely shredded, dried unsweetened coconut
1/2 cup coconut oil, warmed to liquid
1/2 cup maple syrup
1/2 cup almond butter
1/3 cup cacao powder
1 tsp sea salt
2 tsp pure vanilla extract
1 cup vegan chocolate chips
1 cup dates, cut into small pieces
Instructions:
Line a large baking sheet with non-stick foil, and spray with cooking spray.
Preheat the oven to 350 and set rack at the medium position.
In a large bowl, combine oats, walnuts, and coconut, and set aside.
In another bowl, whisk together oil, maple syrup, almond butter, cacao powder, sea salt, and vanilla extract until well combined, then pour over oat mixture and toss to coat until completely blended.
Pour out onto prepared baking sheet, and spread out evenly.
Bake for 35 minutes, stirring about every 10 minutes or so until the granola is evenly browned. Remove from oven and let cool. Stir in cacao nibs and enjoy!
(Visited 415 times, 1 visits today)