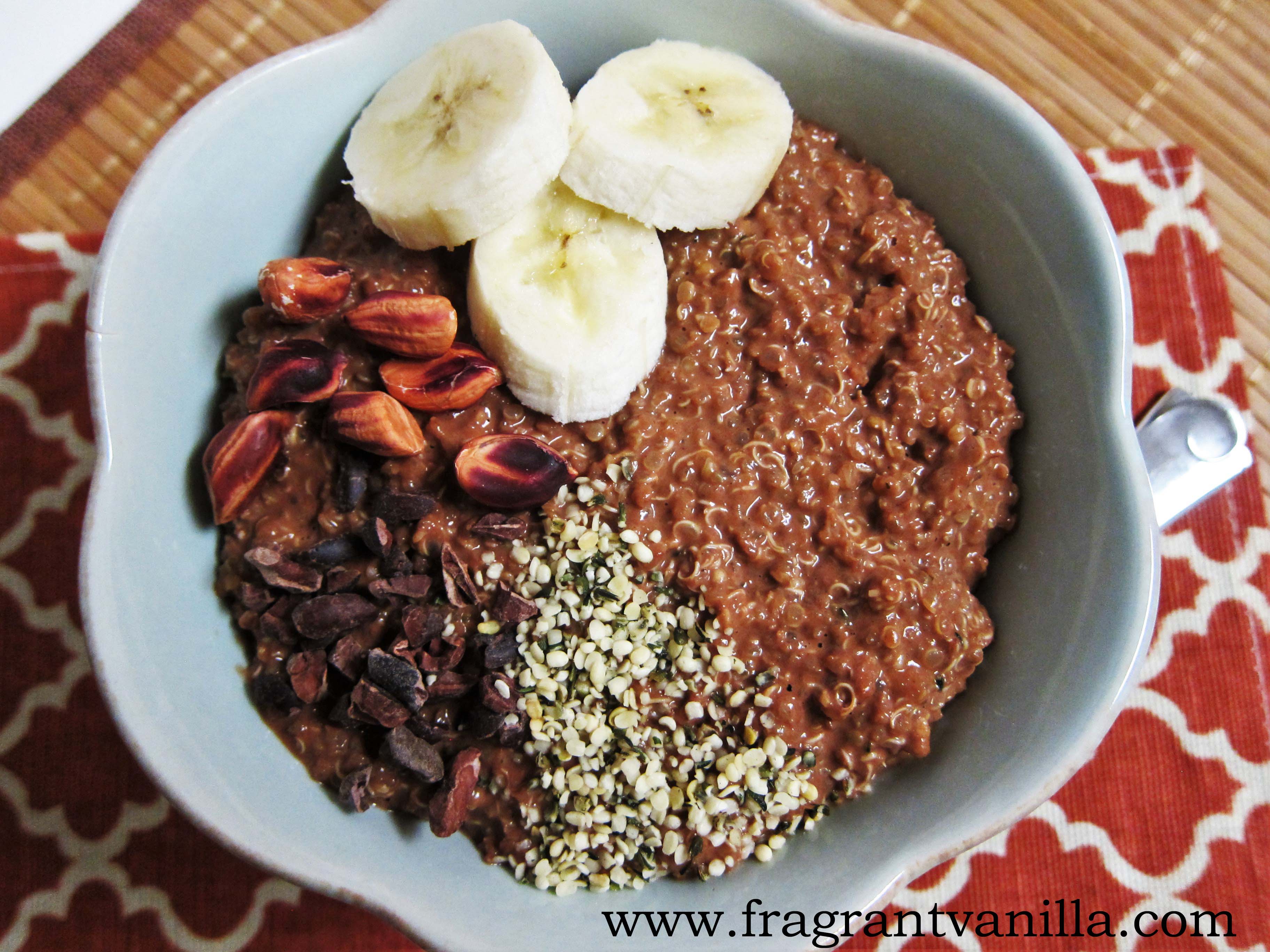 Funky Monkey Quinoa Breakfast Porridge
Most people think of quinoa as something savory to mix vegetables into or serve as a side dish, but it also makes a wonderful porridge for breakfast.  I am a fan of porridge for breakfast, usually oatmeal though. But I decided to try making something different and used quinoa.  This actually ended up being a snack, and I gave it a dessert like twist, because I made extra for Eric too. Since he loves sweet things for breakfast.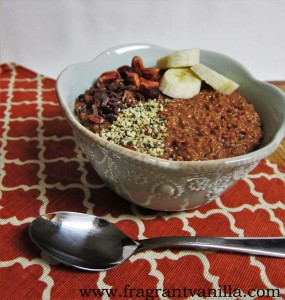 We both love peanut butter so much that we could eat a whole jar (but don't because that would probably not be good), so I wanted to include peanut butter in this.  I mashed up a banana, mixed in some cacao powder, and a little almond milk.  I added in some hemp seeds for some omega 3 goodness and a little more protein.  It reminded me of rich chocolate rice pudding with peanut butter.  But of course had the quinoa texture.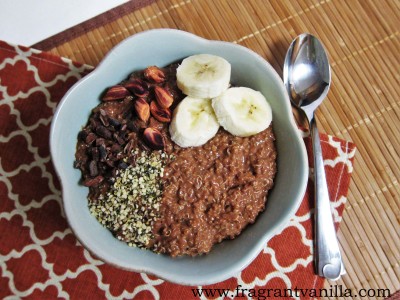 I topped it off with bananas, hempseeds, cacao nibs, and jungle peanuts.  It was so delicious.  If you want a little treat for breakfast with some chocolate, give this a whirl.  Otherwise, it makes a good alternative to rice pudding (and if you like it sweeter then add a little more stevia or maple syrup).  I called it funky monkey quinoa breakfast porridge because Eric and I like to make up funny names for things, and it just fit!
Funky Monkey Quinoa Breakfast Porridge
Serves 2
½ cup uncooked quinoa
2-3 Tbsp smooth peanut butter (as you like it)
3 Tbsp raw cacao powder
Stevia or Maple syrup to taste
1/2 cup almond milk or filtered water (or as you like)
1 banana, mashed
¼ cup shelled hemp seeds
Toppings:
Sliced banana
Hempseeds
Cacao nibs
Peanuts
To make the quinoa, combine the water and quinoa in a pot, and bring to a boil.  Lower to a simmer, cover and cook until all of the quinoa has fluffed up about 15 minutes.  Remove from the heat.
Meanwhile, whisk together the peanut butter, cacao powder, stevia, almond milk, and banana, and stir into the quinoa along with the hemp seeds. Pour into bowls, and top with desired toppings. Enjoy!
(Visited 170 times, 1 visits today)