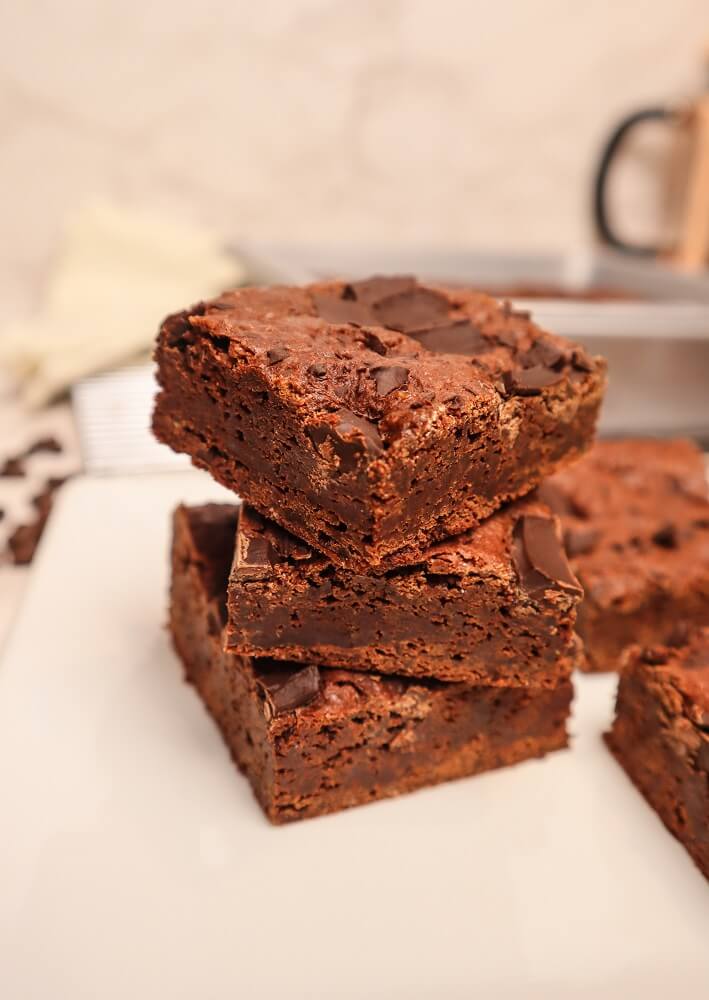 Fudgy Vegan Mocha Brownies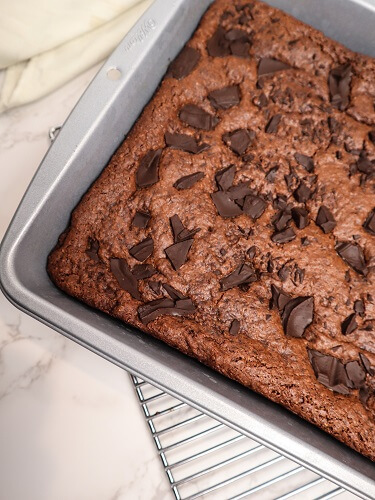 You know what the perfect thing to do on a snowy day is?  Bake something delicious!  Which is exactly why I decided to bake brownies this week!  It literally snowed for 4 days, and although it is really pretty (so much prettier than the brown dead plants outside), I am so not ready for winter yet, and needed some cheering up.   So I warmed up my oven and whipped up some Fudgy Vegan Mocha Brownies!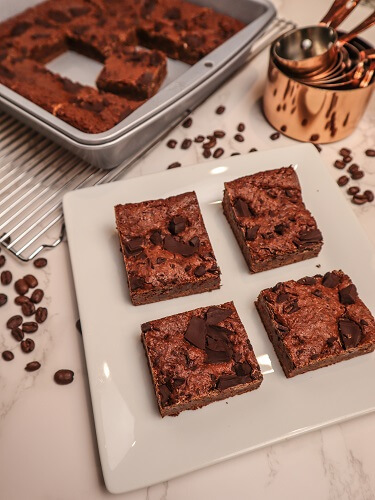 Although I love vanilla I have been craving brownies lately.  When it comes to brownies, rich and fudgy is the way to go as far as I am concerned!  That and the middle pieces.  It works out, because Eric likes the side and corner pieces and I like the middle! I wanted something simple this time, which is unusual for me because I usually do a bunch of add ins. But I thought a touch of coffee and just dark chocolate would be perfect!  To make these coffee flavored, I added coffee instead of the water I normally mix with my ground flax for the flax eggs plus 2 more Tbsp and it was perfect! I also added 1 Tbsp of espresso powder. I also added a good amount of vanilla because even though these are chocolate, vanilla makes everything in the realm of desserts more amazing!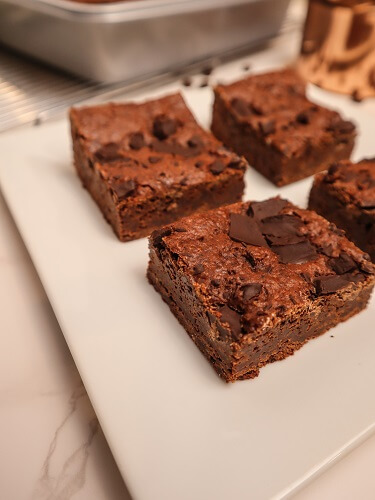 I use coconut oil for the fat in them to make them rich and fudgy and plenty of cocoa powder and they turn out nice and decadent!  I used whole wheat pastry flour in them this time because it is what I have on hand, but if you wanted to use all purpose flour that would work as well and if you wanted them to be gluten free, you could use Bob's Red Mill Gluten Free All Purpose Baking Flour (I have tried this type and have had good results) or your favorite gluten free flour blend.  As if these wouldn't have been delicious enough as they were with just the brownie batter, I added in some vegan dark chocolate chunks as well!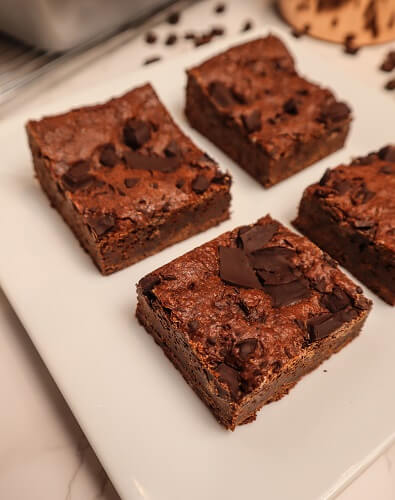 These smelled so heavenly while baking, I could not wait to try some!  They were rich and fudgy just how I like them with deep dark chocolate flavor, a hint of coffee and vanilla. These are so good with a cup of coffee by the way, my favorite thing to pair them with!  If you are a chocolate and coffee lover, definitely give these Fudgy Vegan Mocha Brownies a try!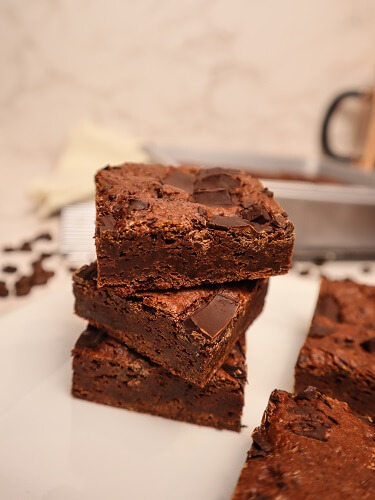 Fudgy Vegan Mocha Brownies
Makes 16
Ingredients:
1/4 cup ground flax seeds
1/2 cup plus 2 Tbsp strong brewed coffee
1/2 cup melted coconut oil
2 cups brown sugar
1 Tbsp pure vanilla extract
1 Tbsp espresso powder
1/2 tsp sea salt
2 tsp baking powder
1 cup whole wheat pastry flour or all purpose flour
1 cup unsweetened cocoa powder
1/2 cup chopped vegan dark chocolate
Instructions:
Preheat the oven to 350F degrees and line a 9x9 inch square pan with parchment.
In a bowl, whisk together the flax seeds and coffee and set aside for a few minutes.
To a large bowl, add the coconut oil and sugar, then the flax and coffee mixture and vanilla and espresso powder and whisk together until the sugar starts to melt into it.
Whisk in the salt and baking powder, then the flour and cacao powder until smooth.
Pour into the prepared pan, then sprinkle with the chopped chocolate.
Place in the oven and bake for about 30 minutes until set.
Remove from the oven and let cool before cutting (if you want the brownies to come out nice, otherwise let cool 15 minutes and then enjoy some warm).
Brownies keep in the refrigerator for 1 week, or frozen up to 4 months.
(Visited 632 times, 1 visits today)