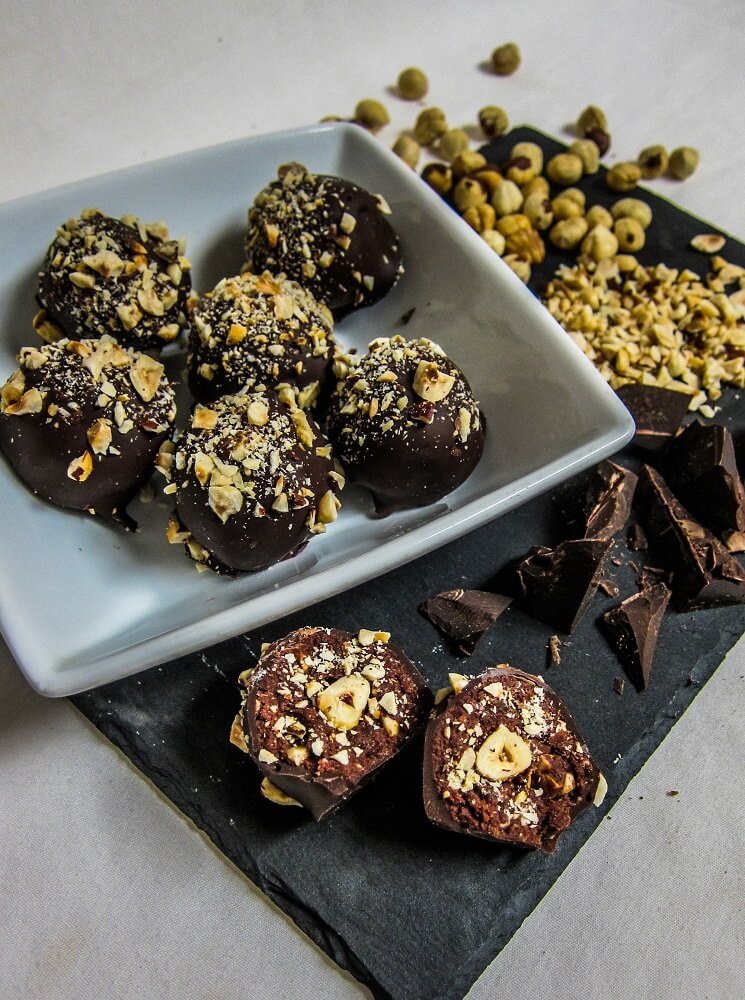 Double Hazelnut Chocolate Truffles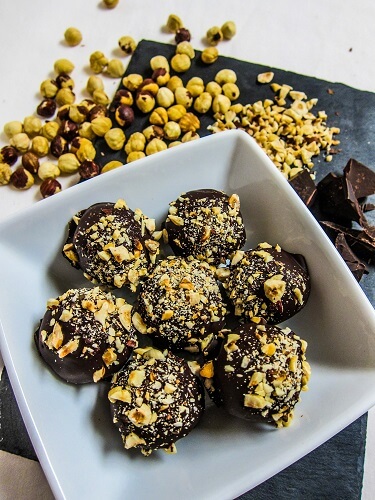 You know what always makes me happy? the aroma of nuts roasting in the oven. they always smell amazing and they are just begging to be snacked on as soon as they are cool enough to not burn you. Sometimes I am a little hasty I admit and I do end up burning my mouth. I had a bunch of hazelnuts on hand that I roasted for some hazelnut butter and I had extra, so I thought it would be the perfect time to make some copycat Fererro Rocher candy. I have kind of always wanted to make them, and just never gotten around to it.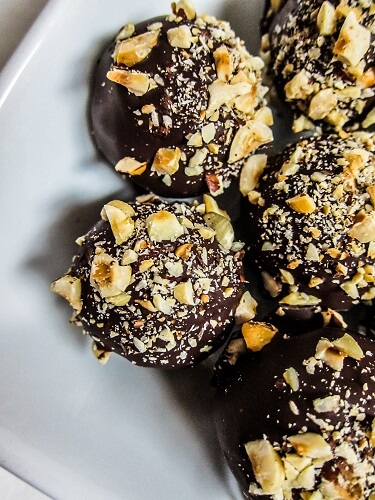 I feel like I am that way with a lot of recipes, I have so many ideas in my head that I say I am going to make, and they bounce around in there for a while, sometimes years and I finally decide to make them. At least I know I will never run out! These were actually fairly easy to make and I had all of the ingredients on hand. They are actually slightly less complicated then actual Fererro Rocher candy though, because I like easy when it comes to things like truffles, especially when I am making them on a week day after work.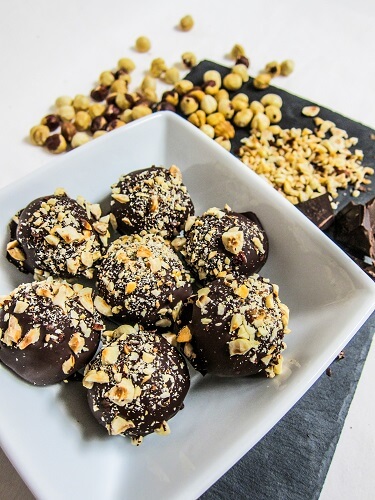 I used a hazelnut in the center just like the original, then I wrapped it in a layer of soft hazelnut chocolate fudge with crunchy chopped hazelnuts instead of the wafers in the original. I am not a big fan of wafers, and I had hazelnuts on hand so it worked out. If you wanted something a bit more crunchy, you could use chopped up wafers, or for a healthier more whole foods option, some sprouted dehydrated buckwheat groats. I used to always use those in my raw recipes whenever I wanted crunch.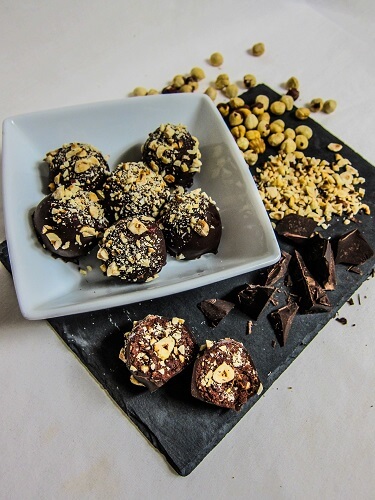 Lastly, I dipped the fudgy centers into dark chocolate and sprinkled them with more hazelnuts. These are packed with plenty of hazelnut and chocolate flavor. I actually like them better than the original Ferraro Rocher! That is the thing about making your own candy at home, you can tailor it to your own tastes! I love that! If you are a chocolate and hazelnut fan, give these a try!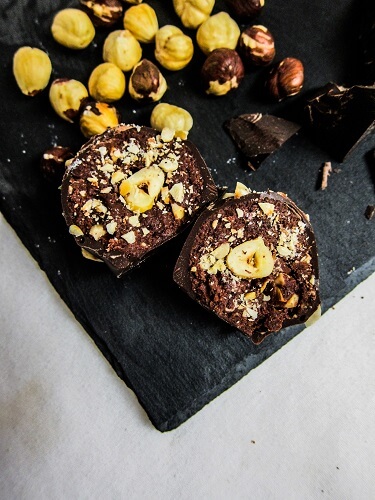 Double Hazelnut Chocolate Truffles
Makes 16
Ingredients:
Filling:
1 cup hazelnut butter (or almond butter if you don't have any hazelnut butter)
1/2 cup cacao powder
1/4 cup plus 2 Tbsp maple syrup
3/4 cup finely chopped roasted hazelnuts
16 roasted hazelnuts
Coating:
1 1/2 cups chopped vegan dark chocolate
finely chopped roasted hazelnuts
Instructions:
Mix together the hazelnut butter, cacao powder, maple syrup, and chopped hazelnuts in a bowl until well blended and smooth (except for the chopped nuts)
Form the mixture into 16 balls, and press a hazelnut into the center of each ball, forming it around it. Place the balls onto a parchment lined tray. Place in the freezer for 20 minutes.
Melt the dark chocolate for the coating on the stove in a double boiler.
Dip each ball into it, letting the excess drain off (I like to set it on a fork), and place back onto the tray and sprinkle with the chopped hazelnuts. Repeat with remaining truffles.
Place in the freezer until set, about 5 minutes.
Enjoy! Store in an airtight container with a lid in the refrigerator for up to a month.
(Visited 511 times, 1 visits today)