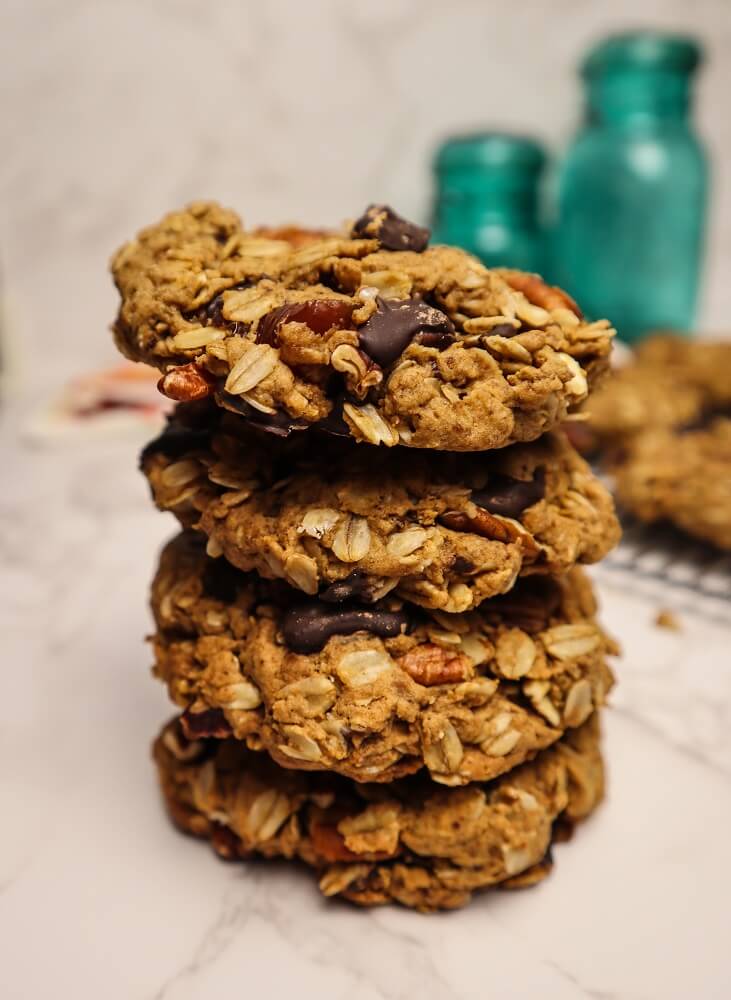 Date Pecan Chocolate Chunk Oatmeal Cookies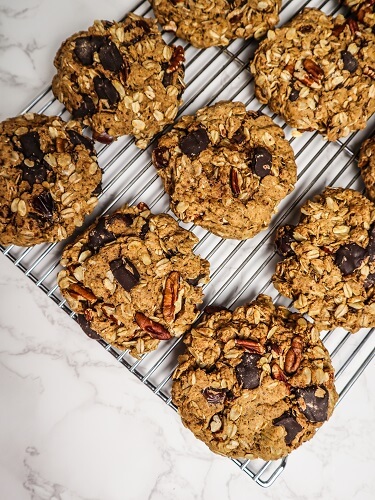 Oats are something that I love so much I have eaten them nearly every day for the past 20 years of my life.  I have a bowl of oatmeal in the morning, I never get sick of it and it is one of my favorite things.  It has shifted from cooked to overnight oats, but I love them both.  I also love oatmeal cookies!  Why not have all of the fiber of oats in a delicious cookie!  I hadn't made any for a while, so I thought I would make some last week!  I used to make oatmeal cookies all the time before I switched jobs last year (I don't bake at my current job) and I was just thinking about how good the cookies were.  The oatmeal chocolate chunk were one of our top selling cookies in the store that I worked at.  And for good reason, they were amazing!  I wanted to make some this time with the chocolate chunks of course, but I ended up making Vegan Date Pecan Chocolate Chunk Oatmeal Cookies!  Because I love add ins in these type of cookies.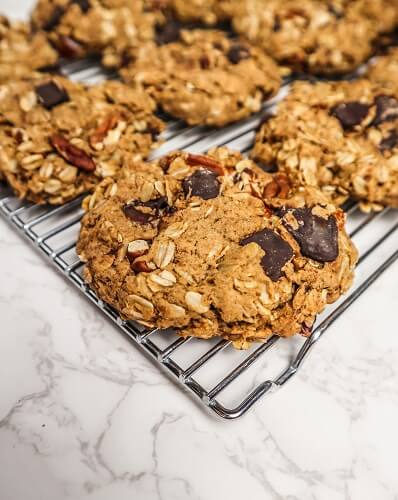 These are pretty simple to make, and you can be enjoying warm cookies in less than 45 minutes!  I used coconut oil in these as the fat, it gives them a nice sweet flavor, and I used flax eggs in place of real eggs because that is what I always have used in my oatmeal cookies.  Coconut sugar was my sugar of choice this time because it is what I had on hand but I have made my cookies with maple sugar and brown sugar before and they come out about the same. All of these sugars give them a somewhat caramelly flavor.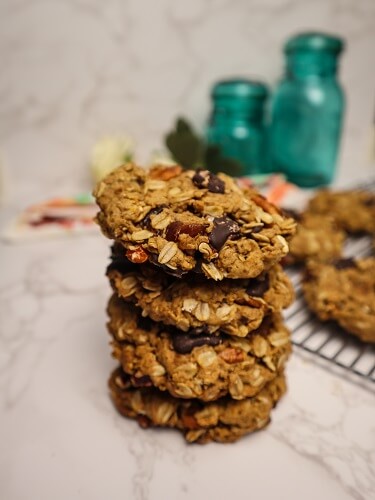 For the flour I used whole wheat pastry, but you could use oat flour if you prefer that.  I have used that in my oatmeal cookies before with good results.  These are scented with vanilla because I add vanilla to almost all of my desserts. It is one of my favorite things after all!  I used soft, pitted medjool dates that I chopped up in these because I wanted there to be pockets of gooey caramelly dates throughout!  I feel like this is a way to add some natural caramel bits without adding actual caramel.  The toasted pecans and the essential item, the vegan chocolate chunks were so good paired with the dates! I say essential because oatmeal cookies with chocolate chunks or chips are the BEST!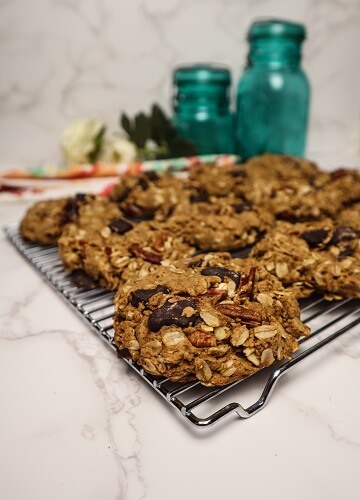 These smelled so heavenly while baking, I could not wait to try one!  They were so delicious, with their chewy centers on the inside crisp at the edges with the texture of dates throughout and the sweet caramelly dates, decadent chocolate chips and crispy crunchy pecans!  I think you could use these as an excuse to eat cookies for breakfast!  If you are an oatmeal cookie lover like me, definitely give these Vegan Date Pecan Chocolate Chunk Oatmeal Cookies a try!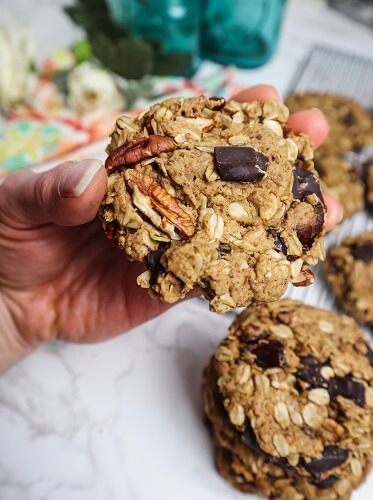 Date Pecan Chocolate Chunk Oatmeal Cookies
Makes 16 large cookies Ingredients:
3/4 cup coconut oil, warmed to liquid
1 1/2 cups maple sugar or coconut sugar or brown sugar
2 Tbsp ground flax seed mixed with 1/4 cup and 2 Tbsp water
1 Tbsp pure vanilla extract
1 1/2 cups whole wheat pastry flour or oat flour
1 tsp baking soda
3/4 tsp sea salt
3 cups gluten free old fashioned rolled oats
3/4 cup chopped pecans, toasted
3/4 cup chopped pitted dates
3/4 cup chocolate chunks
Instructions:
In a large mixing bowl, mix together the coconut oil, and sugar until well blended. Add flax eggs, vanilla, and mix until well combined (the mixture will become very thick).
Mix in the flour, soda, and sea salt until well blended. Mix in the oats until well combined, then add dates, chocolate chunks and pecans and mix until evenly distributed throughout the dough.
Lower the oven to 350F degrees with the rack set at the middle position.
Roll the dough into 16 large balls, and spread them out on the 2 cookie sheets with plenty of room in between. Bake for 15-18 minutes or until golden, but not over baked. Let cool on sheet a few minutes, then remove to a wire rack lined with parchment to cool.
Enjoy!
(Visited 252 times, 1 visits today)