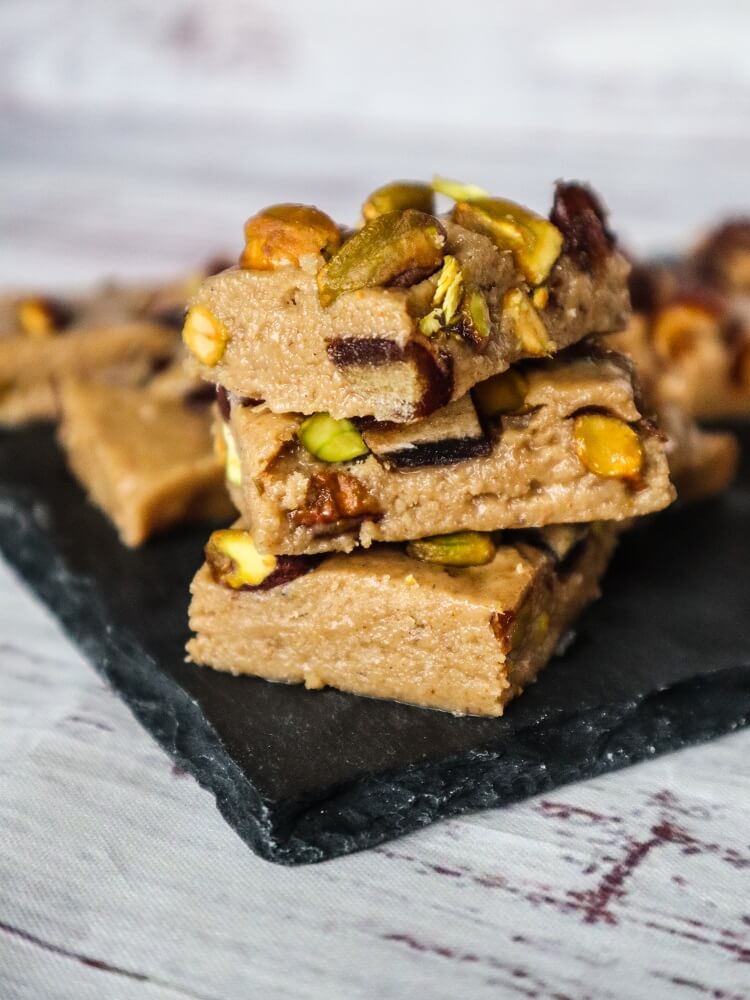 Date and Pistachio Halva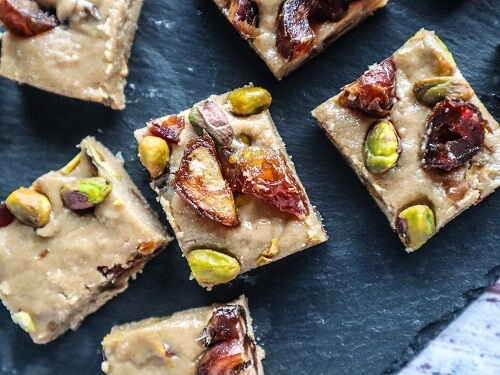 I was recently given some tahini with dates in it, and it was super delicious.  Also, it gave me the idea to make some halva with chewy dates!  I love dates, they are like nature's caramel in fruit form.  And, I also am a big halva fan, especially ones with delicious add ins you can sink your teeth into!  So I knew the dates would be perfect in it!  Plus I hadn't made halva in a while and I was craving it.  I decided to add pistachios also to make it a Date and Pistachio Halva.  I love that it is super simple to make once you get the hang of it, and something I can make on a weekday. The thing is, in my household it doesn't last long.  My husband Eric has been known to eat half the batch in a day.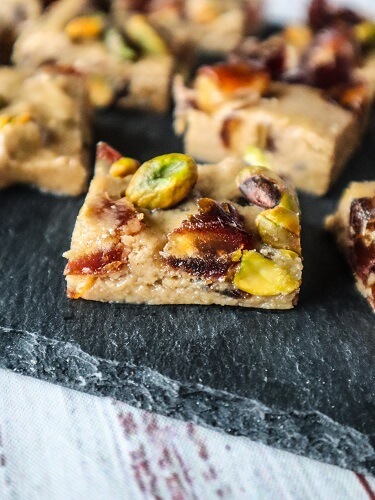 I have made halva with other nut butters instead of tahini before, but tahini is the original ingredient and that classic flavor is amazing.  This time I enhanced the base with a little pure vanilla extract and almond extract and it was heavenly and honestly smelled so good!  The secret to the texture of halva is to make a sugar syrup with a little water and granulated sugar, and you have to use a candy thermometer to get the proper temperature.  Trust me on this one, the first time I made it I did not use one and it did not turn out right.  You have the cook the sugar syrup to 250F degrees, then pour it in a thin stream into your base and stir quickly until it is just blended. You do not want to over-mix or you will get crumbly halva.  you want it to have tiny ribbons of the sugar syrup in it basically to create the texture. Once you get the hang of it after you make it a few times you will know what I mean, or if you have ever had halva from a shop.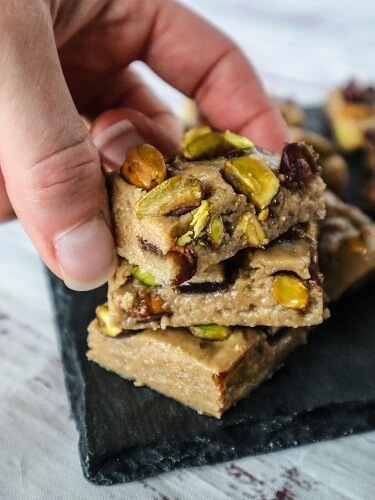 I made sure I used fresh, soft medjool dates for this, because I wanted them to be like little caramelly bits in the halva for texture.  Also, I used salted roasted and chopped pistachios for a crunchy texture. I am a big texture person and I like variety. I feel like this flavor combo and textures is a match made in heaven!  The little bits left in the bowl after I scraped it into the pan were delicious but I could not wait to try the finished product!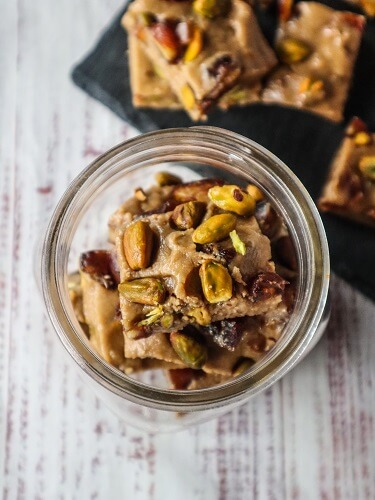 Once it was ready to taste I could not wait to enjoy it!  It was certainly heavenly!  The texture was perfect!  All of the flavors married well together with the sweet dates, nutty tahini, heavenly vanilla and almond and salty pistachios.  It is hard to eat just one piece honestly, I guarantee you will go back for seconds!  If you love halva, or are curious about it I definitely recommend you give this Date and Pistachio Halva a try! I made a video of this recipe if you would like to see that, check it out on my Instagram!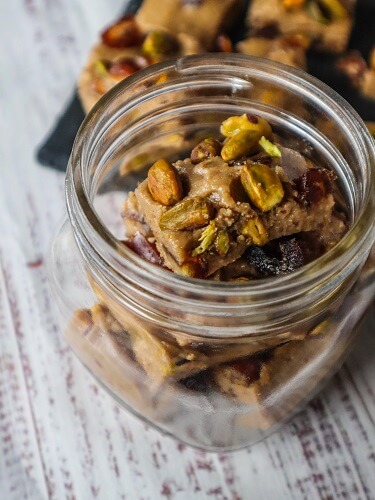 Date and Pistachio Halva
Makes 1 lb
Ingredients:
1 1/2 cups tahini, stirred well, at room temperature
1/4 tsp sea salt
1/2 tsp pure vanilla extract
1/2 tsp almond extract
1 cup granulated sugar
1/4 cup filtered water
1/2 cup chopped pistachios, plus more for topping
1/2 cup chopped soft pitted dates, broken up, plus more for topping
Instructions:
Line an 8x8 inch square pan with parchment (letting it go up the sides as well).
In a medium sized bowl, combine the tahini, sea salt, vanilla, almond extract, pistachios, and dates and mix until well blended.  Set aside.
In a small saucepan with a candy thermometer in it, combine the sugar and water over medium high heat, and stir to dissolve the sugar.  Bring to a boil, and allow to cook while stirring occasionally so it does not burn, until it turns golden brown and reaches 250F degrees.
When it reaches the proper temperature, pour into the halva mixture in a thin stream while stirring constantly until it is just blended (you don't want to over-mix or it will become crumbly).
Dump the halva into the prepared pan, and press it out evenly.  Sprinkle about 1/4 cup pistachios and dates and press them into it to adhere them.
Place the halva in the freezer for at least 30 minutes or the refrigerator for a few hours and allow to chill and set for a couple hours until it is firm.
Cut into pieces, and enjoy!
Keeps for 1 month in the refrigerator.
(Visited 876 times, 1 visits today)