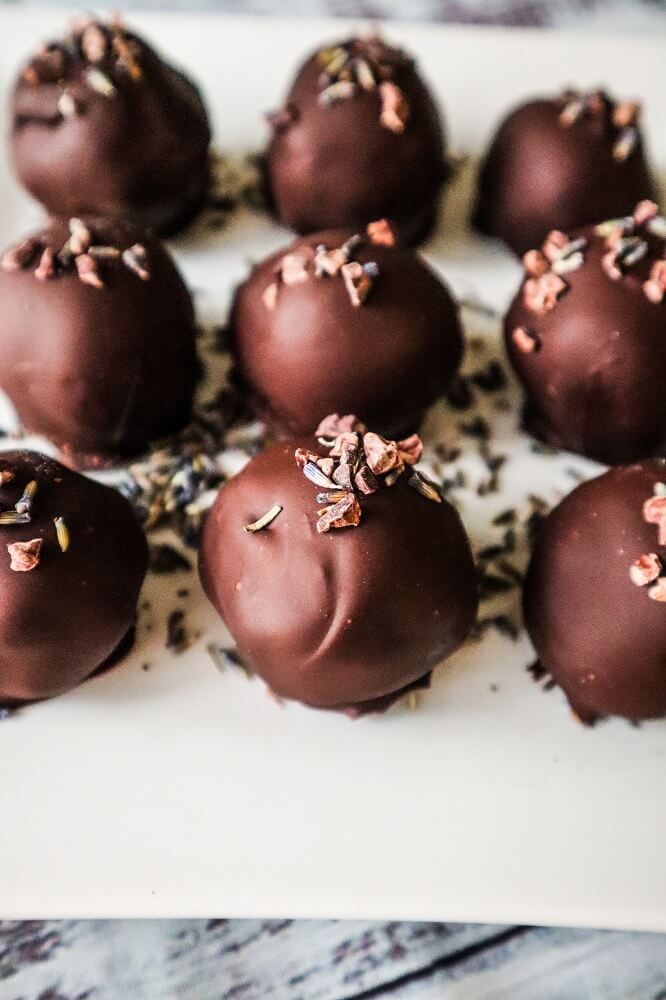 Dark Chocolate Lavender Truffles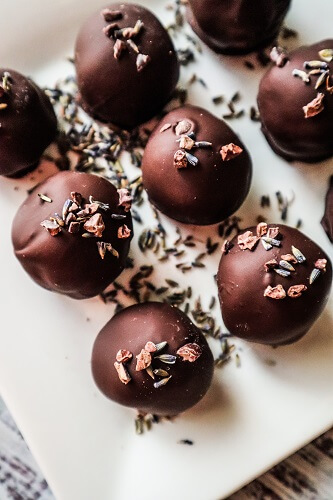 I have been a bit stressed lately due to my my kitchen being remodeled, stuff going on in my personal life, and the change of routine that came with all of this Covid 19 business. There has just been a whole lot going on lately, and being someone that doesn't do well with change, it has been crushing me a bit. To be honest, I haven't been that hungry or making that many recipes, but I feel like I am finally starting to calm down a bit and get back to my normal routine and self.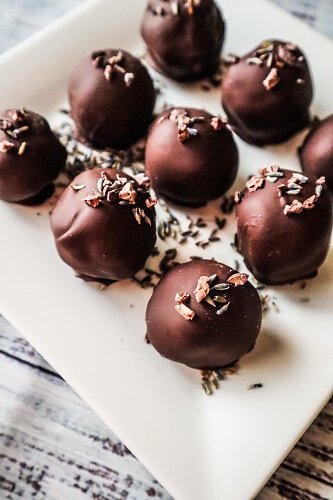 One thing that I like to enjoy when I am trying to relax is the scent of lavender.  It is so heavenly and honestly one of my favorite scents ever next to vanilla.  I love it in baths, or to diffuse it as an essential oil, or in a home made body spray, and drinking a lavender infused tea but it is so good when included in desserts as well! So, I decided to make some dark chocolate lavender truffles.
I had made some about 10 years ago, and remembered that recipe so I thought now was the perfect time to make some. Why not?  Chocolate makes me happy, and these truffles are so easy to make and require only a few ingredients.  Three to be exact, which we can all deal with even when we are having a hard time right? I thought about how I wanted to infuse the lavender in and I thought about just grinding up the dried flowers, but I wanted these to be smooth and luxurious inside not have a weird texture.  So, I infused the coconut milk for my ganache filling with dried lavender and it worked out perfect!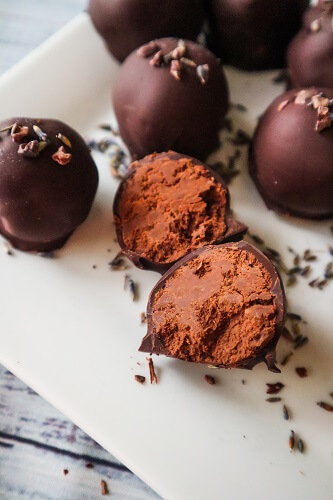 It seriously smelled so good while it was steeping.  Like heavenly coconut lavender flan or something. After that, I just strained it and combined it with melted dark chocolate to make the centers. It is kind of fun rolling the filling into little balls, almost like play dough.  I ate a few in the process and they were good even without the coating. But lastly to make them pretty I dipped them in melted dark chocolate.  These turned out so heavenly and they brightened my day, even if it was just a little bit.  The scent of lavender is totally relaxing too!  If you are a lavender fan like I am, definitely give these a try!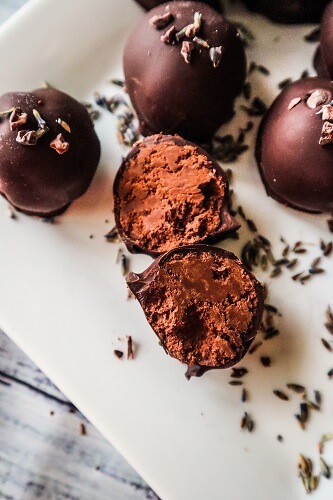 Dark Chocolate Lavender Truffles
Makes 12 truffles
1/2 cup coconut cream (the thick part from the top of the can of coconut milk (I used organic Thai Kitchen brand)
1 Tbsp dried lavender
2 cup chopped vegan dark chocolate chips or dark chocolate chunks, divided
Instructions:
Combine the coconut cream and lavender in a small sauce pan over medium heat, and heat until it starts to bubble and the coconut milk is melted and hot.  Remove from the burner, and let sit aside for 15 minutes, then strain through a fine meshed strainer to remove the lavender chunks.
Combine the coconut cream with 1 cup of the chopped chocolate in the top of a double boiler and whisk every so often until it is all melted together smoothly.
Pour into a bowl, and place in the freezer until firm enough to scoop and roll, about 30 minutes or so.
Roll the filling mixture into balls, and place on a parchment lined tray. Place in the freezer until they are firm, about 30 minutes.
Meanwhile, melt the other cup of dark chocolate in the top of a double boiler until smooth.
Dip each of the chocolate filling balls into the melted chocolate one by one letting the excess drain off (I like to use a fork to set them on to dip them). Set on the parchment lined tray.
When the chocolates are all dipped, place the tray in the freezer until the coating has firmed up.
Store chocolates in the refrigerator in an airtight container.
(Visited 1,998 times, 1 visits today)