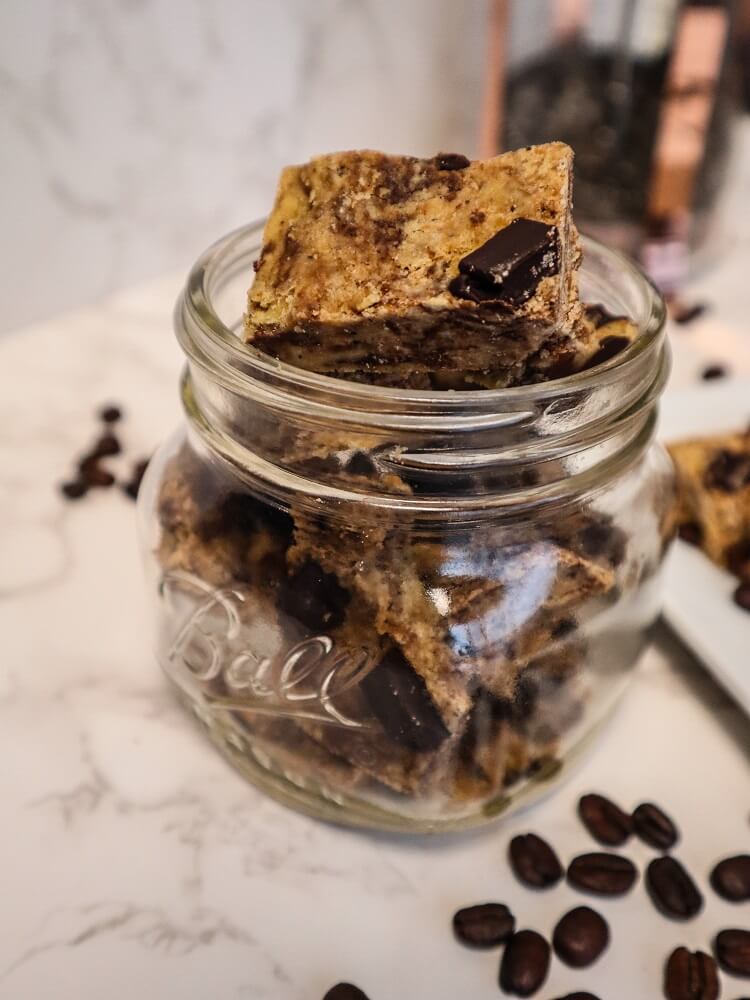 Coffee Chocolate Halva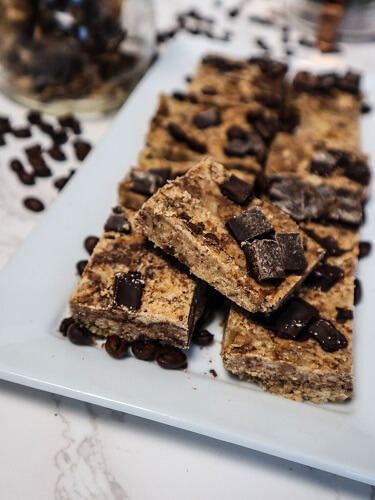 Halva is something I make every so often when I am craving candy or something sweet. I first enjoyed some at a place local to me that makes it in all kinds of amazing flavors, then decided to try making my own, because I wanted to make fun flavors too!  Sometimes I make it with different types of nut and seed butters besides tahini, which changes the texture a little (they are all good, just different).  But this time I went with the classic tahini!  I love halva paired with a cup of coffee, so I decided to make a Coffee Chocolate Halva!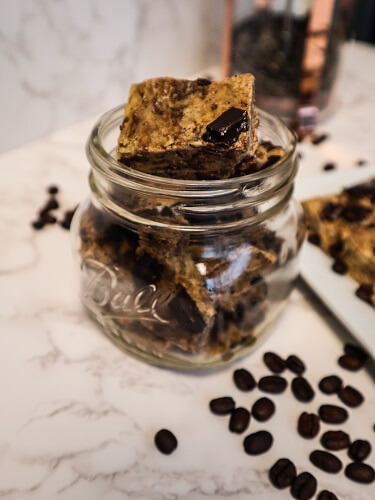 Halva really isn't that difficult to make, don't let the use of a candy thermometer fool you!  I used to be a bit intimidated by them as well, but if you follow instructions for the recipe it is easy!  The trick is to get the sugar syrup to 250F degrees before you pour it into the tahini mixture, mix it quickly and still leave streaks, then pour it into the pan and shape it right away while it is warm. Also you want your tahini at room temperature or a little warm so that it doesn't harden too fast. You can't usually spread the halva, so you usually end up pressing it into the pan with your hands.  If you line the pan as well that helps when you want to take it out, it is a lot easier!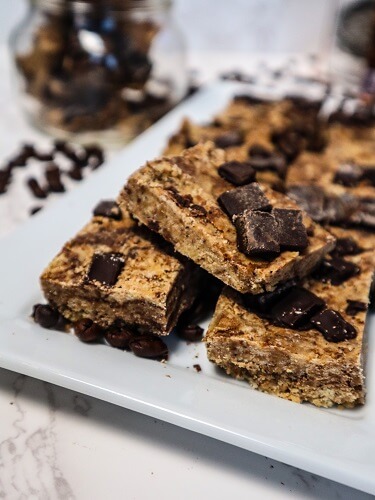 This one has classic tahini as the base (I so badly want to try black tahini sometime I think it would be lovely!  Another time though).  I mixed in vanilla, espresso powder for the coffee flavor, and some sea salt.  The amount of sea salt might seem like a substantial amount, but trust me, it makes the flavor pop!  Don't cut it back or leave it out or it won't be the same. Lastly I added vegan chocolate chunks that got swirled into the halva and sprinkled on top.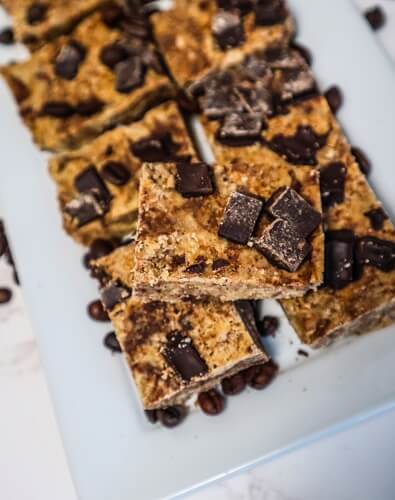 This turned out sooo delicious!  I love lazy weekend mornings when I can sit and enjoy a cup of coffee and a few pieces of halva!  It is melt in your mouth good!  This one is so lovely with the might coffee flavor and dark chocolate plus the hint of vanilla and nuttiness from the tahini!  I think it would be good made with almond butter too if tahini isn't your cup of tea.  If you are in the mood for something sweet and delicious, give this Coffee Chocolate Halva a try!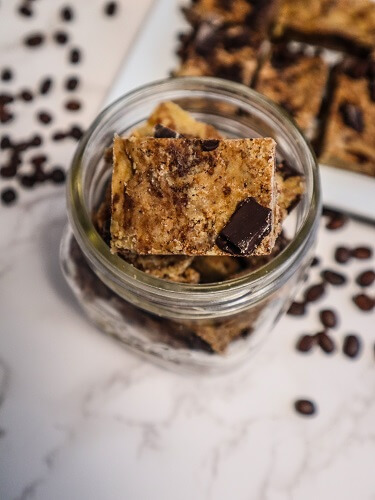 Coffee Chocolate Halva
Makes 1 lb
Ingredients:
1 1/2 cups tahini, stirred well, at room temperature
1/4 tsp sea salt
1/2 tsp pure vanilla extract
1 Tbsp espresso powder
1 cup granulated sugar
1/4 cup filtered water
1/2 cup chopped vegan dark chocolate
1/4 cup chopped vegan dark chocolate for the top of the halva
Instructions:
Line an 8x8 inch square pan with parchment (letting it go up the sides as well).
In a medium sized bowl, combine the tahini, sea salt, vanilla, espresso powder and mix until well blended.  Set aside.
In a small saucepan with a candy thermometer in it, combine the sugar and water over medium high heat, and stir to dissolve the sugar.  Bring to a boil, and allow to cook while stirring occasionally so it does not burn, until it turns golden brown and reaches 250F degrees.
When it reaches the proper temperature, pour into the halva mixture in a thin stream while stirring constantly until it is just blended, then quickly stir in 1/2 cup chopped chocolate just until it forms streaks in it (it is literally just a few stirs, you don't want to over-mix or it will become crumbly).
Dump the halva into the prepared pan, and press it out evenly.  Sprinkle with the remaining chocolate chunks and press them into it to adhere them.
Place the halva in the refrigerator and allow to chill and set for a couple hours until it is firm.
Cut into pieces, and enjoy!
Keeps for 1 month in the refrigerator.
(Visited 280 times, 1 visits today)