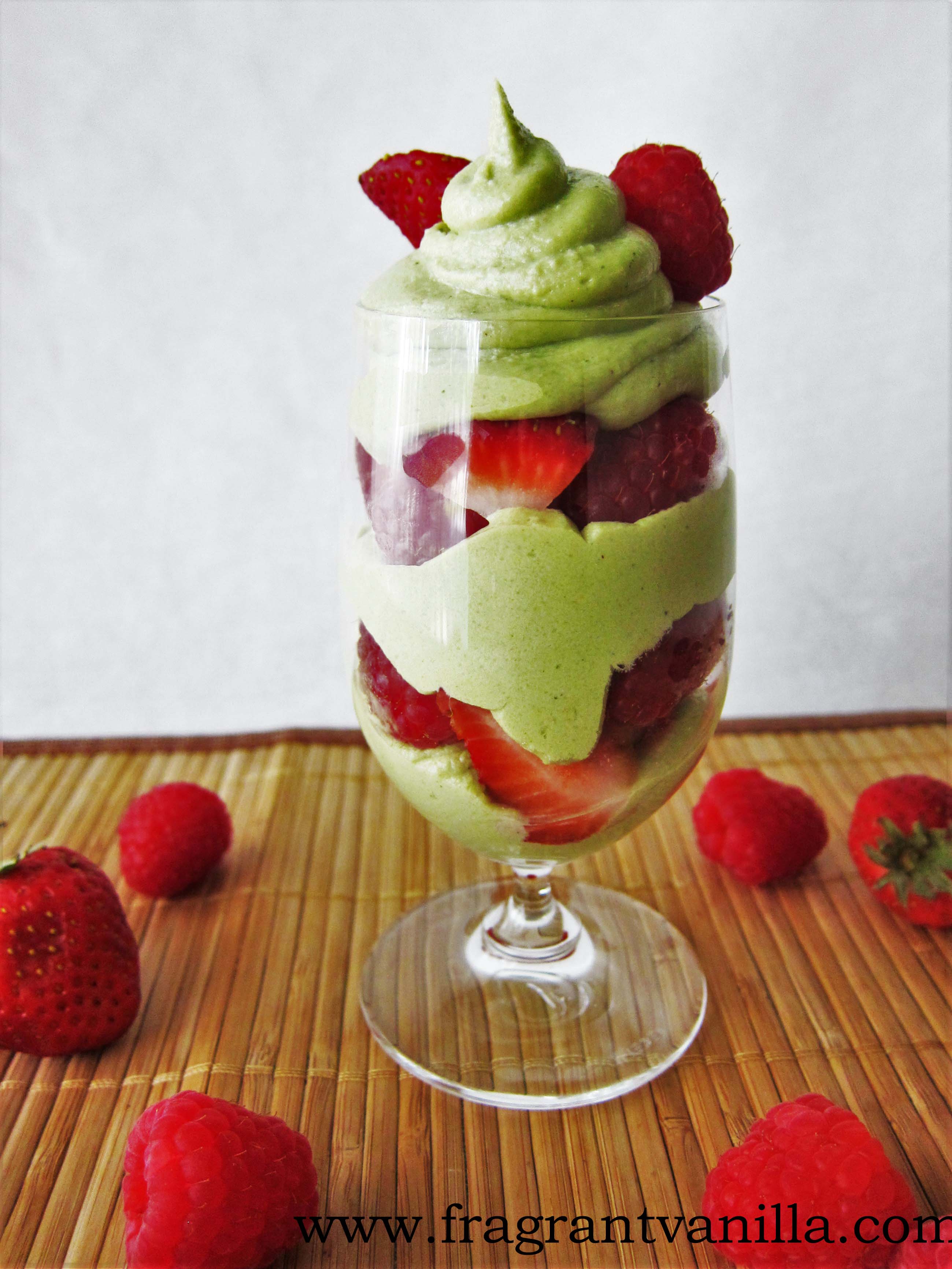 Coconut Matcha Mint Mousse with Berries
I am not a coffee drinker, but I do love a good matcha latte once in a while.  I was thinking about how good it is to top off your matcha latte with coconut cream, and I decided that making a coconut matcha mousse was a good idea.  I had some fresh berries, and I thought they would be lovely in a parfait layered in glasses with the mousse. I also decided that I wanted to add a touch of mint to this mousse along with the matcha for a lovely cooling effect.  I love all of these flavors together too, they go so well as if they were meant to be.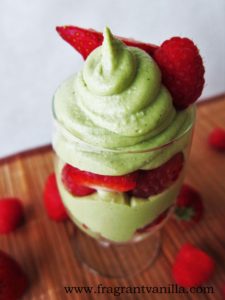 This was super simple to make and it did not heat up the oven (which is important on a hot day, when I am trying to conserve energy and not have to turn on the AC in my house).  Not only was it simple, it was delicious.  Silky smooth, cooling, the earthy matcha and bright peppermint perfect with the fresh sweet berries.  I think this would be perfect for making ahead of time and serving at a Spring or Summer party.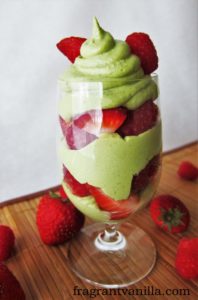 Also, how lovely is this color combination?!  The pale green looks so beautiful against the red berries.  How food looks is very important to me because I do believe you do eat with your eyes and why not use all of the senses while enjoying it?!  If you wanted to make this a raw recipe (I know some of you might), you could swap out the canned coconut milk for 1 1/2 cups young coconut meat, and 1/4 cup coconut water.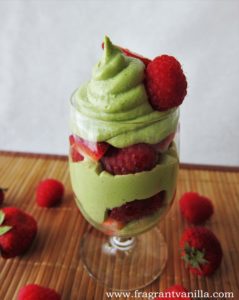 Coconut Matcha Mint Mousse with Berries
Serves 3
Mousse:
1 15 oz can full fat coconut milk, chilled overnight in the refrigerator
1/4 cup maple syrup
1 tsp pure vanilla extract
1 1/2 Tbsp matcha powder
1/4 tsp peppermint extract
1/2 cup plus 2 Tbsp coconut butter, warmed to liquid
Assembly:
1 cup strawberries (quartered)
1 cup organic raspberries
To make the mousse, combine all ingredients in a high speed blender and blend until smooth. Pour into a bowl and place in the freezer.  Chill for about 30-45 minutes until the consistency of frosting.  Set aside in the refrigerator until ready to use.
To assemble, set out 3 small glasses. Spoon (or pipe) the mousse into the bottoms of the 3 glasses, then top with berries, then more mousse, then more berries then more mousse. Top off with a few more berries. Serve or refrigerate until serving.
(Visited 284 times, 1 visits today)