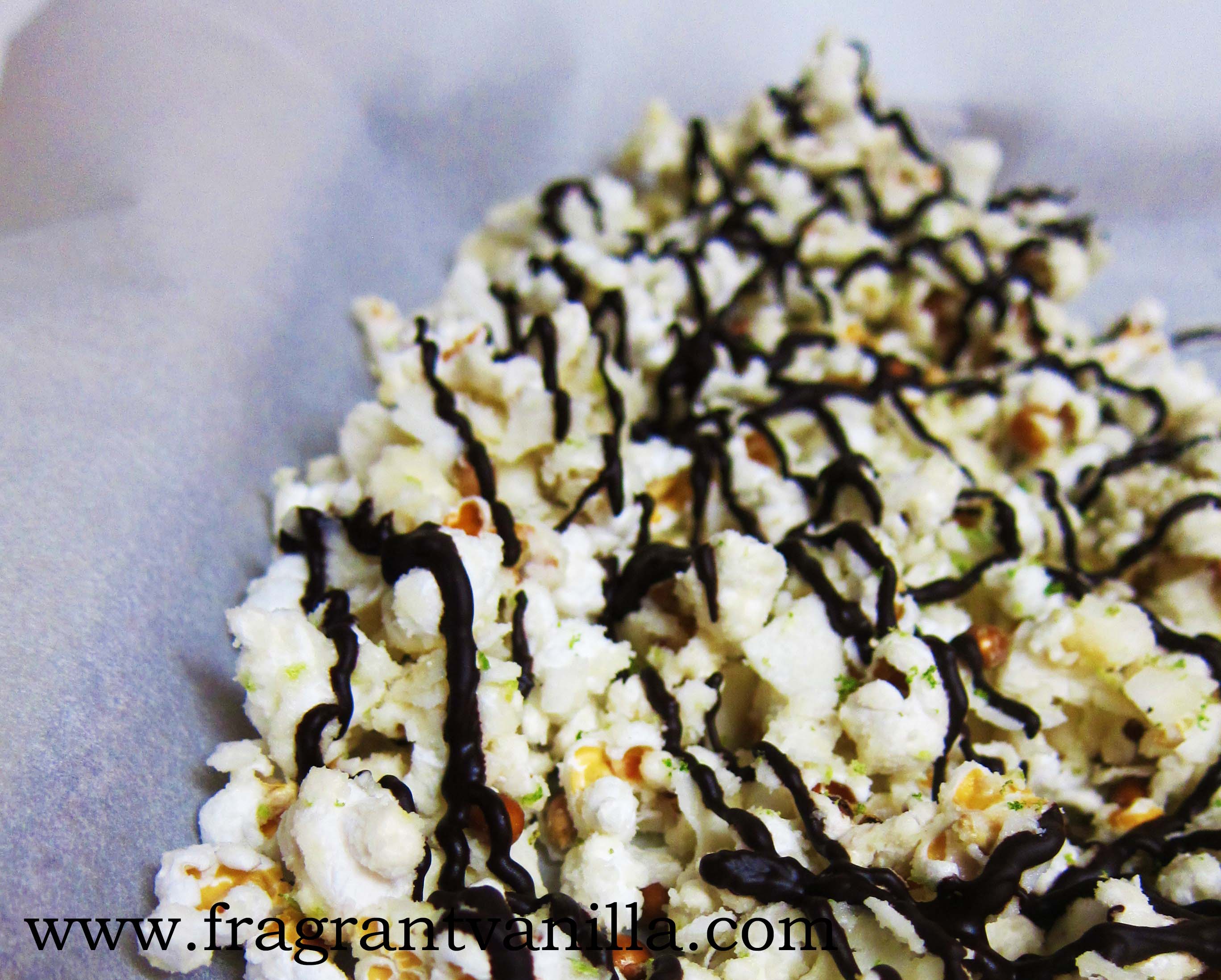 Coconut Lime Popcorn with Dark Chocolate Drizzle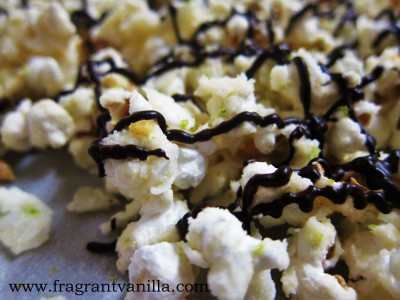 When I was a teenager and I frequented the mall a lot, I always walked past a popcorn stand that sold all different sorts of popcorn. All different colors as well, I am sure many of them were artificial, but they sure were pretty.  It always smelled amazing, mostly of buttered popcorn and caramel corn.  Both of which were my favorite next to cheesy popcorn.  It always made me hungry and want to buy some but I never did.  Now as an adult though I make fun flavors of popcorn at home, and I know they are made with good ingredients.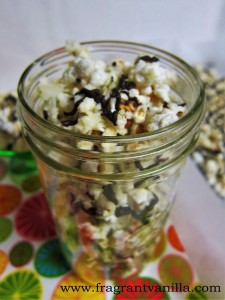 The latest of which was coconut lime with dark chocolate.  I came up with this flavor because I was thinking that lime and coconut macaroons sounded good together, and this popcorn tastes sort of like that.  I pulled out my Whirly Pop, made a batch of popcorn, snacked on some plain with a little sea salt because I was hungry and could not wait and got to work. Not that it was really a lot of work, it was quite easy to make.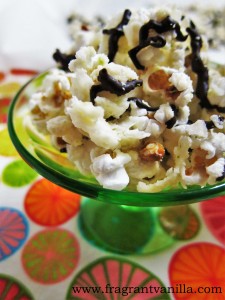 All you need to do once you have your popcorn popped is mix together the coating, toss it with the coconut and popcorn and drizzle it with dark chocolate.  That simple.  It is sooo good too.  It is almost refreshing with the lime, the coconut makes it sweet, and the dark chocolate adds another deeper dimension of flavor.  My Mom loved it as well, I had to share with her because she loves coconut macaroons and popcorn too.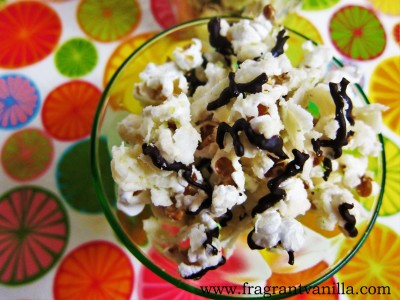 Coconut Lime Popcorn with Dark Chocolate Drizzle
about 7 cups
6 cups plain organic popcorn
1 cup large flake coconut
1/2 cup coconut butter, warmed to liquid
2-3 Tbsp maple syrup (or to taste)
1/4 tsp sea salt
1/3 cup lime juice
2 Tbsp organic lime zest
1/2 cup chopped vegan dark chocolate
Place the popcorn and coconut in a large bowl. Whisk together the coconut butter, maple syrup, sea salt, lime juice, and lime zest in a bowl. Pour over the popcorn, and toss together with your hands until it is coated. Spread out on a parchment lined sheet pan.
Melt the chocolate in the top of a double boiler, then drizzle the chocolate over the popcorn (I like to put mine in a ziplock bag with the corner cut off and squeeze it out). Allow the popcorn to cool so that the chocolate and lime mixture sets. I put mine in the freezer for about 15 minutes to speed it up. Enjoy!
(Visited 26 times, 1 visits today)