Classic Vegan Carrot Cake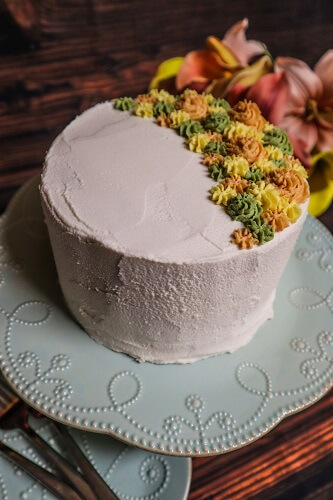 Spring is finally here!  Well, calendar wise at least, it is still a bit chilly but there are glimpses of it with the pussy willows popping out along the pond, and a few plants starting to sprout out of the ground, plus of course the longer days.  After winter I am all about anything over 40 degrees and consider it nice.  Since we are into spring now, and there isn't much you can do right now besides stay home (and go to work if you are in one of the jobs still open like mine, since I work in a grocery store), it is the perfect time to bake something.  It has been kind of a mad house at work lately, with everyone trying to get their groceries and just a weird time in general with this whole corona virus thing, that baking brings me a bit of calm as well.
I had some carrots on hand, so I decided to make a carrot cake.  Now, I have made fancy ones in the past with lots of add ins, and although I like to do stuff like that, I realize that not everyone likes that kind of carrot cake, and they just want a classic one.  With plenty of carrots, a little spice and cream cheese frosting. I see people asking for a recipe like this a lot, so I figured I would make one.  Also, carrot cake just sounded good.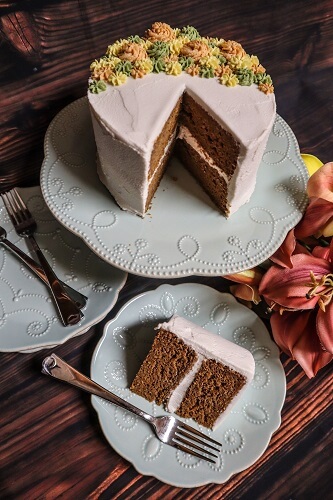 This cake is pretty easy to make, for the batter I used a whole wheat pastry flour but you could use regular flour if you prefer that (or see below for a GF option).  I added in cinnamon, ginger and nutmeg, which were always used in the carrot cakes my Mom made growing up, and I used maple sugar to sweeten, because I love the maple flavor it gives the cake. It doesn't need any oil, unlike the cake I grew up eating though, because I used full fat coconut milk including the cream in this and it works perfect for adding richness.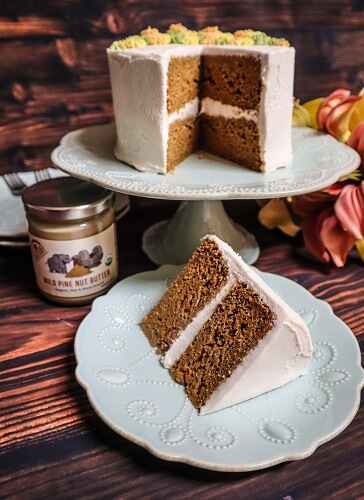 I gave it a creamy fluffy faux cream cheese frosting with a full fat coconut milk (cream) base and some Dastony pine nut butter from Raw Guru.  I behaves similarly to raw cashew butter (which could also be used) but is kinder on my stomach (cashews don't agree with me most of the time).  It gives it that cream cheese like flavor, along with a little lemon juice.  Once the cake was all frosted and assembled I could not wait to try it!  It was heavenly!  Like the carrot cake I remember eating growing up! If you are looking for a good classic carrot cake recipe, give this one a try!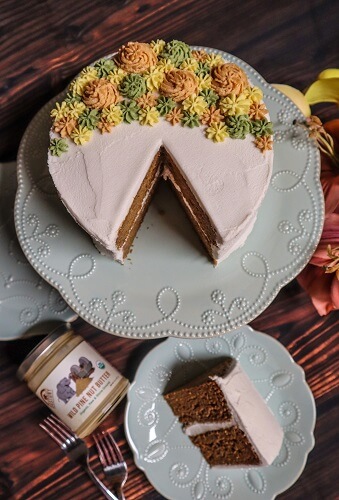 Classic Vegan Carrot Cake
Makes one 6 inch cake
Ingredients:
one 6 inch cake pan
Cake:
1 1/2 cups organic whole wheat pastry flour
1 1/2 tsp baking soda
1 tsp baking powder
1 tsp cinnamon
1/2 tsp ginger
1/4 tsp nutmeg
1/2 tsp sea salt
1 cup maple sugar
2 cups full fat coconut milk (the thick kind, I prefer Thai Kitchen brand) at room temperature
2 tsp pure vanilla extract
2 cups shredded organic carrots
2 Tbsp cider vinegar
Frosting:
1 15 oz can full fat coconut milk (you want to use a brand that is at least 3/4 of the can thick cream or it will not work for this recipe, I like Thai Kitchen brand)
1/2 cup Dastony pine nut butter (or raw cashew butter or macadamia nut butter)
1/4 cup maple syrup
1 tsp pure vanilla extract
1 tsp lemon juice or cider vinegar
1/4 tsp sea salt
3/4 cup melted Dastony coconut butter (not coconut oil)
Instructions:
Preheat the oven to 350F degrees and position rack in center of oven.
Oil two 6 inch round baking pans and line them with parchment at the bottom so it will not stick.
Whisk flour, baking soda, cinnamon, ginger, nutmeg, sea salt, and sugar in a large bowl to blend well.
Whisk coconut milk and vanilla extract together in small bowl to blend well, then whisk into the flour mixture until well blended.  Fold in the carrots until well combined.
Whisk the cider vinegar into the batter.
Transfer the cake batter to prepared pans.
Place in the oven, and bake cake until tester inserted into center comes out clean with just a few moist crumbs attached, about 25 minutes.
Remove from the oven and let cool completely, then un-mold, by cutting around the edges if they are stuck at all, then putting  plate over the top, then flipping it onto that plate then placing a plate on the bottom and flipping it upright onto that plate.
To make the frosting, combine all ingredients in a high speed blender and blend until completely smooth.  Pour into a bowl and place in the freezer until the consistency of stiffly whipped cream (about 30-45 minutes depending on how warm it has gotten).  Once it is ready place in the refrigerator until ready to assemble.
When ready to assemble, spread about 3/4 cup frosting over the first layer of the cake, then top with the other cake layer.  Spread the remaining frosting over the top and down the sides of the cake.
Enjoy!
Cake keeps stored in the refrigerator, covered for up to 1 week.
Notes:
If you would rather use coconut sugar or even just granulated sugar for this, either will work in place of the maple sugar.
If you would like to make a 9 inch round cake, double the entire recipe, and bake it in two 9 inch round pans, increasing the baking time to 50 minutes to 1 hour (depending on your oven).
This cake can be made gluten free by swapping out the whole wheat pastry flour for Bob's Red Mill gluten free all purpose baking flour (this is a brand I have used before and have tested it in cakes with great results).
(Visited 1,780 times, 1 visits today)