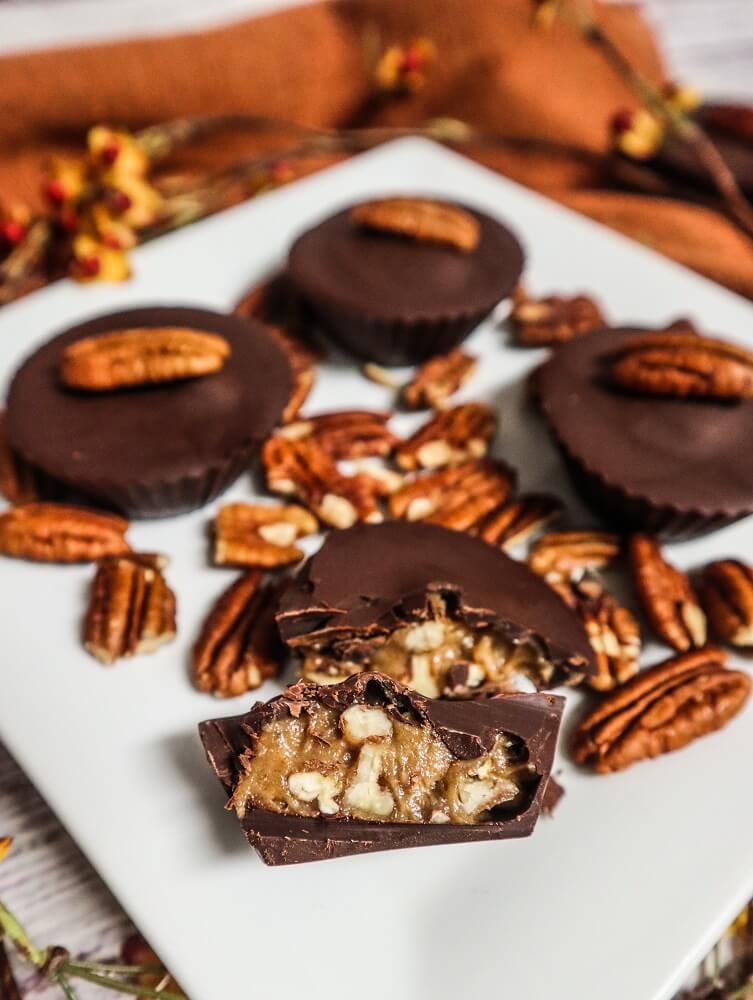 Chocolate Pecan Pie Cups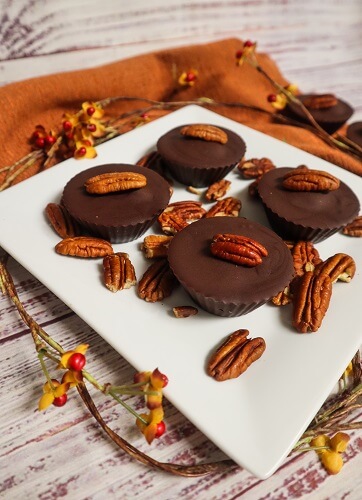 It was incredibly nice last weekend, so I didn't spend much time in the kitchen. Instead, I spent lots out time outdoors, because how often is it 70F degrees in November?!  But we got snapped back to reality yesterday when it rained all day, then today when it snowed a few inches, plus ice pellets.  Winter is knocking on the door, but that means it is the perfect time to create deliciousness in the kitchen!  I am kind of on a pecan desserts kick lately.  Well, pecan pie specifically.  I made some pecan pie chocolate chunks bars last week and they were so good that I thought I might try making that flavor combination into a candy!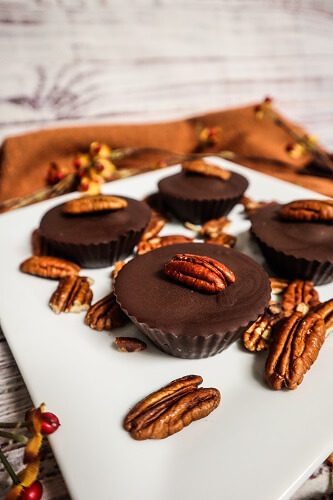 I really wanted more of that gooey pecan pie filling after eating those bars, but with more of a caramel filling and chocolate ratio minus the crust (sorry crust, not that you weren't good, but I am obsessed with the filling), so I thought making some chocolate cups sounded amazing!  I used a very similar filling to the bars.  Only I didn't add the coconut oil and water, and I upped the maple syrup slightly since these are candies. The filling was a date caramel, my favorite caramel because it is way less processed than the kind made with sugar.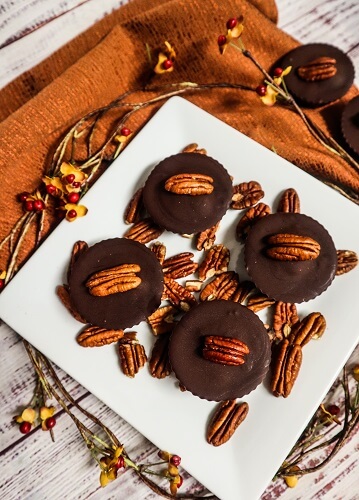 This caramel whips up fast, and in fact I made twice the amount called for in the recipe, just so I would have extra to enjoy!  I mixed some toasted pecans into the half that I was using for the filling and it was super delicious!  This stuff is really hard to stop tasting. Luckily I had that extra caramel on the side so I had plenty left for the chocolate cups! I like chocolate cups as opposed to something you have to shape and dip sometimes because they are easier, and work well for more gooey fillings.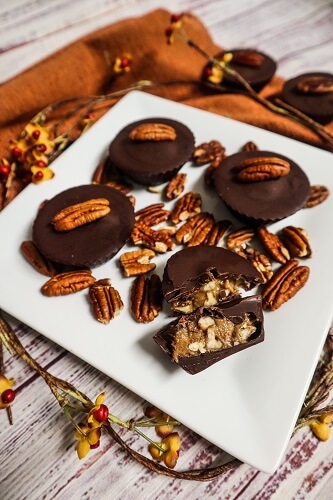 These turned out so heavenly!  The caramel was rich, scented with vanilla and gooey with those crunchy toasted pecans and dark chocolate, it was hard to just eat one.  But I saved some for later so I had something to look forward to enjoying.  Needless to say, I didn't end up sharing any of these and that doesn't happen often!  If you are a pecan pie fan, definitely give these a try!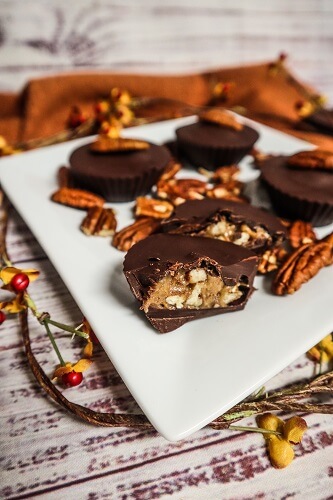 Chocolate Pecan Pie Cups
Makes 6
Ingredients:
Filling:
1/2 cup soft pitted medjool dates (if they are not soft, soak them in filtered water for 30 minutes and drain well
before using)
2 Tbsp pecan butter (or raw cashew butter or almond butter)
1/8 tsp sea salt
1 tsp pure vanilla extract
2 Tbsp maple syrup
1/2 cup toasted pecans, chopped
Chocolate:
1 1/2 cups chopped vegan dark chocolate
Instructions:
To make filling, combine all ingredients in a high speed blender or food processor except the pecans. Process until smooth, then scrape into a bowl and stir in the pecans.
Melt the dark chocolate in the top of a double boiler until smooth.
Pour enough chocolate into each of 6 silicone baking cups, or large PB cup molds to cover the bottom by 1/4 inch. Place in the freezer until firm.
Spoon about 1 Tbsp of the filling into each cup on top of the chocolate trying not to touch the edges with it, and smoothing the top down a little so it doesn't stick up too high.
Pour the remaining chocolate over the fillings, and then place them in the freezer until the chocolate has set, about 20 minutes.
Remove from the molds, and enjoy!
(Visited 685 times, 1 visits today)