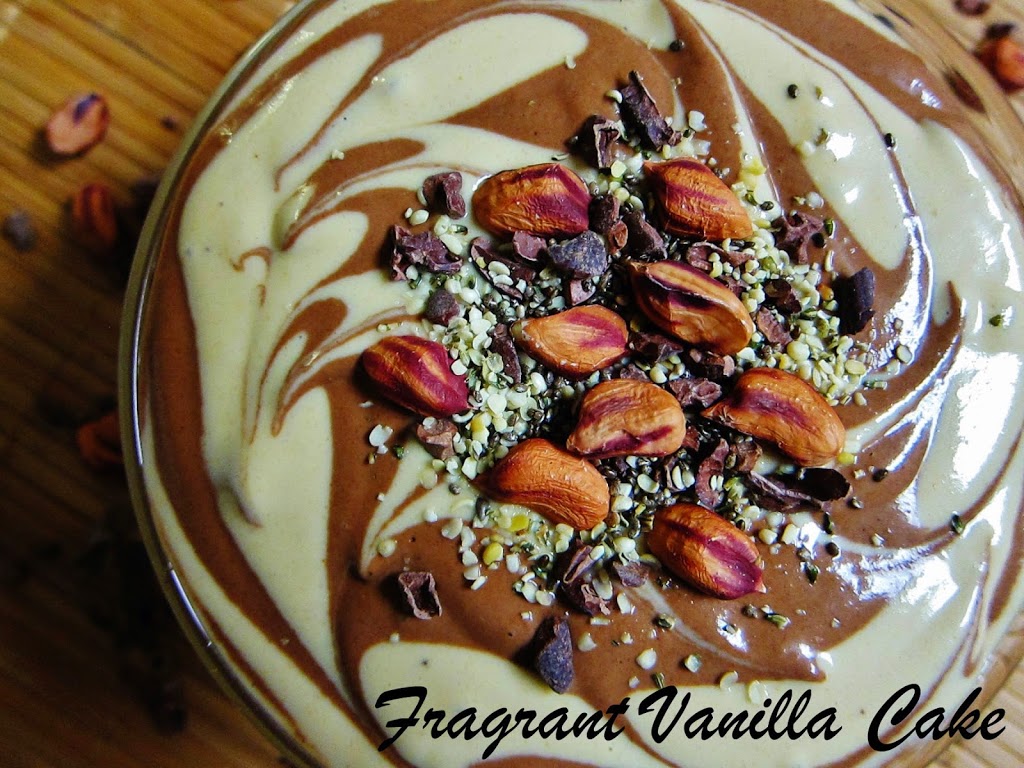 Chocolate PB Bliss Smoothie Bowl
I often make smoothie bowls for myself after workouts on a Sunday when I have the time to relax and enjoy and not have to head off to work, but sometimes they find their way into my week as well in snack form. Many times also during the week I find myself making smoothies for my boyfriend Eric, because he has a big appetite. This was one of those smoothies. We had gone for a 4 1/2 mile walk and he was hungry so I asked him what type of smoothie he wanted. Peanut butter and chocolate he replied. I could have guessed that, because that is his favorite.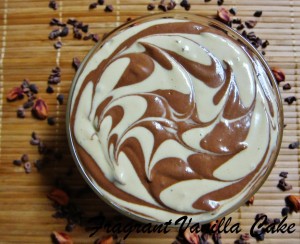 I was feeling like making something a little more elaborate than just mixing it all together and dumping it into a huge glass, so I decided to make him a smoothie bowl. He had never had one, since I usually reserve them for myself. I went for a marbled PB and chocolate smoothie topped off with the crunchy goodness of hemp seeds, chia seeds and cacao nibs with some jungle peanuts this time.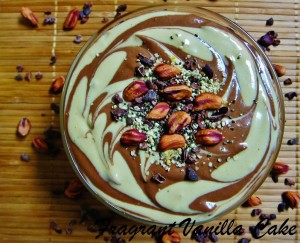 Let me tell you, this was some serious deliciousness. Although I made the smoothie for him, I saved some for myself...because how could I not?! I love chocolate and PB too! This was like one giant chocolate PB cup in smoothie form. Eric devoured his bowl in no time. If you want to have an indulgent smoothie, this one is for you!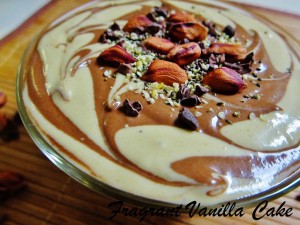 Chocolate PB Bliss Smoothie Bowl
Serves 1
4 large bananas, frozen and cut into pieces
1/4 cup raw hemp milk
1 tsp pure vanilla extract
3 Tbsp raw jungle peanut butter, macadamia butter, or pine nut butter
stevia to taste (or your choice liquid raw sweetener)
3 Tbsp raw cacao powder
Toppings:
raw cacao nibs
raw jungle peanuts
raw shelled hemp seeds
chia seeds
For the shake, combine banana, milk, vanilla, peanut butter, protein powder, and stevia in a blender and blend until smooth, using the tamper to press the mixture into the blades. Pour half into a glass liquids measuring cup. Add the cacao powder to the remaining mixture in the blender, and blend until smooth. Pour a little of each at a time into a bowl (to create layers of chocolate and vanilla), then take a knife and swirl the middle in a spiral. Top with toppings and serve!
(Visited 81 times, 1 visits today)