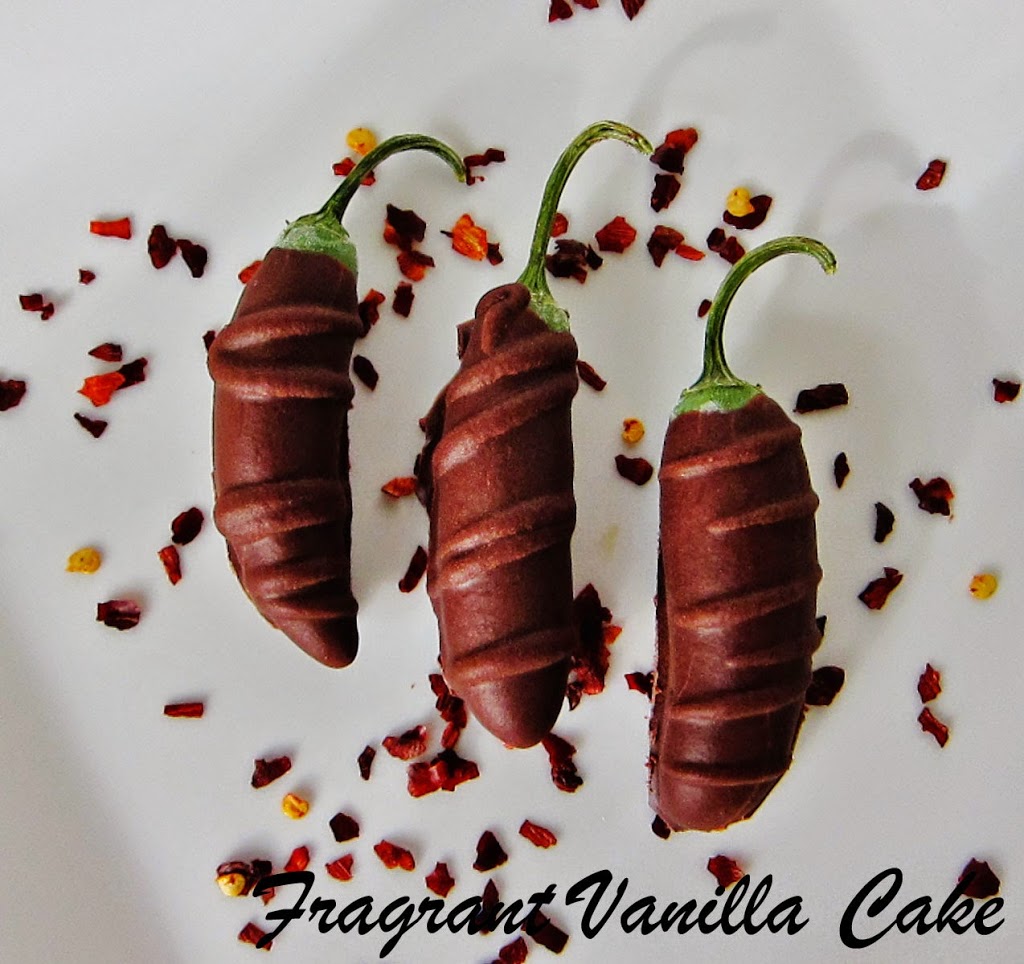 Chocolate Covered Peanut Butter Stuffed Chili Peppers
I love my hot peppers. In fact, I keep a jar of my habanero hot sauce on hand at all times to drizzle over my food nightly.  It has been this way for at least 3 years now.  I think I am addicted to them.  Besides the hot sauce though, I enjoy using them in my food. My boyfriend Eric does too.  He asked me to make him a ghost pepper (one of the hottest peppers in the world) smoothie a couple weeks back.  I thought it sounded crazy until I thought about it and heat goes well with fruit...so the combo of the berries and habaneros turned out to be a delicious win.
I had some serrano peppers sitting on my counter last week and I thought they needed to be made into something delicious.  Something sweet and delicious.  With chocolate.  I have heard of chocolate dipped peppers, but not chocolate dipped peppers stuffed with peanut butter.  Yes, I am on a peppers, chocolate and peanut butter kick this week because I also made Jalapeno Lime Peanut Butter Fudge (which was freaking delicious and amazing too).  Anyways, I decided to make something with the pepper as more of a major ingredient with these.
I love combining something which is usually savory with sweet. I did not put any sweetener in my peanut butter, because I wanted it to be just salty, gooey, spicy, then rich, sweet and chocolaty.  These peppers were epic.  Eric loved them too!  If you make these, you can use whichever pepper you have or you enjoy the most.
Chocolate Covered Peanut Butter Stuffed Chili Peppers
Makes 12
12 serrano peppers (or your favorite chili, but keep in mind it has to be big enough to stuff)
1/4 cup raw jungle peanut butter (or peanut butter if you don't mind it not being raw)
1 Tbsp raw coconut nectar, maple syrup or agave nectar (optional for sweeter filling, I did not use any)
Chocolate:
1/3 cup raw cacao powder
1/2 cup raw coconut oil
1/4 cup raw coconut nectar, or agave nectar (or your choice liquid raw sweetener)
a pinch sea salt
To prep the chilies, make a slit down one side of each one lengthwise and carefully remove as much of the ribs and seeds as you can (being careful not to tear them).  Mix the sweetener into the peanut butter if you are using (I did not put any in mine because I like it less sweet), and place in a pastry bag or a ziplock bag with the corner cut off in a small hole.  Pipe the peanut butter into the peppers, being careful not to fill too full. Set aside.
Line a tray with foil.
To make the chocolate, whisk together all ingredients until smooth.  Set the the chocolate bowl next to the peppers, and the foil lined tray.  Dip each pepper into the chocolate, using the stem to hold it and letting the excess drain off.  Then place them onto the foil .  Once the peppers have all been dipped, place them in the freezer to harden (just about 3-5 minutes).  Enjoy!  Extras can be stored in the fridge.
(Visited 268 times, 1 visits today)