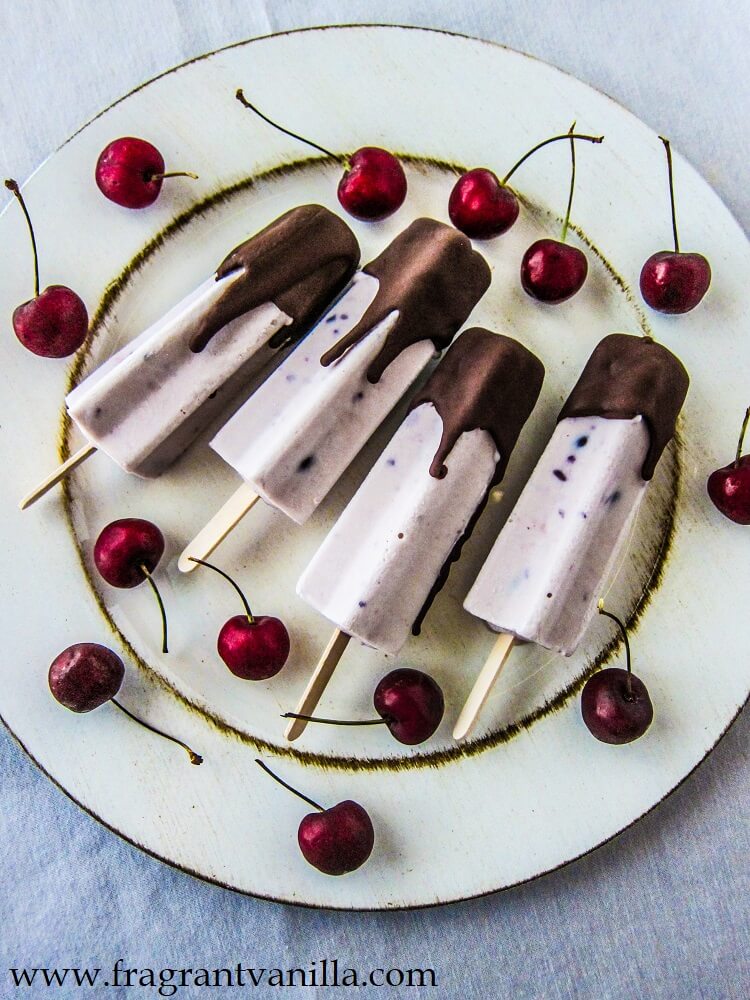 Chocolate Covered Cherry Ice Cream Pops
The truth is I hated chocolate covered cherries growing up.  You know, the ones that ooze sweet syrupy white goo when you bite into them, and a cherry so red it can't possibly be the real color?  My Grandma would give us kids each a big box of chocolates on Holidays, and I always tried to avoid that cherry.  You would think as a child I would have liked the sweetness but even then the cherries did not taste real.  So, I ended up not liking cherries much until I enjoyed some fresh ones as an adult.  What a difference!  Fresh sweet cherries are like nature's candy.  So sweet and delicious just as they are without sugar.  Dip them in chocolate and they are amazing without all the sweet white goo.  So, when my Mom gave me some cherries, I decided to make some chocolate covered cherry ice cream pops.  Just because they sounded amazing. I have never actually made chocolate covered ice cream pops and I am always drooling over everyone else's on Instagram so I figured now was a good time.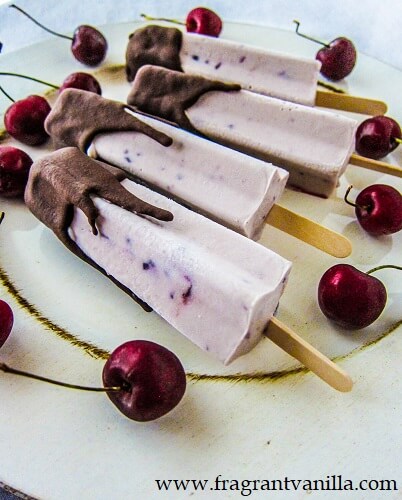 I made a sweet cherry ice cream, made rich with coconut milk and cashews, and it was so good!  Even before I froze it, I could tell it was going to be amazing.  I poured it into the molds with more fresh cherries and all there was left to do was wait.  Waiting overnight is hard for good desserts.  Don't you agree?  Well, I was making these after work, so I had to wait until the next day to dip them in chocolate.  I felt kind of like a little kid at play when I covered them in chocolate.  It was something that my five year old self would have liked to do.  That and lick the bowl after.  Which I did anyway, because I don't ever want to waste a drop of delicious chocolate!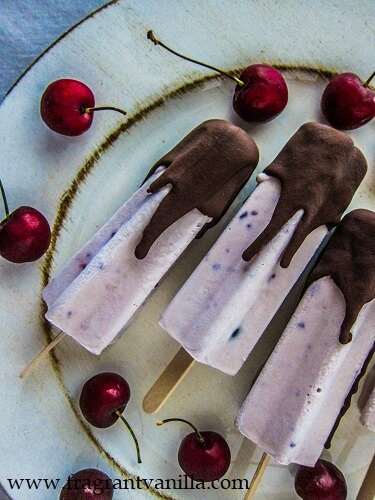 Once the chocolate was all hard and ready to go I could not wait to taste one!  The ice cream was sweet and delicious, the chunks of cherries like little jammy jewels to bite into, and the dark chocolate coating was amazing with it all.  There is nothing like real cherries and chocolate paired together, especially when vegan ice cream is involved too.  Try these while cherries are in season and at their most flavorful.  Cherry season is not long here in Minnesota, so I feel like they are special in a way.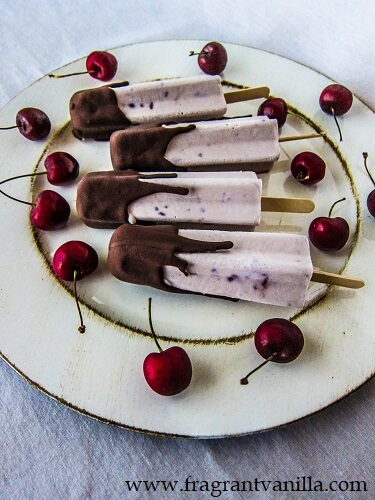 Chocolate Covered Cherry Ice Cream Pops
Makes 8
Ingredients:
Ice Cream:
2 cups full fat coconut milk
1/2 cup raw cashew butter
1/4 cup maple syrup
1 tsp pure vanilla extract
pinch sea salt
1 cup sweet organic cherries (pitted), divided
Coating:
3/4 cup chopped vegan dark chocolate
Instructions:
Combine the full fat coconut milk, cashew butter, syrup, vanilla, sea salt, and half of the cherries in a blender and blend until smooth.
Drop a few cherries into the bottoms of 8 popsicle molds, then pour half of the ice cream mixture over that, then more cherries, then the rest of the ice cream.
Place sticks into the molds, leaving about 1 inch at the top, then place in the freezer until completely hard, about 4-6 hours (or overnight).
Remove from the molds then place back in the freezer on a parchment lined tray until completely hard (you don't want them melty when you put the chocolate on).
Meanwhile, melt the chocolate in the top of a double boiler, then quickly dip each popsicle into it, then place back onto the tray and put back in the freezer until hard.
Enjoy!  Store any leftover pops in a sealed container in the freezer.
(Visited 750 times, 1 visits today)