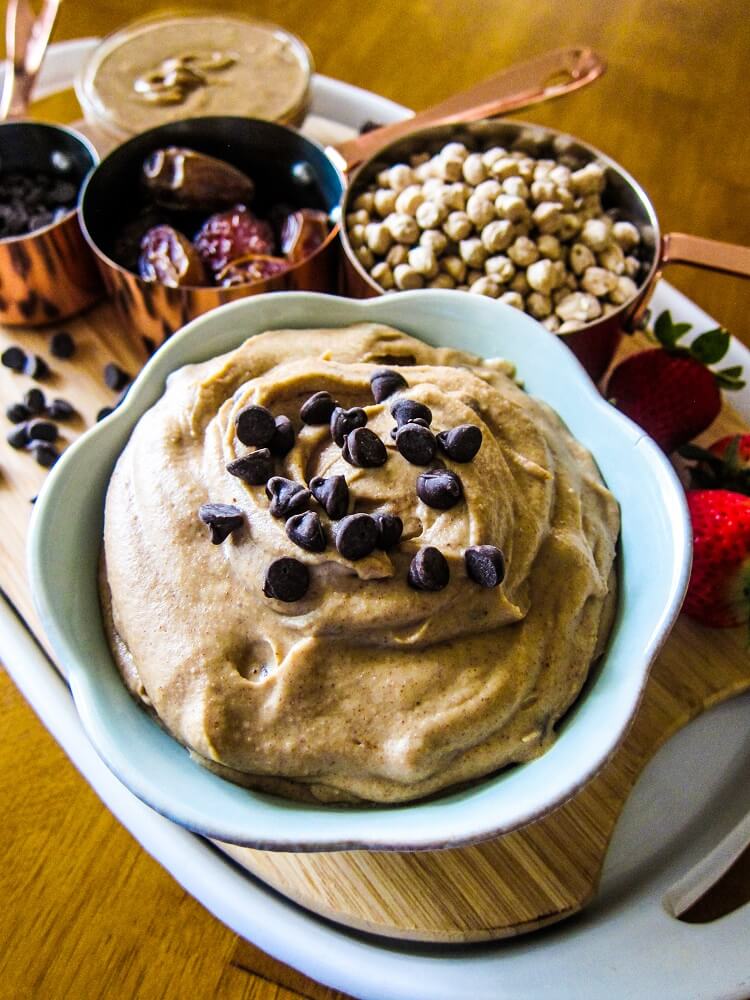 Chocolate Chip Cookie Dough Dessert Hummus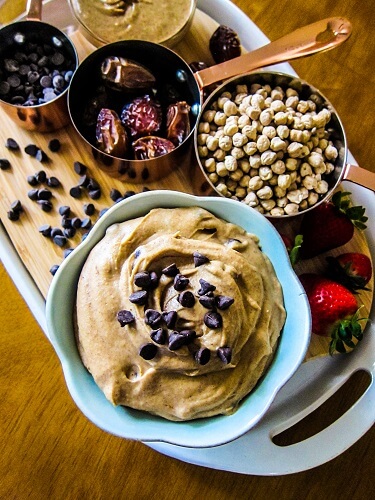 I am a huge hummus fan. I know, it is a stereotype that all vegans love hummus, and I fit into it I guess. But I like to have some on hand at all times for snacking on so I make it a lot. I love the classic hummus with chickpeas as the base, and lots of tahini and lemon and a little cumin and sea salt and garlic. But dessert hummus makes me really happy too. I mean, what other snack gives you dessert with lots of protein and fiber? I have made quite a few different types, but surprisingly never chocolate chip cookie dough until last week.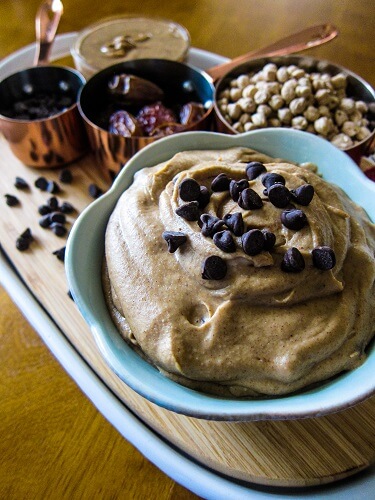 Chocolate chip cookie dough is one of my favorite flavor profiles for desserts so kind of surprising I hadn't but it was about time! Yes, I still use chickpeas as a base even though people tend to think of them as savory, but when they are blended all up into a dessert, they are a nice neutral base. I have even used them in cheesecake and ice cream before.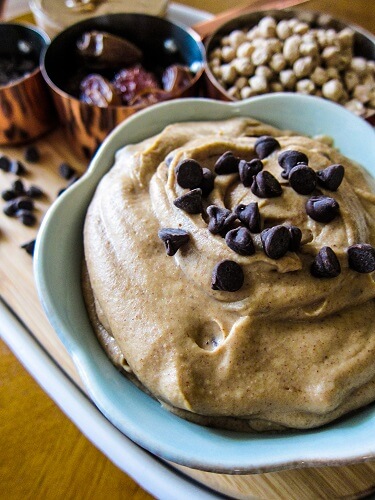 In this recipe, I blended them up with medjool dates to sweeten the hummus and give it that sort of caramel like brown sugar sort of flavor that real chocolate chip cookie dough has, as well as added some pecan butter which also has an almost caramel like flavor and the hummus blended up all smooth, rich and delicious! I added in a little vanilla and a touch of sea salt as well and it smelled amazing and tasted even better.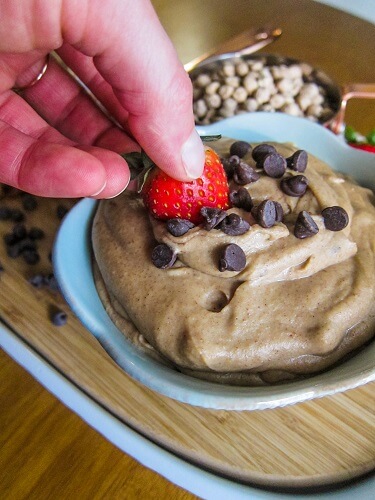 Lastly it needed the chocolate chips to be chocolate chip cookie dough, and those made it even more heavenly! It turned out sooo good! I used it for dipping my strawberries into and that was amazing, and I also ate some with a spoon. If you are a cookie dough fan, give this a try! It is better for you than traditional cookie dough, and just as delicious!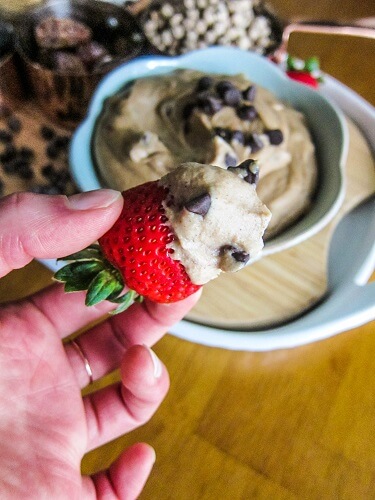 Chocolate Chip Cookie Dough Dessert Hummus
Makes about 3 cups
Ingredients:
1 1/2 cups cooked chickpeas
1 1/4 cups pitted medjool dates, soaked in filtered water for 30 minutes and drained
1 cup filtered water (or as needed)
1 Tbsp pure vanilla extract
1/4 tsp sea salt
1/2 cup pecan butter or almond butter
1/2 cup vegan chocolate chips
Instructions:
Combine all ingredients but the chocolate chips in a high speed blender or food processor and blend until smooth (adding a little more water if necessary).
Stir in the chocolate chips.
Enjoy! Keeps in the refrigerator for 2 weeks in a sealed container.
(Visited 590 times, 1 visits today)