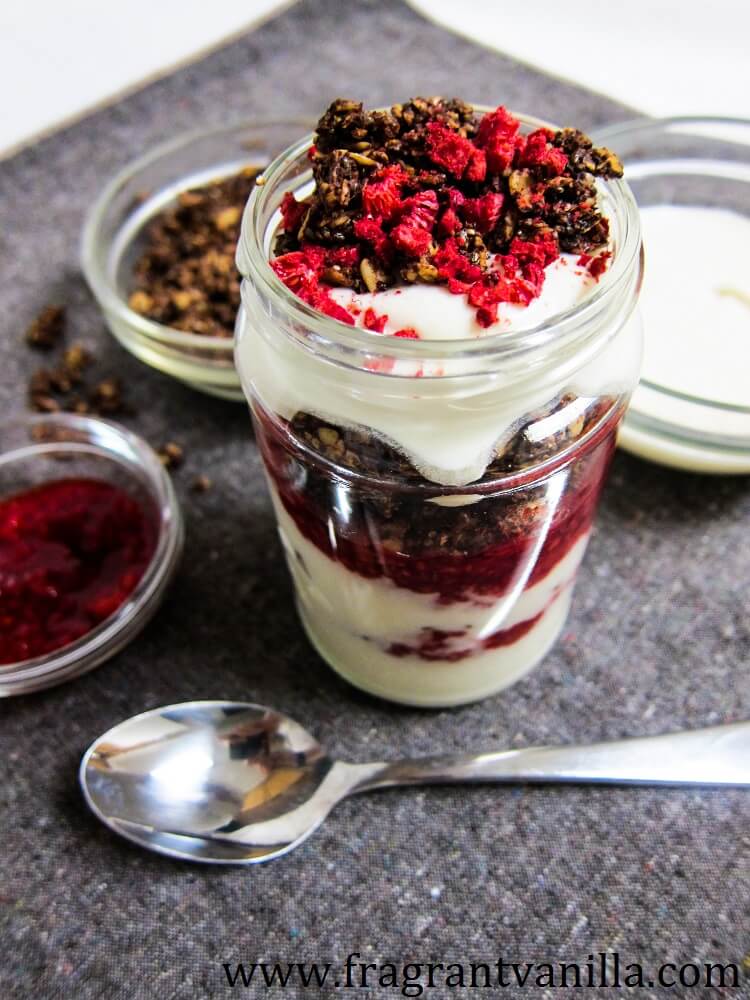 Chocolate Chia Crunch Granola and Coconut Yogurt Parfait
There was a time in my life before I went vegan that I ate yogurt every afternoon for a snack topped off with fruit.  I was a huge yogurt eater, because I figured it was packed with protein.  I always bought Greek yogurt in a big tub, because I liked how thick it was, and I ate about 2 cups a day.  I did not realize that is was causing some tummy troubles too until I decided to give up yogurt when I became vegan.  I replaced it with chia porridge for a while, because chia seeds have protein and healthy oils.  But I did not eat plant based yogurt for a few years after becoming vegan.  I am not much of a fan of commercial faux dairy products because a lot of them have processed ingredients or added sugar (I make exceptions if they have few healthy ingredients and not any added sugar) so I went without yogurt for a while, but then I finally decided to make some.  It was less difficult than  I thought it would be and I have since made many different kinds.  The first was with young fresh coconuts and it was delicious.  I flavored it with various fruits and it was even better than dairy yogurt in my opinion.  But I know young coconuts are expensive and not always practical unless you live somewhere tropical, so I have made equally good yogurt with canned coconut milk.  Coconut milk yogurt is my favorite, over other plant based yogurts.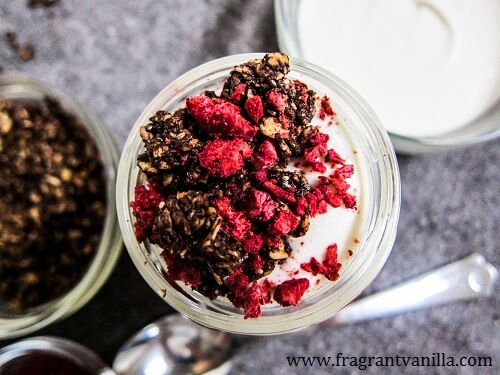 So, I have been seeing a bunch of commercials lately for yogurt with toppings, and I loved the idea so I decided to make my own.  I thought a crunchy element and a fruity element would be perfect to combine with my vanilla coconut yogurt.  For the crunchy, I made a chocolate chia granola.  It tastes like dessert, but it packs fiber and protein!  It was super simple to make, and it is actually oil free because I used a little nut butter to coat it. I have to warn you though, once you start munching on it it is hard to put down.  I mashed up some organic raspberries as a sort of simple and healthier jam to include with the yogurt as well. I am not a fan of super sweet jam with loads of sugar, I would rather mash up fresh fruit instead!  Here's a tip, if your fruit is a little too runny when you mash it up (if you are making this sort of jam) add a few tsp chia seeds to it, and it will thicken it right up.  It is perfect for raspberries, because they are already seedy and the chia seeds blend right in. I am a chunky jam sort of gal so seeds don't bother me at all.  I didn't need any for this though, because you don't really need a thick jam.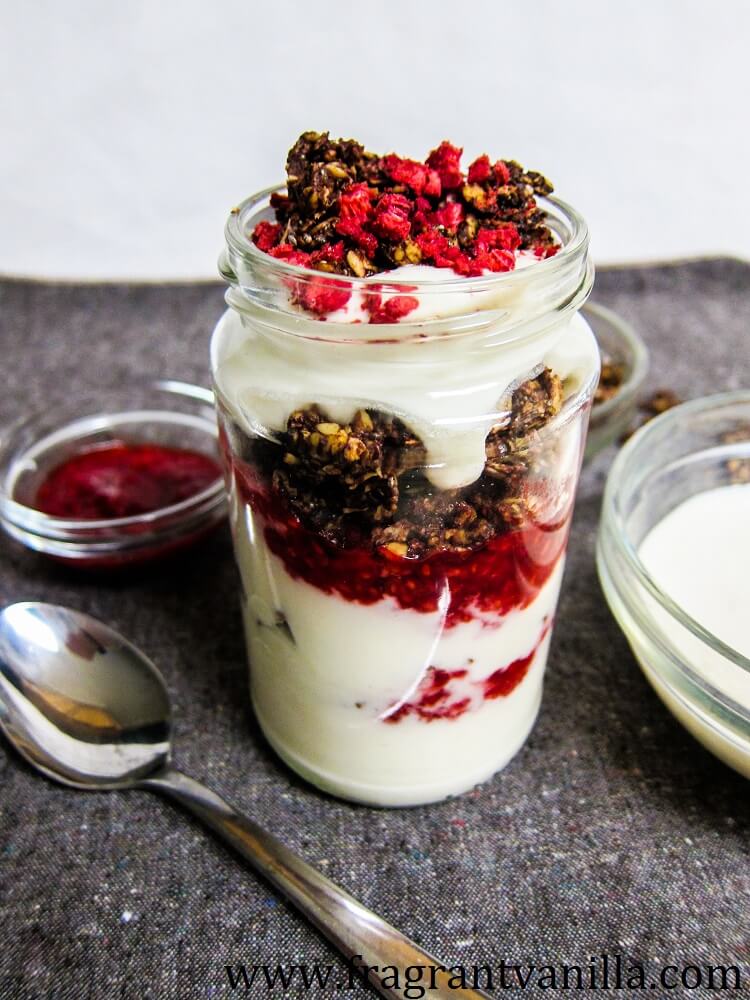 I thought about pouring the yogurt into bowls, and just topping it with the granola and berries, but I thought layering it into a parfait would be more fun.  So that is how it ended up.  It was super delicious!  Of course this could be breakfast, or a dessert or both!  The yogurt is slightly tangy and sweet and it is perfect with the tart jammy berries and crunchy chocolate cookie like granola! I am going to have to try more new yogurt and topping combos!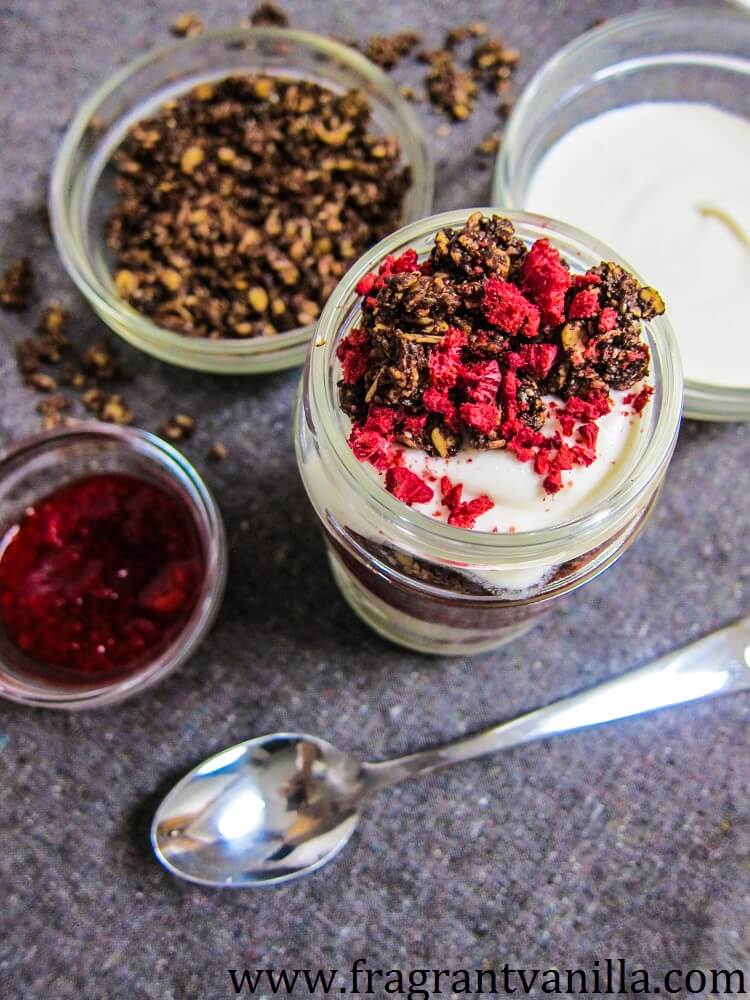 Chocolate Chia Crunch Granola and Coconut Yogurt Parfait
Serves 3
Ingredients:
Vanilla Coconut Yogurt:
2 cups organic full fat coconut milk
½ tsp probiotic powder
3-4 Tbsp coconut butter (not oil), warmed to liquid*
1 tsp pure vanilla extract
¼ cup date paste* or maple syrup
Chocolate Granola:
2 cups gluten free oats
¼ cup plus 2 Tbsp almond butter
3 Tbsp date paste or maple syrup
2 Tbsp cocoa powder
3 Tbsp chia seeds
¼ tsp sea salt
3 cups organic raspberries (fresh or thawed frozen)
To make the yogurt, combine the coconut milk and probiotic powder in a blender and blend until smooth. Pour into a bowl, cover, and let sit overnight on the counter until tangy.
The next day, blend with coconut butter, vanilla extract, and date paste until smooth, then pour into a bowl and chill.
To make the granola, preheat oven to 350F degrees.
combine all ingredients in a bowl, and mix well with your hands until it is evenly coated with the nut butter, date paste and cocoa powder. Spread out on a parchment lined sheet pan.
Place in the oven and bake for 35 minutes, stirring and rotating halfway through. Let cool completely.
Mash the raspberries.
To assemble, layer the yogurt, raspberries and granola into jars or glasses, and enjoy!
*Date Paste: Blend 1 ¼ cups pitted soft medjool dates (if they are not soft, soak them in filtered water for 30 minutes and drain) and 2/3 cup filtered water in a blender until smooth.  Store in a jar in the refrigerator up to 1 week.  This can be used in recipes instead of other liquid sweeteners such as maple syrup or coconut nectar.
*If your coconut milk is on the thinner side use 4 Tbsp coconut butter, it thickens the yogurt.
(Visited 158 times, 1 visits today)