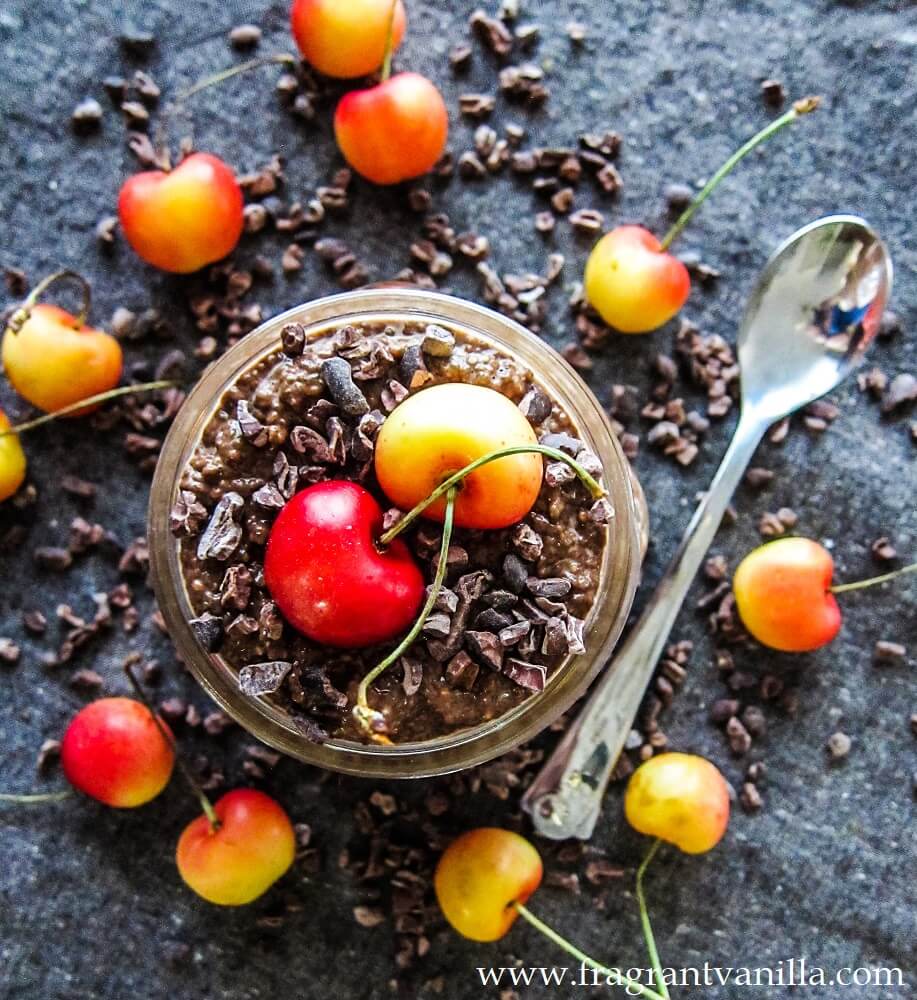 Chocolate Cherry Chia Pudding
Chia pudding might sound like something for health nuts, but you know what?  It is actually similar to a tapioca or rice pudding.  I grew up with both of those, they were pretty popular at things like church potlucks or my Grandma's house, and some were really delicious (like my Grandma's) and some were just weird (like random ones sometimes at the potluck). I even made my own version of rice pudding that was pretty good if I do say so myself.  Anyways, I prefer to remember the ones that I enjoyed.  I was a big fan of butterscotch tapioca pudding, or just vanilla rice pudding.  But you know what?  Chocolate might have been good.  So back to that chia pudding.  I was thinking to myself a few days back, a black forest chia pudding would be amazing.  Bonus, you don't have to heat anything up like you would have to for traditional chia or rice pudding.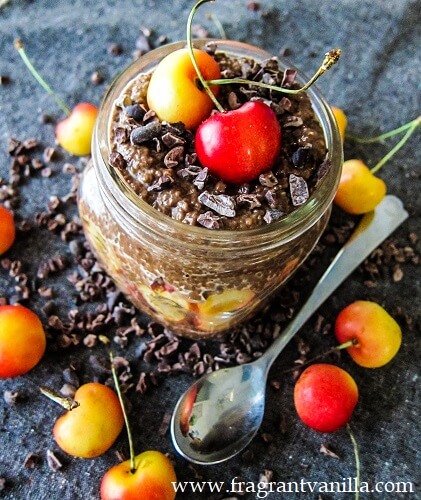 The thing I love most about chia pudding besides the texture is it is super easy to make. Just mix your liquids with the chia seeds let it sit for about 15-30 minutes and enjoy!  This one only contains 7 ingredients, two of which are water and salt.  So, I have a feeling many of you might already have them on hand except the cherries.  If you wanted this to be fruit sweetened, you could substitute 1/4 cup date paste for the maple syrup.  This pudding turned out super delicious, rich and chocolaty, cool and creamy.  The sweet rainier cherries that were mixed in were a perfect pairing with the chocolate.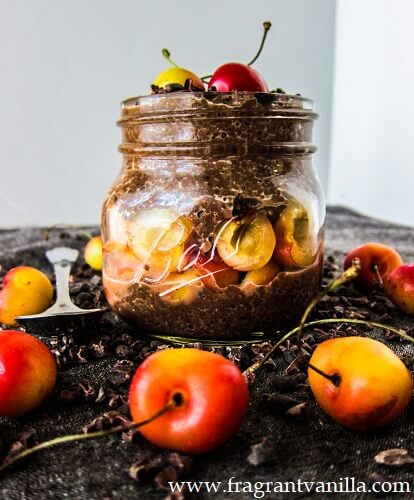 This is a delicious dessert, but I think it would be a good breakfast too if you were in the mood for something sweet.  I have eaten chia porridge for breakfast before and it is filling, hearty and filled with heart healthy omega 3s!  This is perfect for Summer because you don't have to cook it, and it is perfect for impatient people like me that want to enjoy things right away!  Next time you are craving chocolate but want to eat something with health benefits along with it, give this a try!  Don't have cherries on hand?  Berries would work just as well!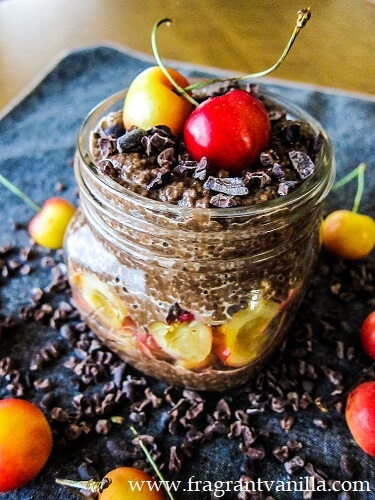 Chocolate Cherry Chia Pudding
Serves 3
Ingredients:
1 cups filtered water
1/4 cup raw almond butter (or roasted if you prefer)
3 Tbsp raw cacao powder, or unsweetened cocoa powder
1/4 cup maple syrup
1/4 tsp sea salt
2/3 cup chia seeds
1 1/2 cups pitted cherries
Instructions:
In a high speed blender, combine the water, almond butter, cacao powder, maple syrup, and blend until smooth.
Add to a bowl with the chia seeds and whisk until blended.
Let sit at least 30 minutes at least until the seeds have become creamy like rice pudding and soaked up a lot of the liquid.  Either stir the cherries in, or you can layer them with the pudding in serving jars.
Enjoy!
(Visited 145 times, 1 visits today)