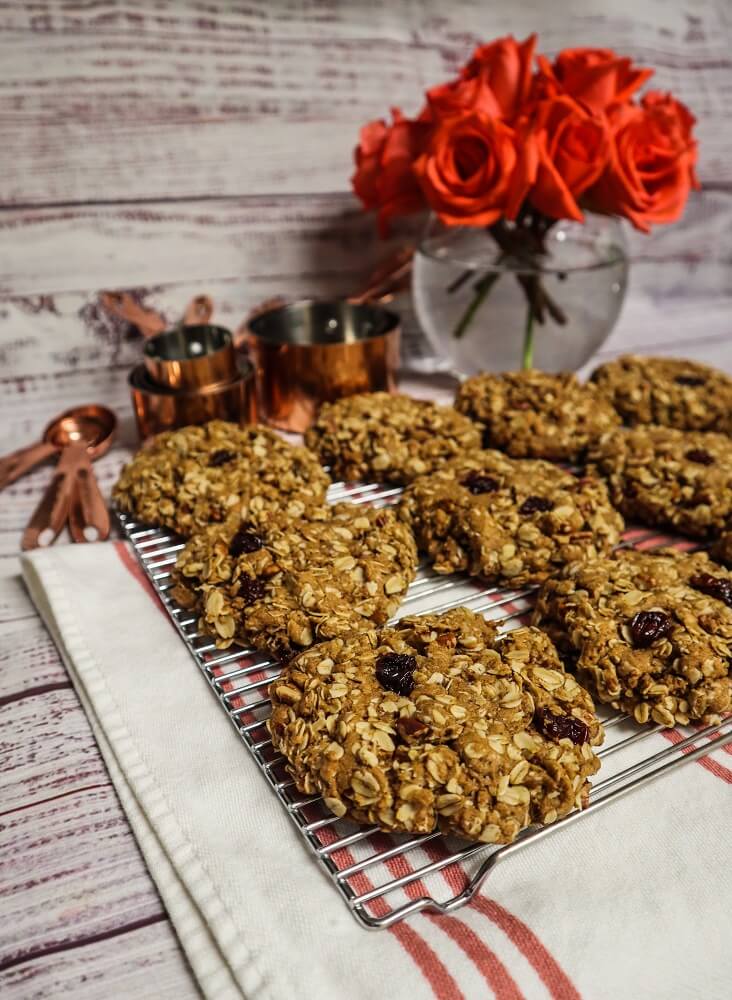 Cherry Maple Pecan Oatmeal Cookies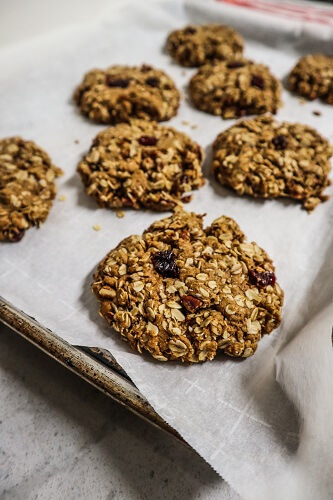 You would think that I would be sick of cookies after it being Christmas cookie season, but that isn't the case.  My Mom gave me some dried cherries and pecans and asked me to whip up a batch of Cherry Maple Pecan Cookies, and I said why not?! They sounded super delicious after all.  Oatmeal cookies are her favorite. She would always tell me that they were healthier than other cookies when I was little, so you could feel better about eating them.  It is kinda true though!  At least they have more fiber.  They are one of my favorite types of cookies as well, because of their texture.  Soft and chewy but with crispy edges and a nice texture.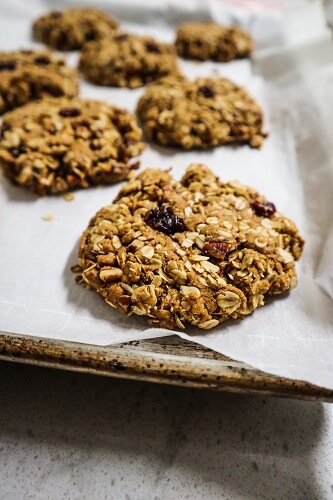 The thing I like about them also, is that they are simple and straight forward to make, which is nice after the more putzy Christmas cookies I have been making lately.  For these, I used oat flour because I figured why not make them all oat.  But you could use whole wheat pastry flour or regular AP flour if you prefer that.  To sweeten them, since I wanted them to have a maple flavor, I used maple sugar.  This is my favorite type of sugar!  It makes everything so good!  I also added in a little maple extract and vanilla extract to make them extra aromatic.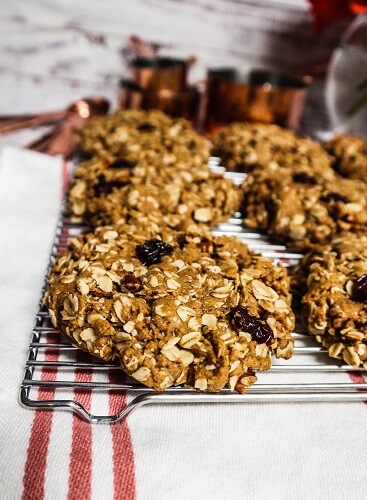 These have a good deal of oats mixed into them as well to make them nice and chewy!  I added in plenty of cherries and pecans because my favorite thing about oatmeal cookies besides the texture is the delicious add ins!  Sometimes I just add chocolate chunks.  But I loved this combo as well!  The dough was super delicious.  Yes, I always have to eat some of the dough, it is my favorite part about making cookies!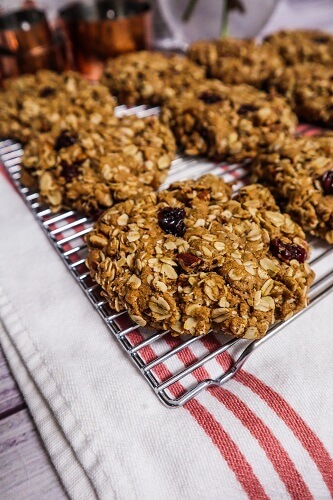 They smelled amazing while baking and I could not wait to try them!  Luckily I didn't have to wait long, because they don't have to cool completely and are best when still warm from the oven.  They were sooo good!  Soft and chewy in the center, crispy at the edges with sweet cherries crunchy pecans and the scent of maple!  This is the perfect thing to enjoy mid-morning with an oat milk latte.  Just sayin!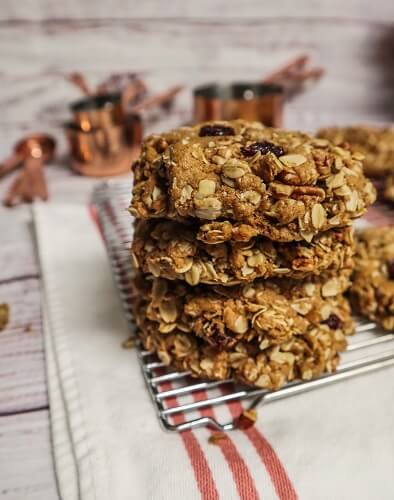 Cherry Maple Pecan Oatmeal Cookies
Makes 16 large cookies
Ingredients:
3/4 cup coconut oil, warmed to liquid
1 1/2 cups maple sugar or coconut sugar
2 Tbsp ground flax seed mixed with 1/4 cup and 2 Tbsp water (allowed to sit 15 minutes before using)
1 Tbsp pure vanilla extract
1 tsp maple extract
1 1/2 cups oat flour or whole wheat pastry flour
2 tsp cinnamon
1 tsp baking soda
3/4 tsp sea salt
3 cups gluten free old fashioned rolled oats
1 cup chopped pecans, toasted
1 cup dried cherries
Instructions:
In a large mixing bowl, mix together the coconut oil, and sugar until well blended. Add flax eggs, vanilla, and beat until well combined (the mixture will become very thick).
Mix in the flour, soda, spices and sea salt until well blended. Mix in the oats until well combined, then add cherries, and pecans and mix until evenly distributed throughout the dough.
Lower the oven to 350F degrees with the rack set at the middle position.
Roll the dough into 16 large balls, and spread them out on the 2 cookie sheets with plenty of room in between. Bake for 15-18 minutes or until golden, but not over baked. Let cool on sheet a few minutes, then remove to a wire rack lined with parchment to cool.
Enjoy!
(Visited 485 times, 1 visits today)