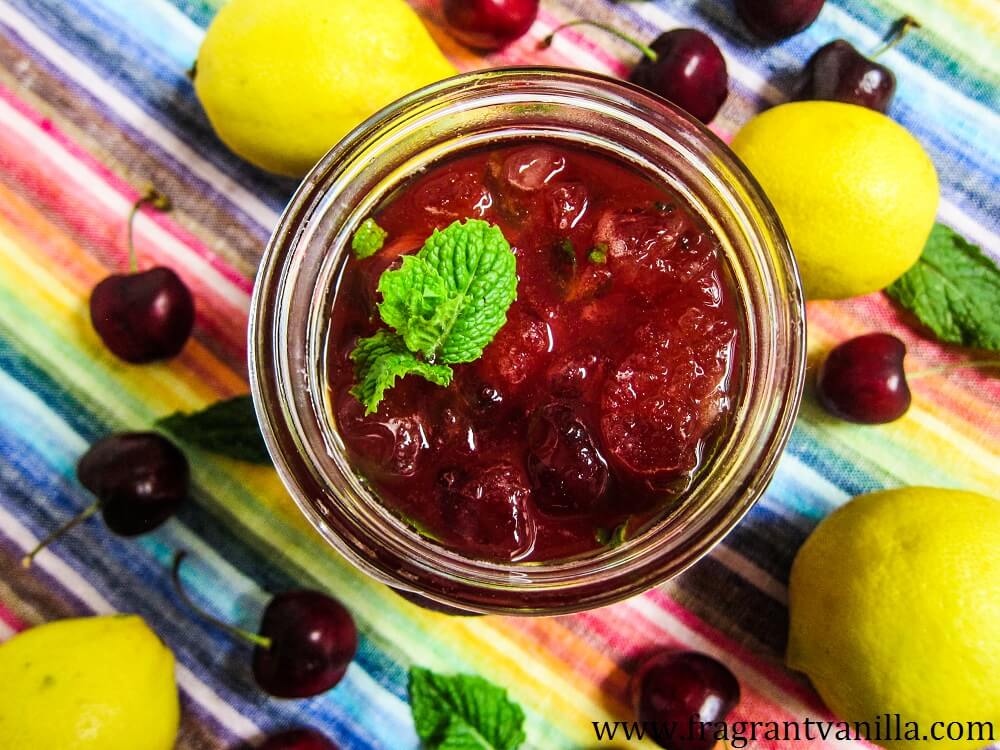 Cherry Lemon Mint Margarita
I don't know about you, but I love a good margarita in the Summer.  To me, a good margarita is not one of those ones you can buy at restaurants made with a mix in some electric bright color and full of refined sugar.  To me, a good one is made with fresh, real ingredients like real fruit.  One of the best margaritas I ever had was actually one made with real carrot and orange juice.  Sounds unusual but it was so good, and worked so well with the tequila!  Although I like the traditional lime and citrus margarita I like to think outside the box sometimes and use whatever fruit I have on hand and see if it works.  Last weekend that was cherries.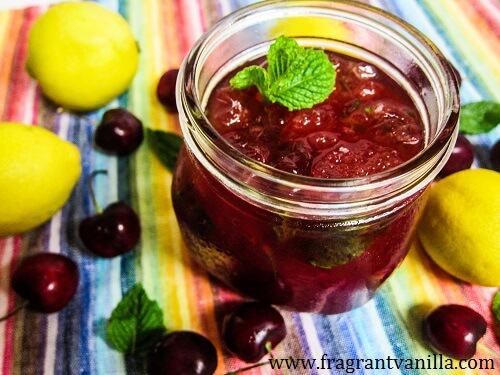 There is nothing like fresh cherries.  Sweet, juicy and delicious!  When I was a kid I thought I hated cherries, but it was only because I had only been exposed to the canned ones or maraschino variety in syrup.  I have never been a fan of either.  They just taste weird to me, or maybe it is that fake color that turns me off as well.  Anyways, when I finally tried real cherries fresh from the store when I was in college, I was pleasantly surprised and I have been buying them ever since when they come into season.  They are sort of special here.  Which brings me back to that margarita.  I had bought some cherries, and decided they would go great with tequila.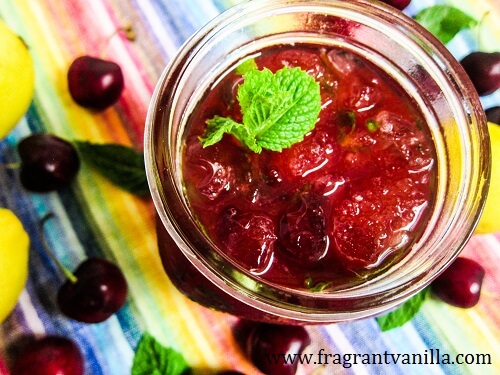 I used lemon instead of lime in this margarita since that was what I had on hand, and I also included some fresh mint to make it even more cooling and Summery. Lastly, since I don't usually use sweetened liqueurs, I added some vanilla maple syrup to this instead.  It may sound like a sort of different combination, but it was super refreshing, delicious and classy.  This is like something you would get at an upscale bar and pay $12 for.  Next time you are in the mood for a good margarita, give this a try!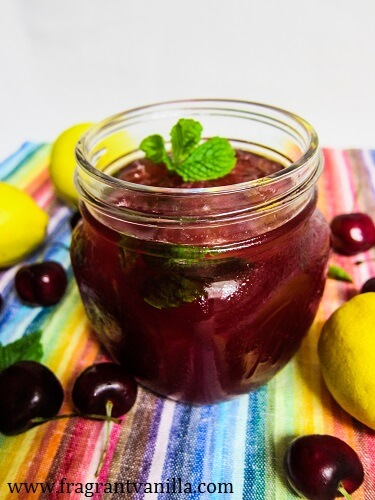 Cherry Lemon Mint Margarita
Makes 1
Ingredients:
6 large ice cubes
4 good sized fresh mint leaves
4 oz tequila blanco
2 oz cherry puree
1 oz fresh lemon juice
1 1/2 oz vanilla syrup*
ice for serving
Directions:
To make drink, in a martini shaker add the ice, then muddle the mint with the ice until crushed.  Add the tequila, cherries, lemon juice, vanilla syrup, and place top on shaker.
Shake until well blended.
Pour the drink through a strainer into the prepared glass (with some ice in it if you prefer your drink on the rocks), garnish with mint leaves, and serve!
*Vanilla syrup
1/4 cup maple syrup
1/4 cup filtered water
1 vanilla bean pod, split lengthwise
Combine all ingredients in a jar, put the lid on and shake to dissolve syrup. Let sit at least a day to infuse, then strain to vanilla bean pod. Store in the fridge for up to a month.
(Visited 48 times, 1 visits today)