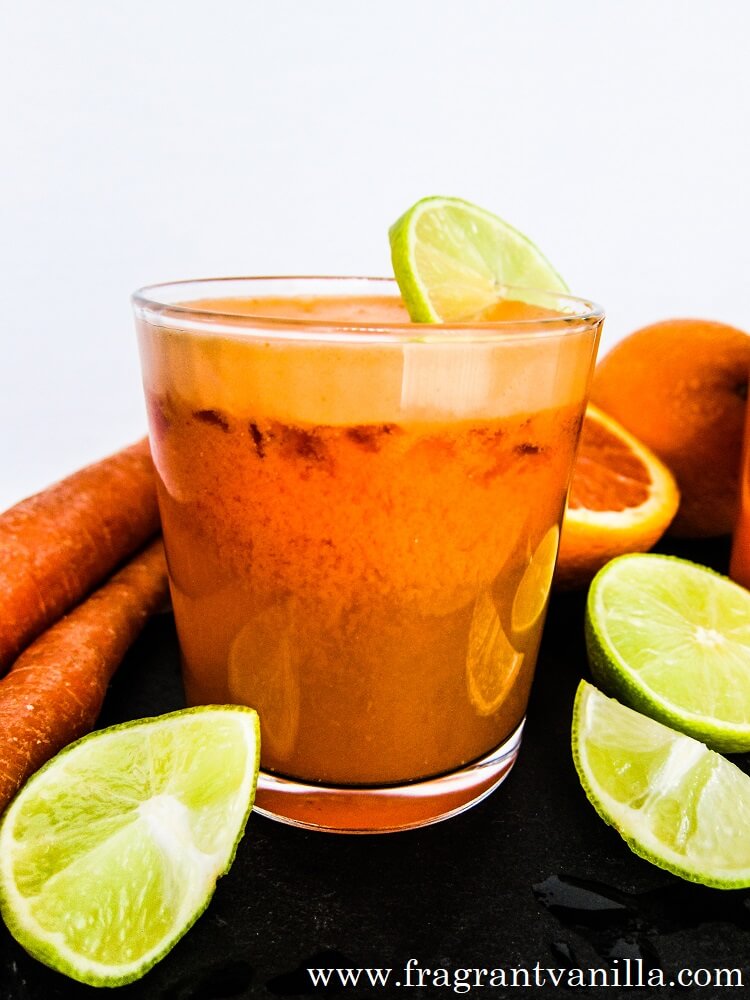 Carrot Lime Margarita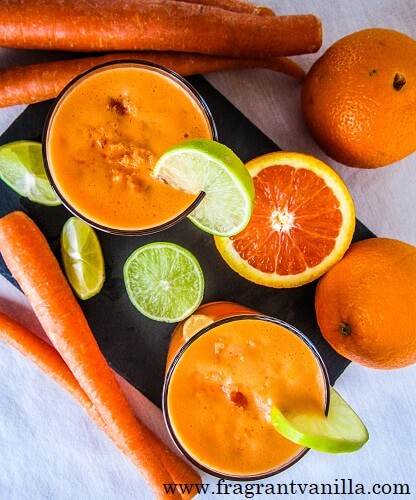 I have always been a fan of fresh carrot juice.  When I got my juicer, it was the first thing we made with it, and honestly it almost tastes sweet like dessert if you get really good fresh carrots.  Add in a little lime or lemon to balance out the sweet and it is bomb!  Also a good way to get in a lot of vitamins at a time. So, when I was in New Orleans a couple of years ago with my Mom and we saw a carrot margarita on the menu at a restaurant, we were intrigued.  Yes, it sounded a bit odd, but I like odd things and odd flavor pairings. I don't usually order margaritas in restaurants because many of them are made from sugary mixes with artificial colors and flavors etc.  But we asked the bartender what this one was made with and as it turned out, they juiced their own carrots, and used fresh orange and lime juice squeezed in house!  So we went for it!  And, I am so glad we did, it was one of those things that you just can't believe how good it was.  We came back the next night for them they were so good.  Now if only they had that restaurant in Minnesota.  I would go there often.  I have wanted to recreate those margaritas for a couple of years now, but never got around to it because I don't usually have tequila on hand.  But I decided that I wanted some last weekend so I bought all of the ingredients.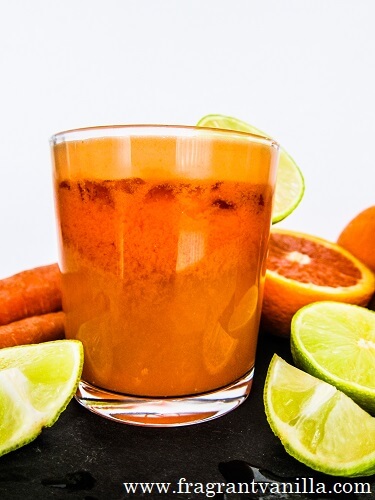 When I first told Eric about them he was a little skeptical too, and he thought it sounded weird, but I was determined to make them really good like the ones we had down south.  I juiced my own carrots, squeezed some super juicy cara cara oranges, and fresh limes and my kitchen smelled all amazing and fresh!  I added in a little maple syrup instead of simple syrup, because it blends well with liquids and it was just enough to sweeten.  You can leave it out if you prefer, but since I was using orange juice and a tad more tequila instead of orange liqueur in these (which tends to have sugar), I needed it to give it the right flavor.  I added in some silver tequila and could not wait to try them!  I used a blender to mix them because I was making 3 servings and it would be too much for a shaker, but if you were making one serving (and 1/3 of the recipe) a shaker could be used instead.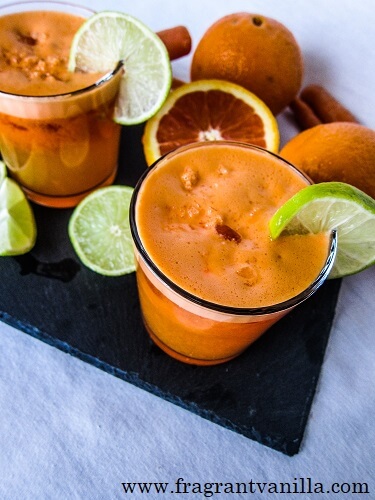 They turned out so good!  Just as good as I remembered the ones in New Orleans, and now I will have to make them again. Maybe next weekend for Easter, because why not?!  If you are looking for a new refreshing cocktail to try, or you are a margarita fan give these a try.  They are after all the ultimate veggie lover's margarita!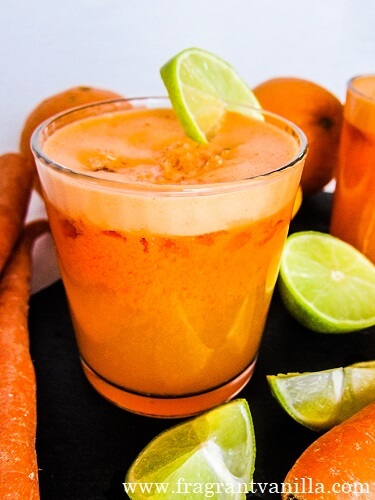 Carrot Lime Margarita
Makes 3
Ingredients:
handful of ice cubes
1 cup fresh carrot juice
1 cup tequila blanco or silver tequila (be sure to check Barnivore to make sure it is vegan)
1/2 cup fresh lime juice
3/4 cup fresh orange juice
2 Tbsp maple syrup (optional)
ice for serving
lime slices for serving
Directions:
To make drink, combine all ingredients but the serving ice and lime slices in a blender at low speed and blend briefly until mixed together.
Place 1/4 cup ice into 3 serving glasses.
Pour the carrot mixture through a strainer into the prepared glasses, garnish with lime and serve!
(Visited 97 times, 1 visits today)