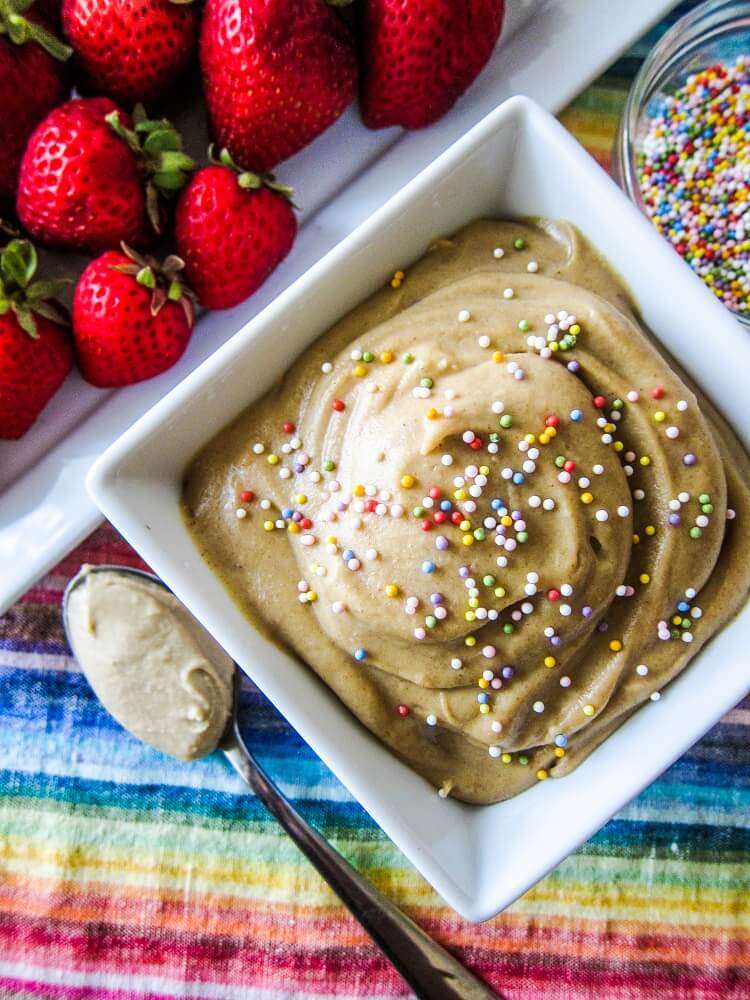 Cake Batter Dessert Hummus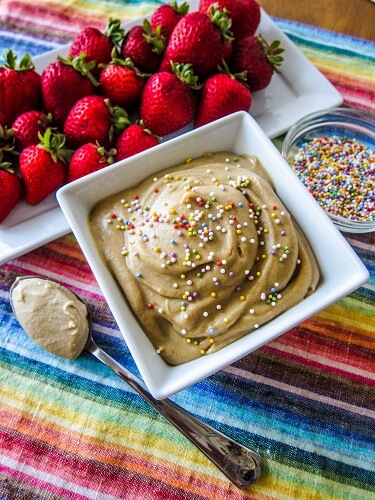 I admit when I first heard about dessert hummus or using beans in dessert recipes I was completely skeptical. How could that possibly taste good? Would it still be beany flavored? But you know what? I am now a huge fan. I love using beans in my dessert recipes like my nut free cheesecakes, brownies and dessert hummus. They add protein and fiber which we all need, and they give the things I use them in a nice texture. I think I actually make dessert hummus now more than regular savory hummus at home. Earlier this week, I decided to make some cake batter hummus.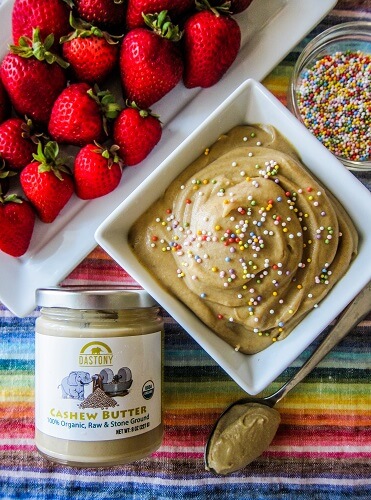 Eric and I had been at a local ice cream shop over the weekend and had some vegan birthday cake ice cream, so I thought why not cake batter hummus?! I have always loved the flavor and aroma of vanilla birthday cake hence the name of my blog. My Grandma often times added a touch of almond extract along with the vanilla to her cake and cookie recipes so I do that as well and consider it birthday cake flavor for my recipes. Since she did make birthday cakes for family members and even let me help decorate some of them.
This hummus is super simple to make. I always keep cooked chickpeas on hand for things like this and other recipes. I just cook a big pot, then freeze them in portioned out containers for later use. So I just took some of those and blended them up with some coconut milk and Dastony cashew butter from Raw Guru to make it nice and creamy and some dates to sweeten it. Because dates are about as natural and unprocessed as you can get when it comes to sweeteners.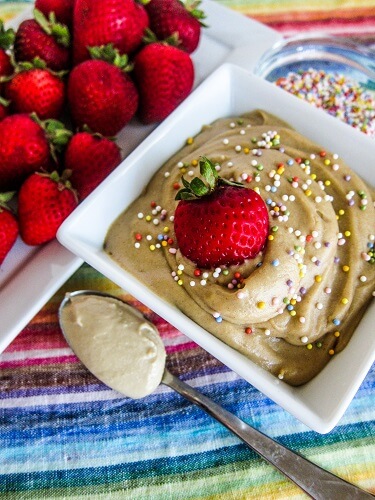 It was super delicious but of course it needed the vanilla and almond as well to be cake batter flavored. Also it needed the sprinkles. Because I think every birthday cake I had growing it up had some form of sprinkles. They just make everything seem more special even if they don't have much flavor themselves! This hummus is good with a spoon of course, but I think my favorite thing to pair it with is strawberries! It is sooo good! You could even use it as a healthier frosting for something! If you are in the mood for some cake batter, give this a try!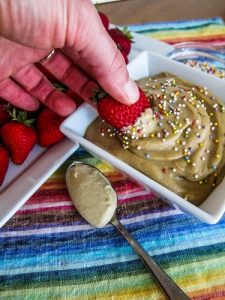 Cake Batter Dessert Hummus
Makes about 3 cups
Ingredients:
1 1/2 cups cooked chickpeas
1 1/4 cups pitted medjool dates, soaked in filtered water for 30 minutes and drained
1 cup filtered water (or as needed)
1 Tbsp pure vanilla extract
1 tsp almond extract
1/4 tsp sea salt
1/2 cup Dastony raw cashew butter or raw almond butter
2 Tbsp vegan sprinkles
Instructions:
Combine all ingredients but the sprinkles in a high speed blender or food processor and blend until smooth (adding a little more water if necessary).
Stir in the sprinkles.
Enjoy! Keeps in the refrigerator for 2 weeks in a sealed container.
(Visited 1,419 times, 1 visits today)