Blueberry Pecan Cinnamon Oatmeal Cookies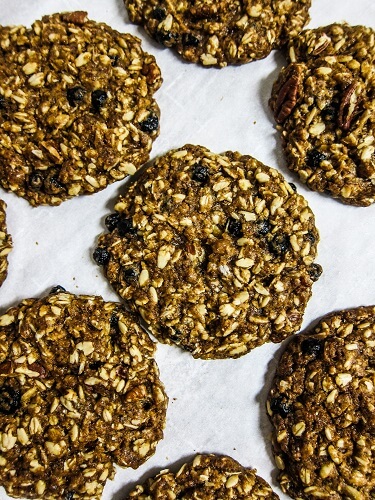 I feel like fall is always too short.  I know it is still technically fall, but I mean the weather itself, I miss those moderate fall days where you just need a light jacket, and your hands don't freeze when you go out for a walk.  It has snowed here a couple of days this week, and although I went outside for a walk, I didn't really want to hang out outside for a long time because it is kind of cold and damp.  And so I figured it was the perfect day to do some baking!  I love warming up my kitchen with the oven, the heavenly aroma of whatever I bake wrapping me in its goodness. My Mom had gave me a bag of dried blueberries from Trader Joe's a few weeks back and asked me to make her some oatmeal cookies with them, and I finally got around to it.  Oatmeal cookies are one of my favorites so I didn't mind making them at all!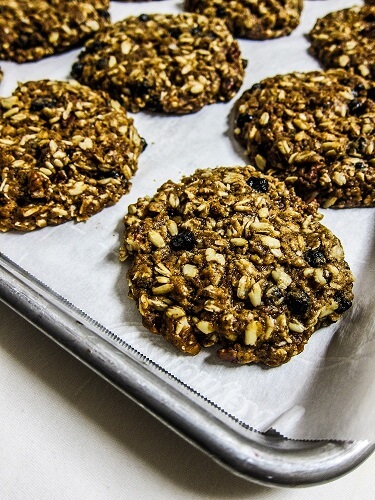 I am just a fan of oats in general.  I have eaten oatmeal almost every morning for 18 years after all, and I have a bag of granola in my refrigerator at all times.  But I love oatmeal cookies because they seem like a semi healthy dessert since they have more fiber than most cookies.  My Mom always said they were the healthiest and I happen to agree with her!  Back when I was in cross country in college for all of our meets I would make a giant bag of oatmeal cookies for the team to enjoy after.  They loved it!  And I loved making them.  I still do, in fact I make them at work now because we recently started making vegan oatmeal chocolate chip cookies, and they are the most popular type of cookie that I make!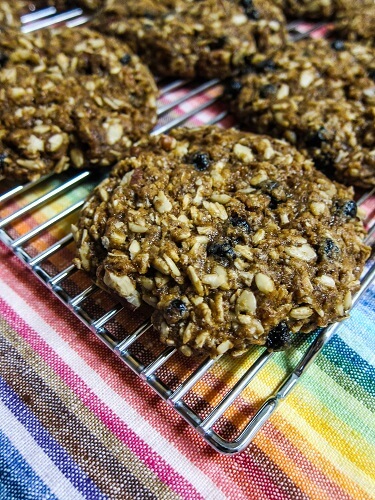 For these ones I made a super delicious oatmeal cookie base with plenty of oat flavor in both the form of oat flour and oats, plus a bit of cinnamon to sweeten it (an essential ingredient in all of my oatmeal cookies to give them that something special) and the dough was delicious!  It was perfect with the sweet dried blueberries and crunchy toasted pecans I added in.  I figure blueberries and pecans are kind of a match made in heaven.  The dough was sooo good! I could not stop sampling it.  Eating cookie dough is my favorite part of baking cookies after all.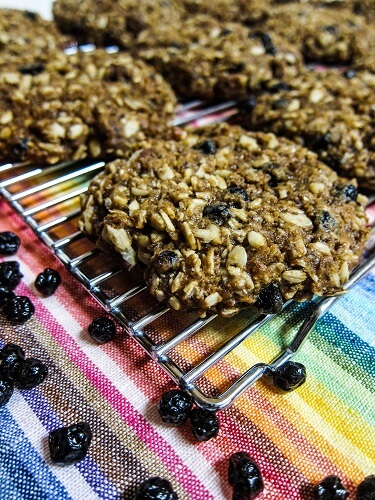 They baked up beautifully!  They were soft and chewy in the center and a little crispy at the edges just as oatmeal cookies should be, and the crunchy pecans and sweet blueberries were the perfect add ins.  I won't judge if you eat some of these for breakfast!  If you are a fan of oatmeal cookies like I am, definitely give these a try!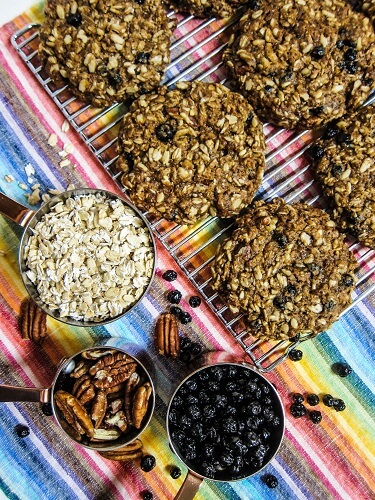 Blueberry Pecan Cinnamon Oatmeal Cookies
Makes 16 large cookies
3/4 cup coconut oil, warmed to liquid
1 1/2 cups coconut sugar
2 flax eggs*
1 Tbsp pure vanilla extract
1 1/2 cups gluten free oat flour
2 tsp cinnamon
1 tsp baking soda
3/4 tsp sea salt
3 cups gluten free old fashioned rolled oats
1 cup chopped pecans, toasted
1 cup dried blueberries
Instructions:
In a large mixing bowl, mix together the coconut oil, and sugar until well blended. Add flax eggs, vanilla, and beat until well combined (the mixture will become very thick).
Mix in the flour, soda, spices and sea salt until well blended. Mix in the oats until well combined, then add blueberries, and pecans and mix until evenly distributed throughout the dough.
Lower the oven to 350F degrees with the rack set at the middle position.
Roll the dough into 16 large balls, and spread them out on the 2 cookie sheets with plenty of room in between. Bake for 15-18 minutes or until golden, but not over baked. Let cool on sheet a few minutes, then remove to a wire rack lined with parchment to cool.
Enjoy!
*For the flax eggs, whisk together 2 Tbsp ground flax seed, 1/4 cup and 2 Tbsp water in a small bowl.  Allow to sit in the fridge for 15 minutes until the mixture has set up (or become kind of thick).
(Visited 354 times, 1 visits today)