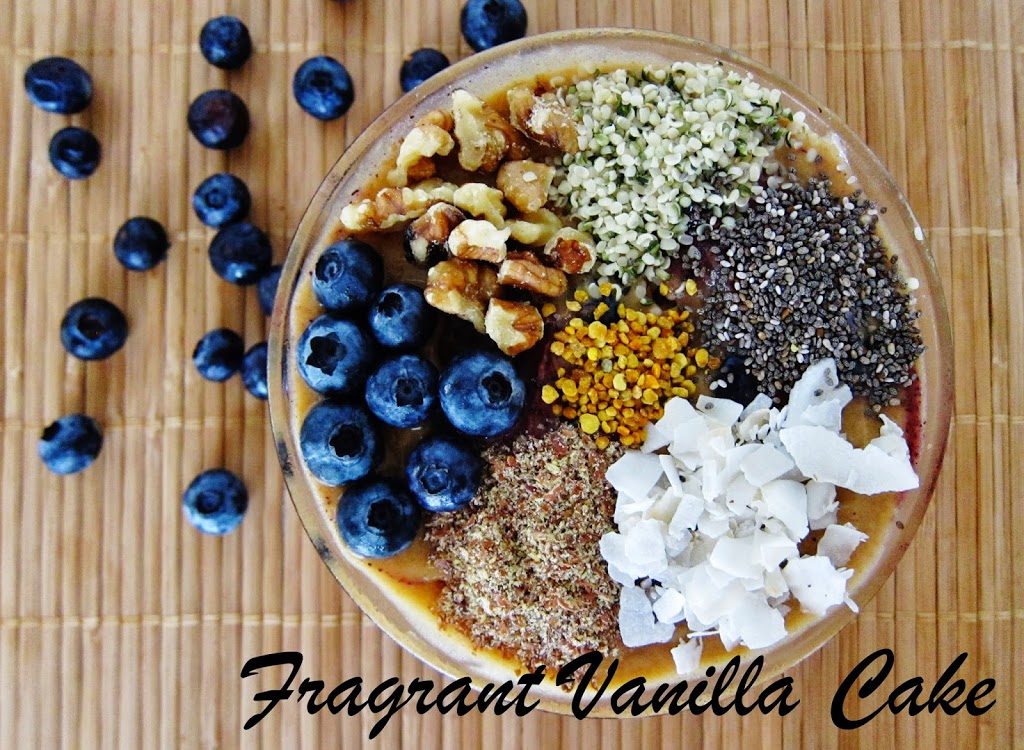 Blueberry Muffin Batter Smoothie Bowl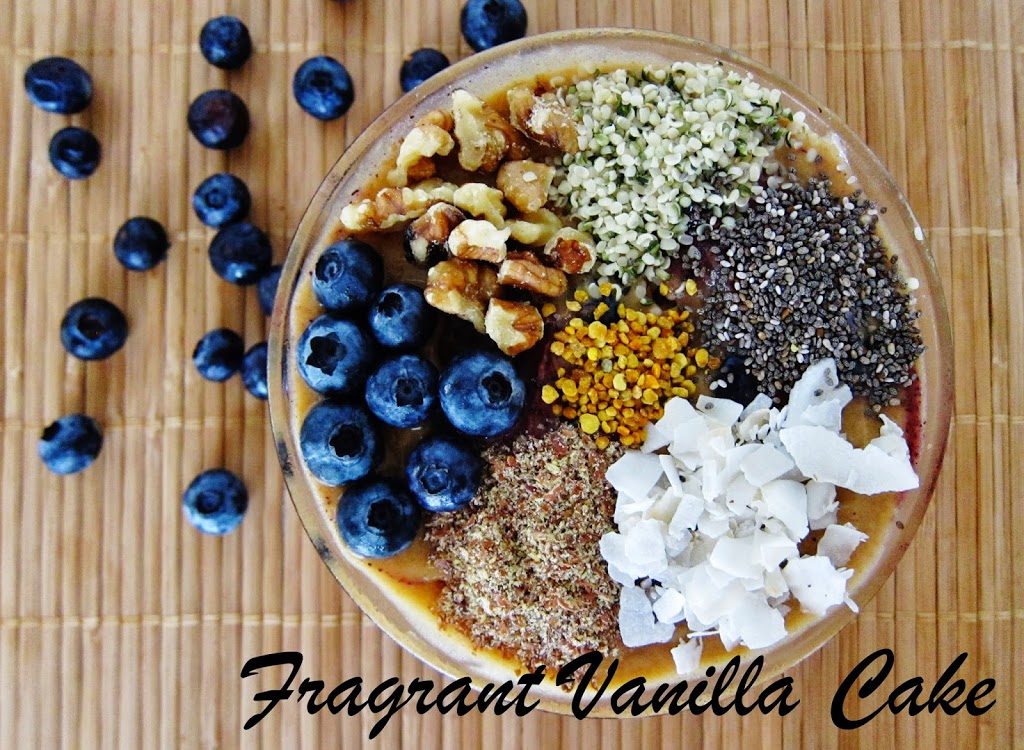 When I was little, on weekends my Dad would bake blueberry muffins.  Well...sort of bake, since they were from a boxed mix. I give him credit for at least trying though, and I didn't care about the muffins not being home made or know any better at that point in my life, so it was one of the joys of life.  I would always ask to lick the bowl after the batter had been placed into the tins to be put in the oven.  Although I loved the warm muffins once they were baked, I thought the batter was just as yummy.  As an adult I am no different. I always have to lick my batter bowls.  Except for the fact that I would never allow boxed mixes in my kitchen and I make raw vegan muffins so the batter is even better than it ever was.
I haven't made raw muffins for a while, but I recently made a Blueberry Muffin Batter Smoothie Bowl that was pretty yummalicious!  When I was out running last weekend I smelled something amazing in the air. Not a typical outdoor smell, something like muffins.  I began to crave blueberry muffin batter, and I decided that the flavor would make a wonderful smoothie bowl to refuel with when I finished my run.  I made a blueberry smoothie layer, then topped it off with a muffin batter smoothie flavor layer studded with fresh berries and topped it off with things that help me energize and went well with the flavors like coconut, flax, more berries, walnuts, hempseeds, chia seeds and bee pollen (which you can omit if you want this vegan).  It was freaking delicious! I was brought back to childhood as I enjoyed every last bit and licked my bowl clean!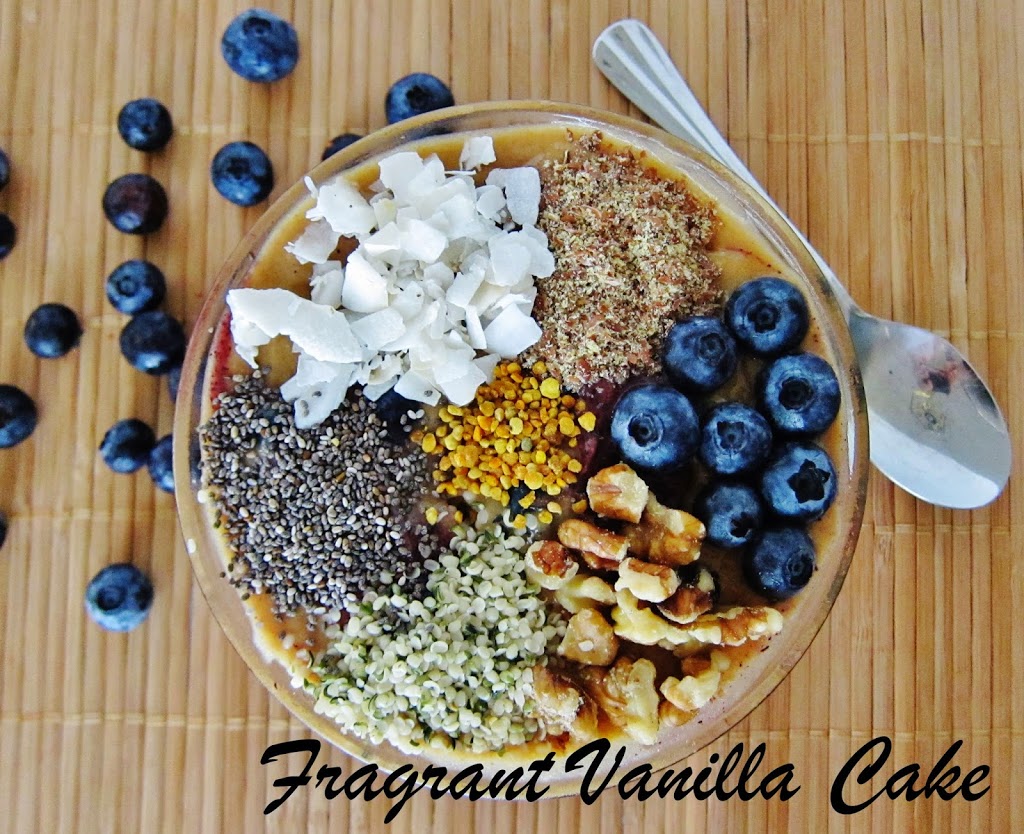 Blueberry Muffin Batter Smoothie Bowl 
Serves 1
Blueberry:
1 1/2 cups frozen organic blueberries
juice of one lemon
a few Tbsp raw hemp milk (more or less depending on how liquidy you like it)
stevia to taste
Batter:
2 large bananas, frozen and cut into pieces
1 scoop raw vanilla protein powder (optional, I used Garden of Life brand)
1/4 cup raw hemp milk or coconut milk (more or less depending on how liquidy you like it, I like mine thick so I add less)
1 tsp pure vanilla extract
stevia to taste (or your choice liquid raw sweetener)
3/4 cup fresh organic blueberries
Toppings:
fresh organic blueberries
flaked dried coconut
raw walnuts
ground flaxseed
chia seeds
hempseeds
For the blueberry smoothie filling, blend all ingredients until smooth in the blender, and pour into a bowl. Rinse out the blender.  For the batter part of the smoothie, combine all ingredients except the fresh blueberries in a blender and blend until smooth, using the tamper to press the mixture into the blades.  Stir in the fresh blueberries.  Pour into a bowl, swirl with a knife a little so the two layers swirl (if desired) and top with toppings (I used about 1 Tbsp of each).  Enjoy!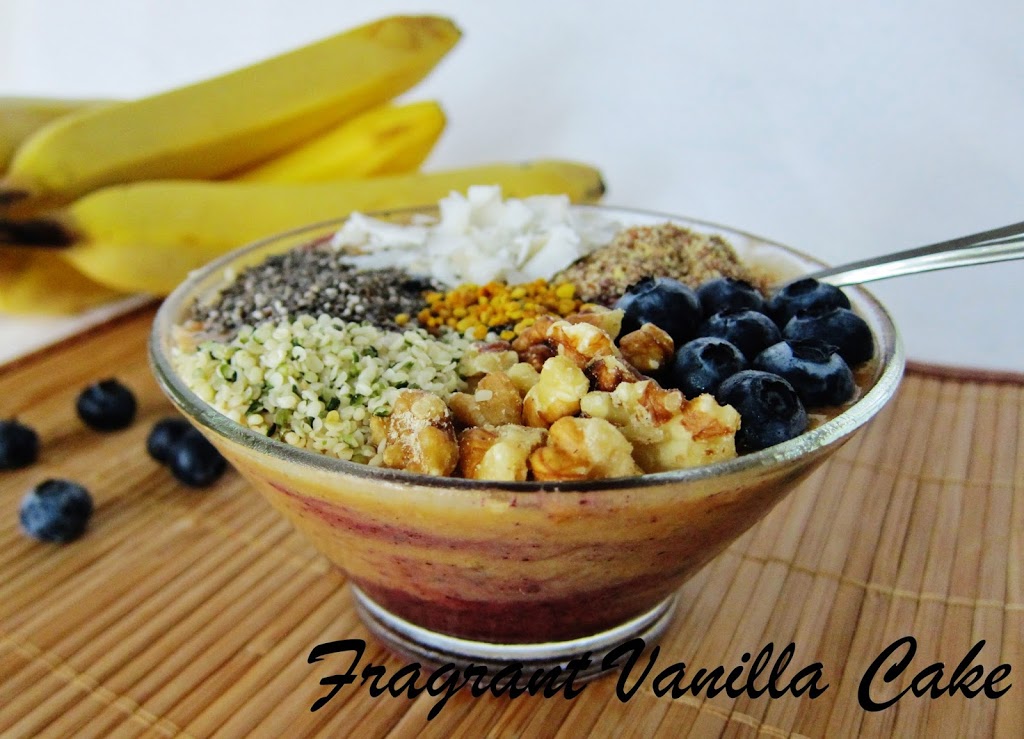 (Visited 124 times, 1 visits today)